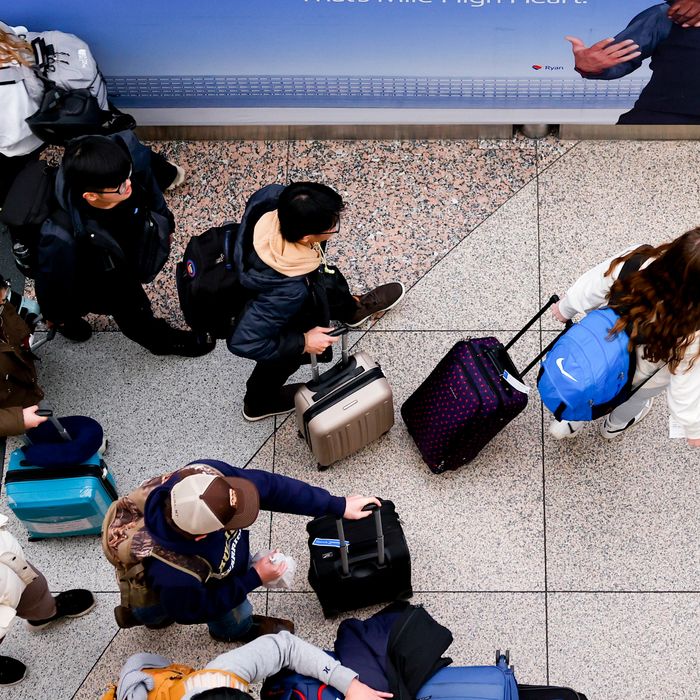 Photo: Michael Ciaglo/Getty Images
If you're flying from an airport in the United States this morning, brace yourself for yet another day of travel chaos. Thousands of flights were delayed across the country Wednesday after an overnight outage of the Federal Aviation Administration's Notice to Air Missions system, or NOTAM, which provides safety information to flight crews. FlightAware, a flight-tracking service, showed that more than 4,000 Wednesday morning flights had been delayed.
In a series of tweets, the FAA said that it was restoring outages and that all flights already in the air were safe to land. NOTAM, the agency said, alerts pilots about closed runways, equipment outages, and other potential hazards along a flight route or at a location that could affect a flight. At 8:15 a.m., departures resumed at airports in Newark and Atlanta "due to air traffic congestion in those areas," the FAA tweeted. Around 9 a.m., the agency lifted the order grounding all flights. It said that normal air-traffic operations were gradually resuming and that it would continue to investigate the initial cause of the outage.
White House press secretary Karine Jean-Pierre tweeted that President Biden had been briefed by Secretary of Transportation Pete Buttigieg about the outage and that there is "no evidence of a cyberattack at this point, but the President directed DOT to conduct a full investigation into the causes."