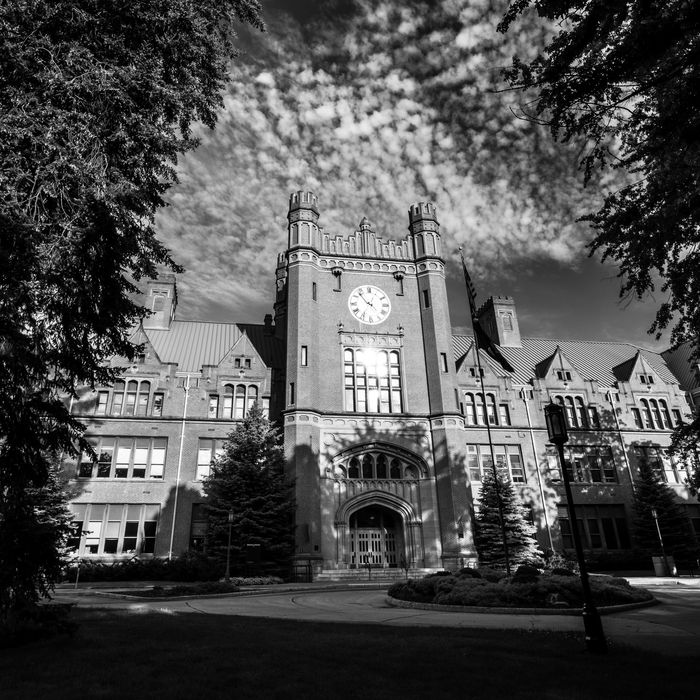 Photo: knowlesgallery/Getty Images/iStockphoto
In November, the bodies of four University of Idaho students were found in a home near campus after a student called 911 to report "an unconscious individual." At the time, authorities described the killings as a "crime of passion," calling the incident an "isolated, targeted attack" with an "edged weapon," per ABC News. A county coroner later ruled all four deaths homicides by stabbing, though much about the case remained unknown, with police advising the community to stay vigilant.
On December 30, more than six weeks after the killings, police arrested Bryan Kohberger, 28, in Monroe County, Pennsylvania, the New York Times reports. Here, everything we know about the case.
The four victims were reportedly close friends.
The Times reports that the killings took place at a home in an off-campus neighborhood where three of the victims — 20-year-old Xana Kernodle, 21-year-old Kaylee Goncalves, and 21-year-old Madison Mogen — lived with two more roommates. The fourth victim, 20-year-old Ethan Chapin, was in a relationship with Kernodle and was staying the night as her guest. Online profiles indicate that the victims were close friends and that they were involved in sororities and fraternities. On the day of the killings, Goncalves posted a picture to her Instagram of herself and the three other victims posing together, with Chapin pictured putting his arm around Kernodle, and Mogen wearing an Idaho sweatshirt while sitting on Goncalves's shoulders. "One lucky girl to be surrounded by these people everyday," Goncalves wrote in the caption. Kernodle's sister told the Times the other victims were good friends to her sister, and that she was "lucky" to have them in her life. "We are grieving together as a family. We are definitely in shock," the owner of a restaurant where two of the victims had worked as servers told the Times.
The night before the attack, Chapin and Kernodle had reportedly been at a party, while Mogen and Goncalves went to a bar downtown, with a video livestream showing the two women ordering from a food truck around 1:45 a.m. on November 13. The four friends later gathered at the house, a large rental that police say showed no signs of forced entry. The Times reports that officers found the door open when they first arrived at the scene, several hours after the murders took place. According to police, the two other roommates were in the house during the time of the attack, though they were unharmed. Police have also said one of the survivors called 911 at approximately 11:58 a.m. to report an unconscious person, believing one of their roommates had passed out.
After the killings, it took weeks for police to identify a suspect.
Following the killings, police initially said they had not identified a suspect. A local police captain told the Idaho Statesman that none of the four students were considered suspects in the investigation. Police also said the murder weapon wasn't found at the house but did not go into further detail. Fry said the police department was reviewing "video that has been collected" in the case and asked citizens to contact the department with tips.
The murders, which took place the same day a gunman killed three students at the University of Virginia, left the University of Idaho community on edge. Following the killings, other students living in the neighborhood said they were leaving town, citing anxieties and uncertainties over what had transpired. "Everybody kind of just went back home because they're scared … It's definitely uneasy on campus right now," one student told CNN. Some students told the Times they first learned about the killings through the university's alert system but had received little information from both the school and law enforcement since. Fry cautioned the community — which hasn't logged a murder since 2015 — to "be aware of your surroundings at all times."
In early December, the police said they wanted to speak with the driver of a white 2011–13 Hyundai Elantra, which was seen near the crime scene on the morning of the killings. They said, "Investigators believe the occupant(s) of this vehicle may have critical information to share regarding this case."
A suspect has been arrested.
On December 30, Kohberger was arrested at his parents' home in Effort, Pennsylvania. According to the Times, he had been pursuing a Ph.D. in criminology at Washington State University, about ten miles from the University of Idaho, where the crime took place, and had previously earned undergraduate degrees in psychology and cloud-based forensics. A former classmate of Kohberger's told the Times he had been "highly engaged" in a criminology-class discussion about forensics, DNA, and other evidence just two weeks before the killings. Authorities have not yet outlined a motive for the killings.
At an extradition hearing, when the judge asked Kohberger if he had any mental-health issues that would impede his ability to waive his extradition, he said no. After being held in custody in Monroe County for six days, Kohberger was handed over to local authorities in Idaho.
Jason LaBar, the public defender representing Kohberger in Pennsylvania, said that Kohberger drove across the country with his father for the holidays in a planned trip and that his client had been following the case with interest but was "shocked" to be arrested.
The FBI reportedly tracked Kohberger and his father from Washington to Pennsylvania and asked Indiana cops to pull him over to secure images of his hands, a law-enforcement source told Fox News. Indiana authorities pulled Kohberger over twice on December 15, NBC reports. First, a deputy from the Hancock County Sheriff's Department stopped him for following another vehicle too closely in the Elantra. Indiana State Police said at the time there was "no information available on a suspect for the crime in Idaho." Nine minutes later, a state trooper stopped Kohberger a second time, but let him go with a warning after he heard that Kohberger had been stopped a few minutes earlier. "The trooper, having learned the two had been stopped minutes before by a deputy from the Hancock County Sheriff's Department, who he knew was working just down the interstate from him, used his discretion and released the two men with a verbal warning," state police said.
Body-camera footage of the stops shows Kohberger's father mentioning a fatal police standoff that happened earlier that day near Washington State University. He said he and his son had been discussing the "horrifying" incident.
At a press conference in Idaho, Fry, the Moscow police chief, said other arrests were not likely. He added that the white Hyundai Elantra had been at the home in Pennsylvania, but they had not yet found a murder weapon. The Times reports that Kohberger received a new license plate for the car five days after the murders.
LaBar released a statement from Kohberger's parents and two sisters saying they "love and support our son and brother" and had cooperated with the police in an effort to "promote his presumption of innocence."
In a released affidavit, one of the surviving roommates recalls seeing a "figure clad in black clothing and a mask."
According to unsealed court documents and a probable cause affidavit, one of the surviving roommates — identified by law enforcement as D.M. — heard crying in the house the morning of the murders and saw a man dressed in black and wearing a mask. D.M. told law enforcement that all four victims were home by 2 a.m. and that she was woken up around 4 a.m. by what sounded like Goncalves playing with her dog. Shortly afterward, D.M. said she heard Goncalves say, "There's someone here," prompting D.M. to look out her window, where she saw no one. Later, D.M. told authorities she heard crying coming from Kernodle's room and a male voice saying, "It's okay, I'm going to help you," at which point D.M. said she again opened her door and saw "a figure clad in black clothing" and a mask walking toward her. She described the man as athletically built with bushy eyebrows and recalled him walking past her and toward a sliding door while she stood "frozen in place," ultimately locking herself in her bedroom. Kohberger's DNA was eventually found on a knife sheath left at the crime scene, and authorities found a match by rooting through his family's trash in Albrightsville.
The unsealed court documents also revealed unsettling details from Kohberger's phone records, which indicate that his phone stopped responding to the network at 2:47 the morning of the murders and was turned back on at 4:48 a.m. Further phone records reveal Kohberger had been near the victims' home at least 12 times since June 2022. The documents also revealed that Kohberger had applied for an internship with the Pullman Police Department in the fall of 2022 and wrote an essay expressing interest in helping rural law enforcement collect and analyze technological data.
The court documents also showed that, as authorities were being criticized by the general public and the families of the victims for not having a suspect and not investigating quickly enough in November and December, a team of local and state law-enforcement officials, along with the F.B.I, was working on the investigation through the holiday season.
A preliminary hearing is scheduled for June 26.
Kohberger made his first Idaho court appearance in early January, with CNN reporting that he smiled at his public defender and avoided making eye contact with anyone else, including the victims' family members, many of whom were crying in the front row. At the time, the judge upheld the prosecutor's request for a no-contact order for the victims' family members and the two surviving roommates for two years and denied bail for Kohberger.
The suspect returned to court one week later, where he waived his right to a speedy trial. Public Defender Anne Taylor reportedly told the judge that she wanted more time to review evidence, and prosecutor Bill Thompson had no objections. The judge scheduled a preliminary probable cause hearing for June 26, per CNN. In the meantime, Kohberger will remain in custody without bond.
A lawyer for Goncavles's family says the victims "didn't know" Kohberger.
According to the Times, a lawyer for the Goncalves family says they have been searching for a potential connection between Kohberger and the victims, but so far none have surfaced: "They didn't know him," the lawyer told the outlet. An investigator with knowledge of the case told People that, two weeks before the killings, Kohberger reportedly sent one of the victims a message on Instagram. The source claimed that when she did not respond, he sent several more. "He slid into one of the girls' DMs several times but she didn't respond," the source told People. "Basically, it was just him saying, 'Hey, how are you?' But he did it again and again."
Meanwhile, old posts Kohberger made as a teenager on the online forum Tapatalk — formerly Yuku — indicate he experienced suicidal thoughts, a lack of remorse, and an inability to feel emotions. "I feel like an organic sack of meat with no self worth," a 16-year-old Kohberger wrote in 2011, according to the Times. "As I hug my family, I look into their faces, I see nothing, it is like I am looking at a video game, but less." Per the Times, Kohberger also made posts about invisible snow, a neurological condition in which small flickering dots disturb a person's visual field, which, per the posts, he started experiencing in 2009, the same time he stopped feeling emotions. "Nothing I do is enjoyable," Kohberger reportedly wrote in one old post. "I am blank, I have no opinion, I have no emotion, I have nothing. Can you relate?"
This post has been updated.