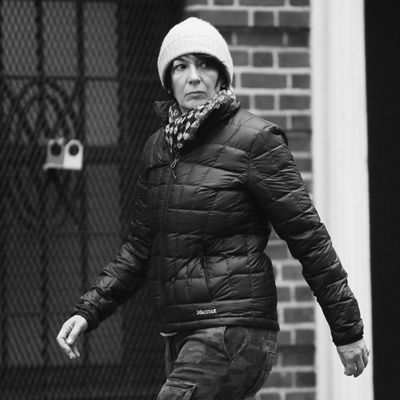 Photo: Andrew Savulich/New York Daily News Archive/NY Daily News via Getty Images
Ghislaine Maxwell is currently serving a 20-year-sentence for charges of sex-trafficking relating to her relationship with Jeffrey Epstein. But that doesn't mean she can't give interviews.
In a new interview with TalkTV's Jeremy Kyle, given from her low-security prison in Florida, Maxwell touched on her relationship with Epstein and her suspicions about his death. She also took the time to defend Prince Andrew, calling into question the photograph that appears to show the royal with his arm around a teenage girl, identified as Virginia Giuffre, as Maxwell smiles in the background. The photo was purported to have been taken in Maxwell's London home in 2001 and was used to highlight Giuffre's allegations that Epstein and Maxwell had trafficked her and that Andrew had raped her when she was underage — allegations Maxwell and Andrew denied. "I don't believe it's real for a second," Maxwell said in her most recent interview. "In fact, I'm sure it's not." She went on to claim that there was never any photograph at all, saying, "I've only ever seen a photocopy of it."
This isn't the first time Maxwell has defended Andrew by questioning the photo. "I don't recognize that picture, and I don't believe it is a real picture," she told Daphne Barak in August. As reported by CBS News, these statements appear to contradict emails she sent to Alan Dershowtiz in which she indicates the photo is real.
Maxwell's narrative also support statements Andrew made years ago, when he began facing scrutiny for his association with Maxwell and Epstein. "It's a photograph of a photograph of a photograph," he said when asked about the photo in a 2019 interview with the BBC. "Nobody can prove whether or not that photograph has been doctored." Giuffre filed a civil suit against Andrew in 2021, and the case was settled in March without Andrew admitting any wrongdoing.
Almost a year later, Maxwell is revisiting the case, attempting to cast doubt on Giuffre's claims. "Her stories have changed so many times about what happens, when it happens, how it happens," she told TalkTV. "How can you rely on anything that she says?" Maxwell's statements come at the same time as reports claim Andrew is looking to overturn the settlement he made with Giuffre. According to a new report from The Sun, Andrew is using the inheritance he got from his mother, Queen Elizabeth II, to help fund a legal offensive, though nothing has been confirmed.
Elsewhere in her interview, Maxwell said she wished she had never met Epstein and asserted her belief that Epstein did not die of a suicide, saying, "I believe that he was murdered. I was shocked and I wondered how it had happened." She added that she hoped his victims would "heal" and have a "productive life going forward" but did not apologize for any part she may have played in Epstein's deeds. "Epstein died, and they should take their disappointment and upset on the authorities that allowed that to happen," she said.
Maxwell is appealing the verdict, which found her guilty of one count of sex-trafficking of a minor, one count of sex-trafficking conspiracy, and three counts of conspiracy to transport minors with the intent of illegal sexual activity.