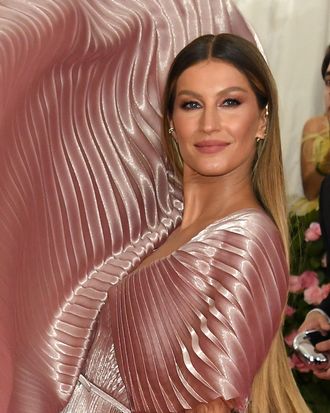 Photo: Jennifer Graylock/PA Images via Getty Images
Gisele Bündchen was spotted in Costa Rica with her jujitsu instructor, Joaquim Valente — again. This time on horseback!
Bündchen and her rumored new beau were photographed horseback riding last week, as reported by TMZ. Though the two refrained from any PDA, they definitely were not practicing jujitsu, causing more speculation as to the nature of their relationship.
Vlente and Bündchen were first linked in November, shortly after she officially announced her divorce from Tom Brady, when they were reportedly seen grabbing dinner with her kids in Costa Rica. Sources were quick to shut down any romance rumors, with a source telling People, "He and his two brothers are Gisele and the kids' martial arts teachers. They are not dating."
The two have been spotted together a few times since. A few weeks ago, they were photographed jogging together, and seemed close enough to sharing a pair of AirPods. And a source recently told People that the two have "a deep personal relationship," hinting that a future romance was still a possibility. "Gisele adores and trusts [Joaquim] and has been spending a lot of time with him, but I don't think it's a traditional dating scenario," the source said.
As Bündchen enjoys the friendship of a jujitsu trainer and rides horses in Costa Rica, her ex, Tom Brady, is having a not-so-great week. Barely a year since his un-retirement, the quarterback is once again facing questions about the future of his professional career after he failed to make it to the NFL playoffs. When asked about his next moves on his podcast Let's Go!, per "Page Six," a frustrated Brady said, "If I knew what I was fucking doing, I'd have already fucking done it!" Maybe it's time for Brady to take a cue from his ex wife and take a vacation.