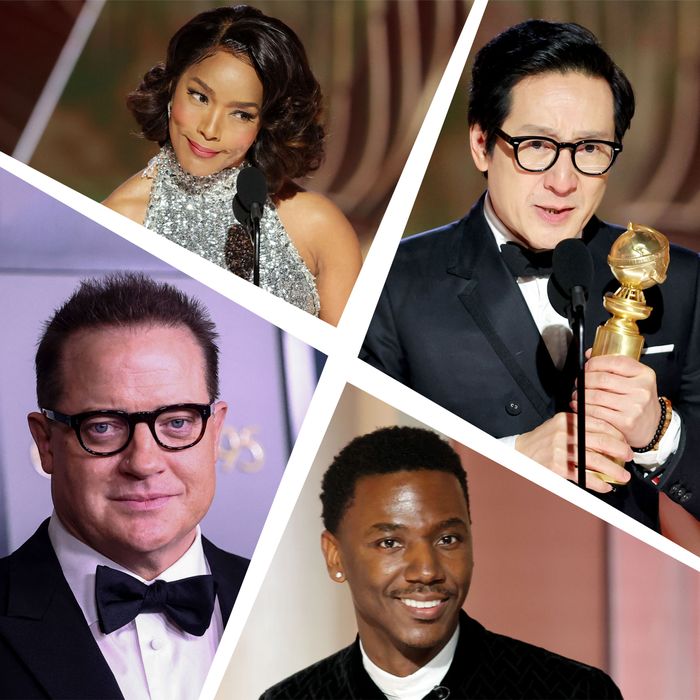 Photo-Illustration: by The Cut; Photos: Getty Images
It's been two whole years since we've gathered with the Hollywood Foreign Press Association (HFPA) to watch celebrities get drunk and give out awards at the Golden Globes. Last year, the awards were given out privately after a Los Angeles Times investigation reported, among other things, that the HFPA had zero Black members. Since then, the HFPA has undergone a much-needed makeover — the New York Times reported that it now has six Black members — and it's hoping for a comeback.
This year, the Golden Globes will be hosted by Jerrod Carmichael and will celebrate this year's biggest projects, like Everything Everywhere All at Once, Abbott Elementary, and Elvis. But can the show really be saved? Based on the highs and lows for the night, the jury's still out.
High: Jerrod Carmichael getting paid $500,000 to host … and call out scientology
Jerrod Carmichael came out swinging with his opening monologue, giving voice to critics of the HFPA. "I'll tell you why I'm here," he said, pacing the stage. "I'm here 'cause I'm Black." Awkward laughter ensued as he informed the audience of the HFPA's scandals, adding, "I'm not going to say they were a racist organization, but they didn't have a single Black member until George Floyd died. So, do with that information what you will." Noting that he was "asked to be the Black face of an embattled white organization," Carmichael took the audience through his decision-making process when he was asked to be a host, including the fact that he was offered $500,000 to host.
To say the HFPA got its money's worth would be putting it lightly. Later in the show, Carmichael joked about Tom Cruise's three returned Golden Globes. Appearing onstage with three trophies in his arms, the host said, "I found these three Golden Globe awards that Tom Cruise returned … I think maybe we take these three things and exchange them for the safe return of Shelly Miscavige." He then proceeded to introduce Cruise's Top Gun: Maverick co-stars.
Low: Brendan Fraser's absence
Brendan Fraser's triumphant return to the spotlight will not include a trip to the Golden Globes, despite his front-runner status for his performance in The Whale. In 2018, Fraser accused Philip Berk, the former president of the HFPA, of groping him at a 2003 luncheon. Berk denied the allegations and later left the HFPA in 2021, but even before he was nominated for Best Actor in a Drama, Fraser publicly announced that he would not be attending the Golden Globes ceremony. "I have more history with the Hollywood Foreign Press Association than I have respect for the Hollywood Foreign Press Association. No, I will not participate," he told GQ in November. "My mother didn't raise a hypocrite. You can call me a lot of things, but not that."
Fraser's decision to stay away from an organization that was toxic to him is definitely a personal win, but a low for the Globes and the HFPA, which clearly still has a lot of work to do.
High: Ke Huy Quan making everyone cry
Ke Huy Quan was a front-runner to win Best Supporting Actor, but even with all the anticipation, nothing could have prepared us for his emotional speech. The former child star got his start in blockbusters like Indiana Jones and the Temple of Doom and The Goonies, and he kicked off his speech thanking Steven Spielberg for giving him his start. But he left acting when he saw how few opportunities there were for Asian American actors. "For so many years, I was afraid that I had nothing more to offer. That no matter what I did, I would never surpass what I achieved as a kid," he said, before thanking his Everything Everywhere All at Once directors, the Daniels. "Thankfully, more than 30 years later, two guys thought of me, they remembered that kid, and they gave me an opportunity to try again."
High: Courtney B. Vance filming Angela Bassett's win on his phone
As if Angela Bassett taking home the Golden Globe for Best Supporting Actress for her standout work in Black Panther: Wakanda Forever weren't enough, her husband had to make the moment that much sweeter by taking out his cell phone to film her big moment! Who needs a DVR when your husband can just film your acceptance speech? I want a love like this.
High: Abbott Elementary wins
Abbott Elementary cleaned up at the Golden Globes. First, Tyler James Williams won Best Supporting Actor in a TV Comedy, and then Quinta Brunson took home Best Actress in a TV Comedy. Later, the show won the award for Best Comedy Series.
Low: Abbot Elementary cast being seated so far away from the stage
Watching Quinta Brunson pick up her dress and fight her way through the crowded ballroom was quite a stressful experience. The Abbott Elementary cast took so long to get to the stage because they were seated in the back section (you know, the tables where they put the TV people). Next year, we should try putting the movie stars in the back. Let's see how they like it!
High: Michelle Yeoh defying the play-off music
Michelle Yeoh waited 40 years to be acknowledged by Hollywood, and she was not going to step off the Golden Globes stage before she was done saying everything she wanted to say. Yeoh, who took home the award for Best Actress in a Comedy for her work in Everything Everywhere All At Once, took in the moment, remembering when she first came to Hollywood. "It was a dream come true … until I got here," she said, recalling a time someone asked her if she spoke English. And then, just as she was about to start talking about her film, the piano started playing, cueing her to walk away. "Shut up," she said, joking, "I can beat you up." She spoke right over the track, and eventually the music was turned off entirely.
High: Michaela Jaé Rodriguez getting the standing ovation she deserves
When accepting the Carol Burnett Award, Ryan Murphy made sure to shout out Michaela Jaé (MJ) Rodriguez, who became the first openly trans actor to win the Golden Globe for Best Actress in a TV Drama last year. Unfortunately, Rodriguez never got her moment on the Golden Globes stage because the ceremony was canceled, so Murphy offered her a bit of a redo, encouraging the crowd to congratulate her achievement and giving her the standing ovation she deserves.
Low: The Will Smith jokes
For some unknown reason, Jerrod Carmichael decided that a return from commercial break was the perfect time to make a Will Smith joke about the Oscars slap, saying he was awarded "the Rock Hudson award for best portrayal of masculinity on television." Survey says: unnecessary.
Later on in the night, Eddie Murphy brought up Smith's slap again while accepting his Cecil B. DeMille Lifetime Achievement Award. At the end of his speech, he said there were three keys to success: "Always pay your taxes, mind your business, and keep Will Smith's wife's name out of your fucking mouth." The crowd burst into laughter and applause, but at home, I was cringing. Just let Jada Pinkett Smith live in peace! It's not hard.
Low: Argentina, 1985 filmmakers being played off … for Sean Penn
Winners of the Best Foreign Language Film, the filmmakers of Argentina, 1985, were unceremoniously played off to introduce Sean Penn, who was there to introduce Ukrainian president Volodymyr Zelenskyy. A nice inclusion, but … why Sean Penn? And why play off these winners? It's a no for me.
High: Rihanna's presence
Rihanna didn't walk the red carpet, but she was spotted sitting in the audience, looking like a queen, naturally. RiRi was nominated for Best Original Song, but didn't win. Still, her presence is a present.
Low: Not seeing Rihanna's dress
Because Rihanna didn't win or present an award, we didn't get to see her dress! Sure, we got brief glimpses when presenters would offer their praise — like Niecy Nash, who just had to tell her that she dressed as her for Halloween — but nothing came close to a full body shot.
High: Jennifer Coolidge being Jennifer Coolidge
Jennifer Coolidge was played off early at the Emmys, but she refused to let history repeat itself at the Golden Globes when she won Best Supporting Actress in a Limited Series for her iconic role in The White Lotus. In her speech, Coolidge gave a shout-out to the people who kept her employed throughout her career, noting that it was always "onto the next one." In other words, she actually described what it was like to be a working actor, noting that she did "five different sequels of American Pie. I milked that to the bone." We love a hustle!
High: Mike White's very drunk acceptance speech
Alcohol: It's what makes the Golden Globes special. Instead of sitting in a theater, guests are seated at tables and served wine, Champagne, and, supposedly, food. Apparently, they were a little light on the food part, as Mike White announced when accepting the award for Best Limited Series. "I was going to give this speech in Italian, but I'm too drunk, because they didn't give us any food!" At least he's honest.
High: Regina Hall stealing the show
God bless Regina Hall, who swooped in to present two awards at what was supposed to be the end of the show. By 11 p.m., everyone is delirious, so it was nice to see a presenter actually embrace the exhaustion and go with it. After Kevin Costner was announced the winner of Best Television Actor in a Drama, Hall had to read a prepared speech explaining his absence, and she could not stop giggling, which quickly became awkward when she got to the part about Costner sheltering in place due to flooding in Santa Barbara. Still, she somehow made the awkwardness charming and gave us all much-needed laugh.
This post has been updated.