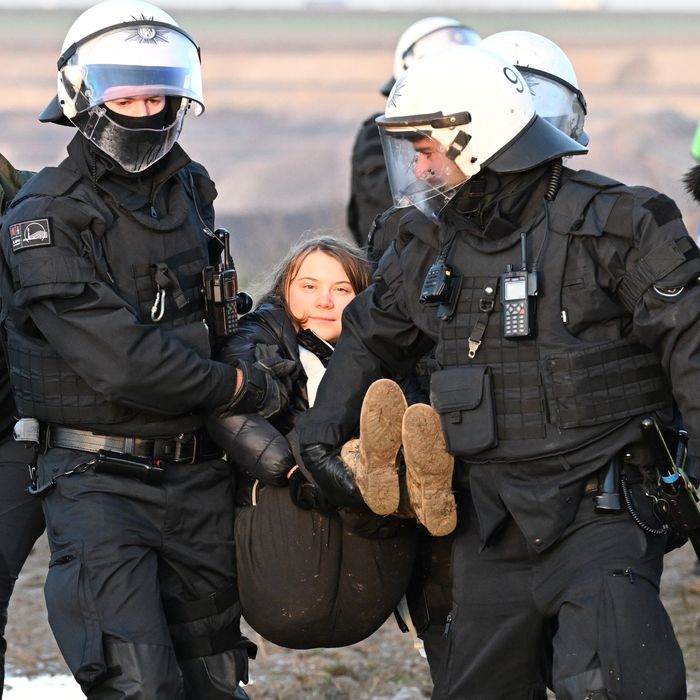 Photo: picture alliance/dpa/picture alliance via Getty Images
Greta Thunberg, the climate activist living rent-free in Andrew Tate's head, was forcibly removed from a climate protest in Germany on Tuesday. She was photographed being carried away from the site of a coal-mine expansion near Lützerath, Germany, a town that is expected to be completely demolished to make way for the mine.
Thunberg was detained alongside a few other activists protesting the expansion of the Garzweiler lignite coal mine, owned by RWE. She originally arrived in Germany last week, gathering with thousands both in the town of Lützerath and at the site of the plant in the effort to stop the continued burning of fossil fuels. As reported by CNN, activists claim that the mine expansion would lead to violations of the Paris Climate Agreement and increase emissions, as activist Luisa Neubauer detailed in a Twitter thread, leading to increased global temperatures. On Friday, she shared a photo of herself with fellow protesters in Lützerath, where some activists have been living for two years, squatting in abandoned buildings in an effort to prevent the town from being demolished.
The expansion and planned demolition of Lützerath has reportedly caused the displacement of tens of thousands of German residents, per the Washington Post. And while most of the town was cleared out over the weekend, climate activists held strong, resulting in multiple clashes with the police. (You may have seen videos of police being trapped in mud while clashing with protesters, as seen in viral videos over the weekend.)
On Saturday, Thunberg addressed a crowd of protesters at the Garzweiler mine, urging them to keep fighting to stop the expansion. "The carbon is still in the ground," she said, per CNN. "And as long as the carbon is in the ground, this struggle is not over." Speaking with reporters, per the Post, she also called out Germany specifically, saying the country was "really embarrassing itself right now."
Photos show Thunberg looking cool as can be as she was carried off by three officers in riot gear. "Greta Thunberg was part of a group of activists who rushed towards the ledge. However, she was then stopped and carried by us with this group out of the immediate danger area to establish their identity," said a spokesperson for Aachen police confirmed to Reuters. The activist was released after an identity check.