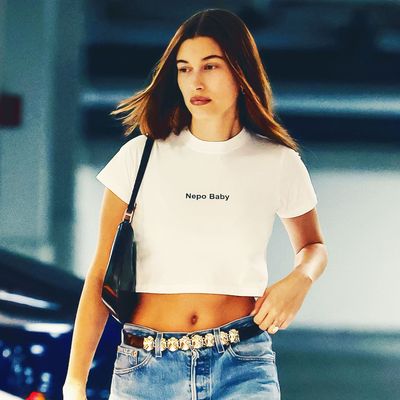 Photo: The Cut; Photo: Rachpoot/Bauer-Griffin/GC Images
Hailey Bieber recently made headlines for her snappy response to the nepotism discourse via a white crop top that read "Nepo Baby" in teensy black font. This is one of many examples in celebrity fashion history of letting your T-shirt do the talking, with no actual engagement on the topic, and leaving whatever is left to the imagination of the general public. "It's a game," wrote Paris-based writer, influencer, and fashion commentator Louis Pisano. "A slogan slapped across their chest is like a flashing neon light, please look at me and what I have to say and then spread my message."
Bieber is far from the first to do this. In the pre–social media landscape of the 1990s and 2000s, "a slogan tee was the equivalent of sending out a tweet today," wrote Pisano. Slogan tees have been used by other notable celebrities: Britney's "Dump Him" tee in 2002, a reaction to her break up with her then-boyfriend, Justin Timberlake; Naomi Campbell's infamous "Naomi Hit Me. And I Loved It" tee in 2006, which she wore to poke fun at allegations that she had attacked her personal assistant; Julia Roberts's "A Low Vera," tee, a direct dig at Vera Steinberg, Roberts's current husband's ex-wife, who refused to grant him a divorce in 2002; and Malia Obama's "Smoking Kills" tee, which she wore while attending the Made in America music festival in 2016 after being photographed smoking a cigarette a couple of months prior.
"Peak pettiness," Pisano says. "Julia Roberts coloring puns on T-shirts to try and drag her married boyfriend's wife, it's honestly camp."
Why? It suggests a semblance of self-awareness, as if the wearer were "in" on the joke, and regardless of how subtle or obvious the statement is, its effect is a wink and a nod: celebrities smirking back at the paparazzi and using the tabloids to their advantage.
In Bieber's case, however, Pisano was not moved by her contribution to the nepo-baby conversation. It was a "miss" for them, despite enjoying the "It" girl otherwise. "She's good at what she does, which is being a sleek, polished, and aspirational mood board. She doesn't make waves, she's not scandalous, she doesn't play into gossip and tabloid narratives, she's aloof and detached from that," they said. "That's why her attempt at clapping back at the nepo critics fell flat for me." Charli XCX, who last year famously rocked a pink slogan tee that read, "They don't build statues of critics," agreed, tweeting, "i respect the nepo baby tshirt attempt."
Others disagreed, though. Pointing to the shirt, Peyton Dix said on TikTok, "I'm not going to lie, she's real for that." One Twitter user said, "Hailey Bieber in a 'nepo baby' shirt in the midst of the debate is kind of a moment." Gwyneth Paltrow, a nepo-baby Hall of Famer, commented under an Instagram post, "i might need a few of these." The discourse continues!