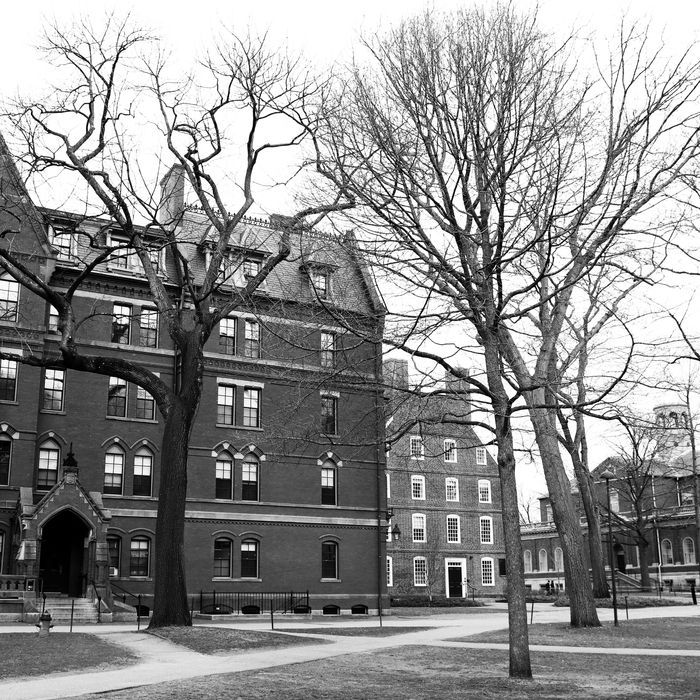 Photo: Maddie Meyer/Getty Images
This week, more than 100 Harvard students walked out of class to protest the continued presence on campus of anthropology professor John Comaroff, who stands accused of sexually harassing and assaulting some of his female students. Last year, Comaroff was the subject of a damning lawsuit three female graduate students filed against the university, accusing the institution of ignoring reports about Comaroff's inappropriate behavior. The women alleged this included kissing and groping students without their consent, unwelcome sexual advances, and threatening to sabotage students' academic careers if they reported him.
Following the lawsuit, Harvard, which had initially cleared Comaroff in a 2020 investigation prompted by initial reports of the harassment allegations, reviewed the case and found that Comaroff had engaged in verbal conduct that violated the school's sexual and gender-based harassment policies but did not find him guilty of unwanted sexual contact. The school placed Comaroff, who categorically denied the allegations, on unpaid administrative leave last spring; he returned to teach in September. Now he's back in the classroom for another semester, and the student body is understandably not thrilled.
According to reports from The Harvard Crimson, students swarmed Comaroff's classroom Tuesday afternoon during his first lecture of the spring semester and stood up as he began speaking. "We don't want to be taught by someone who has still not been held accountable for or made amends for their sexual misconduct," one female student read aloud, according to video footage from the classroom. "John Comaroff spent his career harassing, silencing, and retaliating against students. He does not belong at Harvard … Enough is enough." Students can be seen filing out of the classroom while chanting, "Justice for survivors" and "No more Comaroff, no more complicity." In the video, Comaroff is silent, even smiling and nodding at protesters. ("Smile in hell, asshole," one student told him as they walked out, per the Crimson).
Tuesday's walkout was organized by members of the Harvard Graduate Student Union and United Auto Workers' Feminist Working Group and Our Harvard Can Do Better, an undergraduate organization dedicated to dismantling campus rape culture. It isn't the first time Comaroff's reinstatement has sparked demonstrations: After the professor — who was also put on leave in 2020 after the sexual-harassment allegations first surfaced — returned to teach last fall, five graduate students reportedly walked out of his first class and attended a rally organized by the Feminist Working Group. "When I saw what Harvard undergrads did today, I wept," Lilia Kilburn, one of the plaintiffs in the Harvard lawsuit, tweeted after Tuesday's protests. "Because no one should have to go through what I went through with John Comaroff to get an education." Comaroff's attorneys told the Crimson that the professor "categorically denies that he ought to resign" and maintains he "is doing nothing to create unsafe conditions for any Harvard student." The Cut has reached out to the university for comment and will update this post when we hear back.