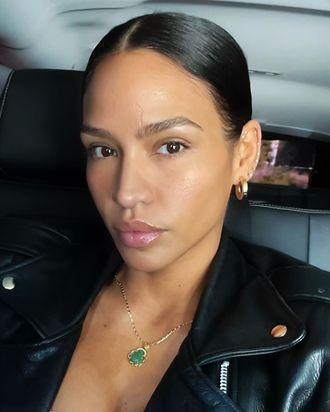 Cassie's hit song "Me & U" dominated the radio stations in the aughts. Although she carried that video solo by simply dancing in front of the mirror, she recently reflected on those days, wishing she had taken more risks with her looks. "I was never that playful with beauty," she says. "Now that early-2000s beauty is coming back, I have a lot of fun with looks during my shoots." Luckily, she also has a 3-year-old daughter, Frankie, who loves makeup. The singer and model is a mom to two daughters with trainer Alex Fine. "Loving myself means so much more because I have more to love in my life," she says.
She makes sure to stick to her rituals, which includes meditating and starting her morning with a cup of peppermint tea. "It calms my stomach, and it helps me recenter before the day starts," she says. "I'm also a huge water drinker. I have alkaline filters throughout our house. My favorite is the one in the shower, which has helped with the health of my skin and hair so much." Her daily quiet time is her personal reboot. "Even if I only get three minutes to just be quiet, I believe in it. I think it's important for my sanity."
Cassie grew up in New London, Connecticut, dealing with eczema, so having a skin-care routine is something that has been instilled in her since she was a child. "My mom was always on me about using Eucerin," she says. "Winter's were rough, but she taught me to lather on products as soon as I got out of the shower, while my skin was still damp." As a mom with a nonstop schedule, she doesn't have that much time anymore. But when she does get a moment to herself, she sticks with a solid routine.
Here, Cassie's routine:
Cassie always starts her a.m. routine with a double cleanse. She goes in with Summer Fridays' restorative gel cleanser, an amino-acid blend that replenishes and protects the skin. "It's really helped keep my skin clean without feeling overly dry," she says.
The next cleanser she picks up is her favorite, Youth to the People's superfood cleanser, a gel with nourishing ingredients such as spinach, kale, and green tea, which soothe the skin while fighting signs of aging. On days when she's rushing and doesn't have time to double cleanse, this is the one cleanser she uses.
Using a toner has never been a part of Cassie's routine, but she's recently been working with Buttah Skin alongside her friend and Buttah founder Dorion Renaud, who introduced her to the brand's refreshing mist. The balancing spray acts as a toner by hydrating the skin with aloe vera and rosewater.
The one serum she never skips is Ustawi's vitamin C. Cassie received the brand in a gift bag during Fashion Week and has been hooked ever since. "The products are made for melanin skin, and I'm obsessed," she says. The oil-and-water-gel serum brightens the complexion and restores the skin's natural glow.
Cassie also loves hyaluronic acid–based serums like this one from Mario Badescu. It's super-hydrating and boosts the skin's production of collagen for a healthy glow.
When a breakout arises, she reaches for Starface pimple patches, which are dermatologist tested and absorb fluid from pimples to expedite the skin's healing process. Her husband loves them, too. Pimples "are the absolute worst, and we're all trying to get rid of them, but it's okay to embrace them too," she says.
The final step in her morning routine is applying the Ustawi Baobob fruit moisturizer, which keeps her skin looking luminous. Baobab is a natural African fruit that detoxifies and nourishes the skin. The lightweight cream is formulated with niacinamide to even the skin tone out. It leaves the complexion cushiony smooth and targets hyperpigmentation.
For her p.m. routine, once every couple of weeks she'll use Biologique's P50 lotion, an editor-favorite exfoliating liquid that's praised for producing noticeable results. It tones and moisturizes the complexion while offering gentle exfoliation, so she doesn't need to apply it daily.
Cassie likes applying an oil at night to ensure she wakes up with a glow. Her go-to is Youth to the People's Superberry Hydrate + Glow Dream Oil, a hydrating blend of prickly pear and açai to refresh dull skin, lock in moisture, and reduce redness.
Lip care is important to the singer as well. She often uses lip masks to exfoliate and moisturize. Lately, she's been using Tatcha's kissu lip mask, a plumping jelly lip mask made with Japanese-peach extract to repair and soften lips.
The product she says she probably uses "too much" is Laneige's lip sleeping mask, which is beloved by the beauty community because of how moisturizing it is. "I don't just use it at night, I use it during the day too," she says. The leave-on mask, made with coconut oil and shea butter, deeply nourishes the lips overnight.
On feeling pressure to have perfect skin.
Cassie has been in the entertainment industry most of her life and has cystic acne that occasionally returns. Although she treats it with the help of her dermatologist, Dr. Jessica Wu, she's learning to understand her body is ever-changing and evolving. "We're all just trying to be more accepting and understanding of ourselves," she says. She certainly acknowledges that the pressure is real, though. Years ago, "if I had a show or I had to be on-camera, I would get treatments, or Dr. Wu would give me cortisone shots — sometimes a few at a time — in those areas depending on what was going on."
On her favorite part of motherhood.
"I actually repetitively remind myself to stay present. I never did that before," she says. Bath time is Cassie's favorite with her girls. They put their lotions and oils on and have girl time. But self-care is bigger than just taking care of their skin together — her girls absorb everything she does. Normally, when her daughters are upset or having a tantrum, she'll just say, "Breathe," and they'll do a breathing countdown with three slow breaths. "I had a moment the other day where one of my daughters was on a rampage and I got really frustrated. My older daughter, Frankie, said, 'Mommy, don't forget to breathe.' I was like, 'Oh my God.' When you give them certain things, they give them back to you. It was wonderful to feel that from her. We sat, and she helped me breathe, and then I calmed down and I was fine."
On living life on her own terms.
"Every decision is mine, every movement is mine, there's no asking anyone or playing into fear," she says. "I'm not fearful of the decisions that I make for myself because they're mine and they're for the benefit of me and my family at the end of the day."
On advice to her younger self.
Cassie was in the limelight all of her 20s, and now, at 36 years old, she's still navigating fame. The advice she'd give to herself in her 20s? "To not worry so much because everything works itself out, and if you place yourself where you feel like you're supposed to be, you'll be fine. Doing things outside of your comfort zone is important, but doing things that aren't right isn't." She preserves her youthfulness by minding her business. "I don't pass judgment on what people choose to do for themselves. I feel like there's a lot to be said about people that live their lives and not everyone else's."