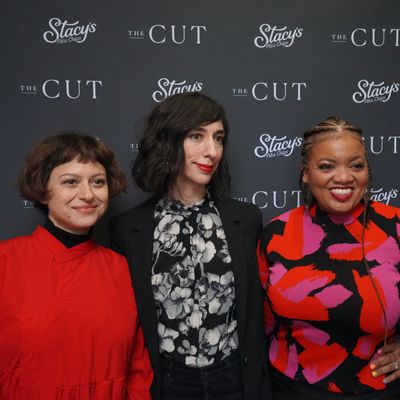 Over the weekend at the Sundance Film Festival in Park City, Utah, the Cut hosted a special screening of Nisha Ganatra's short film, Rise, followed by a panel discussion about the demands of entrepreneurship and the entertainment business. The Cut's deputy culture editor, Brooke Marine, spoke with three women straddling both worlds to find out how they all get it done: Latasha Gillespie, executive head of global DEIA for Amazon Studios, Prime Video, and IMDb; Alia Shawkat, who costars with Cynthia Erivo in Drift, which had its premiere at the festival; and Lana Wilson, an Emmy-winning director and writer. The panel members discussed everything from self-imposed phone-free morning routines to their mentors and mothers as well as the professional life lessons they learned at suburban malls and the value they've found in writing their own obituaries.
Below, read each woman's standout quote from the panel.
Latasha Gillespie, executive head of global DEIA for Amazon Studios, Prime Video, and IMDb
On celebrating your accomplishments — each one:  "I'm a little Black girl from Chicago with a finance degree. I spent 20 years in the manufacturing industry. There's no reason — no way logically — I should be doing this work. So I have to celebrate every single achievement because there's some other little girl out there, in a field that is far remote from this, that doesn't think she can make her way into this. I celebrate every achievement because I want her to see it and know if it's possible for me, it's possible for her."
About Gillespie: She is the executive head of global DEIA for Amazon Studios, Prime Video, and IMDb. Under her leadership, Amazon Studios created the industry's first inclusion policy and playbook; Gillespie is also credited with starting the Howard Entertainment program, a trailblazing partnership between an HBCU and a major studio. Prior to her current role, she led the global-diversity-and-inclusion organization across Amazon corporate.
Alia Shawkat, Actress, Drift
On branching out to avoid doubt: "As a child actor, you're definitely sexualized very young without even knowing it. There's a lot of pressure and expectations to be something, to be successful: It's going to be gone soon. I've been really lucky … my life outside of acting is just as full — or more. That includes painting and writing. I've just been lucky I'm able to confidently call myself an artist professionally, and that's helped me not have as much doubt, because I'm not waiting for a review or a call or a job. I feel like I'm just going to make, and that helps me not feel as insecure … My life has to be full so I can actually play a character who looks like they've lived something. I have to travel or have some wild sex or do something so that I can come back and actually have something to pull from instead of being on sets and doing red carpets."
About Shawkat: Best known for playing Maeby Fünke on Arrested Development and for starring in and producing the dark, genre-bending comedy Search Party, Shawkat has been a prominent film and television actress since the age of 11. She is currently on season two of Severance and recently wrapped production on two feature films: Drift and Pussy Island.
Lana Wilson, Emmy-winning director, writer, and producer
On the importance of mentorship and dressing the part: "I learned so much from [my mentor] in terms of what directing is. You have to get all of these people to come onboard your vision. It's not just having the vision; it's getting all these people to go along with you. I learned that from her. I'm transitioning into fiction film now. I wrote a script, and [my mentor] is a writer. I remember asking her, 'How do you write so much?' … She was like, 'You just dress in black and wear red lipstick and sit in the most elegant coffee shop you can find.' And I'm still clinging to this as a crutch! I can't let it go. It's true! It's just like, Yeah, I'm there. I look at myself and I'm like, I am a writer. The whole pandemic I was putting on blazers."
About Wilson: Her most recent documentary, Pretty Baby: Brooke Shields, premiered at this year's festival. Her popular documentary Miss Americana, followed Taylor Swift and premiered at Sundance in 2020. Her film The Departure, about a Japanese punk turned priest, was nominated for Best Documentary at the 2018 Independent Spirit Awards. Wilson's first film, After Tiller, debuted in 2013 and explored the lives of the four most targeted abortion providers in the country.