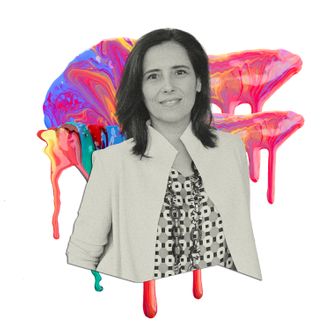 Photo-Illustration: The Cut; Photo: Courtesy of George Pimentel
Joana Vicente's entire career, as she describes it, has been propelled by moments of organic opportunity. Before being named CEO of the Sundance Institute in 2021, Vicente was executive director of the Toronto International Film Festival for three years. Before that, she was executive director of the nonprofit Gotham Film & Media Institute (when it was called the Independent Filmmaker Project), championing indie projects that would go on to great acclaim, like the documentary The Queen of Versailles and the Oscar-nominated Beasts of the Southern Wild. Prior to those leadership positions, she was a film producer, co-founding companies with Mark Cuban and her husband, Jason Kliot, and working with the likes of Nicole Holofcener, Steven Soderbergh, Brian De Palma, Jim Jarmusch, and Alex Gibney. Long before Vicente found her footing in the film world, she worked as a press attaché for former prime minister and Portuguese delegate Maria de Lourdes Pintassilgo, the first woman to hold the position in the country's history. No surprise then that Vicente's been named an influential person in Variety, Marie Claire, and Brooklyn Magazine.
These days, Vicente's schedule mandates she split time between New York City, Los Angeles, and Park City, Utah, where the Sundance Film Festival will take place in person for the first time in two years January 19-29. She never spends more than three or four weeks at a time in any one place ("I keep thinking I'm gonna be somewhere for at least six to eight weeks, and then there's always something.") Their two children being adults now, she lives with Kliot, who travels with her, and their goldendoodle, who doesn't, and instead is looked after by their son in L.A. Amid the madness leading up to Sundance 2023, Vicente spoke to the Cut about how she manages to power through a grueling festival schedule without needing to hibernate for the rest of winter.
On her morning routine:
If I'm in New York, I wake up at 7 a.m. If I'm in L.A., then I start the day earlier because New York is already working. First thing I need to do is have coffee and eat — I'm totally a breakfast person. I walk the dog to the pier, and then I try to do a little bit of yoga. It might be for ten minutes, might be a half-hour. Then I look at emails and usually start Zoom meetings around ten. I'm still figuring out how I did it all before the pandemic. I've been spending a lot more time at the office, which has been really nice. It's a lot more productive and creative to be in person.
On what motivates her at work:
It's wonderful supporting the artists with them as our North Star. We're there at the beginning when they're developing their projects. We might "be there" by funding documentaries or filmmakers with a grant. And then with the festival, it's this great opportunity to give new artists a platform to connect with audiences. I've dedicated my career to that, the discovery and nurturing of new artists, and that is really exciting. There's something incredibly exciting when you discover a new voice.
On winding down:
I definitely try to keep it to an eight-hour day, but that's not possible leading into or, of course, during the festival. Those are very, very long days. But at some point you're no longer productive, unless you absolutely need to be because you're dealing with some sort of crisis. I give it my all, and then I need time to unwind, whether it's preparing dinner, having a glass of wine, or watching the news. Sometimes I catch up on a magazine or read a book. Usually I watch a film or a series. It's been nice preparing for the festival — I've been working with the programming team, so I've been watching films every night. I love that I don't know what I'm going to watch, just being surprised and inspired.
On celebrating every win:
Sometimes people feel like, "This is a win, but we haven't gotten to the big win." I'm like, "Let's celebrate every time!" It is a challenging time in general. We are living in a world that feels a bit chaotic and so much — important rights and freedoms — is at stake, so you want to feel rewarded and gratified by the work you do. That's your way to be an active participant in society. Taking a moment to appreciate what others do, and the fact that we're making progress … it's something to be celebrated.
On self-doubt: 
Decisions need to be made, and what might have not been the right decision in the end was the best decision you could have made at that point with the information that you had. Then you learn and adjust, and as long as you're humble you don't get caught in that space of, Well, I made that decision, now I need to continue because we need to save face. If it's a mistake, let's go back and redo it. Failing is part of succeeding, and the more we fail, the better we get at what we do.
I tend to think that the things that I regret were times that I didn't trust my instinct. I need to rely on the experience that I've had all these years. I need to have that space to check with myself. Trust yourself, because as long as you do what you think is right with the information that you have, and as long as you're careful and thoughtful about taking input from everyone, you can always live with that. You can always be like, "I own it," as opposed to being pressured into doing something that doesn't feel right.
On her professional mentors:
I had the incredible opportunity to work with this unbelievable woman, Maria de Lourdes Pintasilgo, who had been the only woman to date who had been prime minister of Portugal. She was just a force of nature. Working for her was an incredible learning experience. Even though she had incredible knowledge and expertise and opinions about everything, she was always curious and always open to hearing other perspectives. That taught me a lot, to not approach life or your work as if you already know it all.
On accepting feedback:
When I was younger, I would take everything very personally. If a director was frustrated and said whatever, I would be like, Oh my God, they don't respect me, they don't appreciate me. Sometimes there are people who are just mean and they want to get to you. But mostly, it's a way of acting out or trying to call attention to something. I think having kids has helped me see that. I try to ask myself, Are these people being mean-spirited? Where are they coming from? What is it that they're trying to call attention to?
On getting through Sundance in one piece:
Last year, I came to Park City in mid-November, and we had to pivot to digital by December because of Omicron. The peak of the pandemic was projected to be the first weekend of the festival, and the hospitals were overwhelmed. It was a very, very difficult decision to make, but the right one. So it was a very different kind of experience. In person, you spend the day just going from one thing to the other. You've gotta keep healthy, drink lots of water, lots of vitamin B and C. I like roasted and salted almonds for a snack throughout the day, and I'm a big dark-chocolate person, so having a bar of dark chocolate is also a good treat. You need a lot of stamina, but you are also energized just by the excitement. It's such a special place. You're not only inspired by the conversations that you have, but you're also inspired by nature. Phones barely work there, so you end up creating a space where you're present and you're taking a lot in. It fills you with this incredible energy.
On the people who've helped her get it done:
When the kids were young and my husband and I worked together as producers — maybe we'd be shooting a film in Vietnam or somewhere else — my mom was amazing. She would just get on a plane and be with us for three months and help with the kids. She's a pretty exceptional woman. She was always incredibly independent and someone who always did what she believed was the right thing to do. She has this incredible integrity.
And then I have an incredible executive office. Without them, I really couldn't do what I do. They run my schedule. They're constantly making sure that I have all the information I need. They keep me on track. They're amazing.
This interview has been edited and condensed for length and clarity.