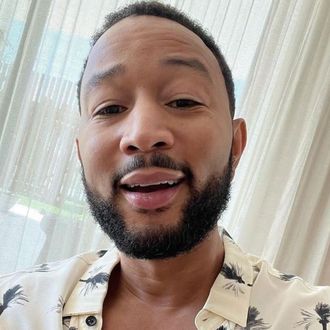 "I get it, another celebrity skin-care line is just what the world needs," says John Legend, laughing. He is joking, but it's no laughing matter; new celebrity skin-care brands pop up every month. But Legend wanted to do something different: Instead of shelling out squalane for hundreds of dollars, he decided to create an accessible line, specifically for people of color. And instead of selling it in a fancy department store, he opted for drugstores like Walmart and CVS, where starting February 1 he will sell his line, Loved01. "I wanted to bring something to people who look like me in stores where they shop and at a price they can afford," he says. "Everyone deserves to have beautiful skin."
He and his wife, Chrissy Teigen, often use their skin-care and shower time as bonding moments in their marriage. "We shower a lot together, not to get too graphic," Legend says with a laugh. They see bathing and shower time as more time to love and care for each other — and to share skin-care products like SK-II (Teigen, who has been helping him vet his line, introduced him to the brand.)
Legend has two things in his routine that he swears by: trying to get eight hours of sleep (even when he's on tour) and drinking a lot of water. On a regular day he drinks about eight glasses a day, but when he has a show or he's recording, he drinks even more to preserve his voice and keep his vocal cords healthy: "As a singer I always feel like I'm killing two birds with one stone by drinking a lot of water and resting, because I'm helping my voice and my skin."
Today, eight hours of sleep feels like a pipe dream to Legend, who just welcomed his third child, Esti, with Teigen. "When you have kids who are that age, they will come into your room in the morning and wake you up; they do not care if you want to sleep a little bit more," he says. His little ones usually come running in at 7 a.m., so he and Teigen make sure everyone is in bed by 11 p.m. The first thing he does when he wakes up is work out in his in-home gym (chic), then he showers post-workout and dives into his skin-care routine.
Here, Legend's routine:
While he's in the shower, he's been using the face and body wash from his brand. He's aware of the myths that come along with hybrid products, but he stands firm in his decision that he and dermatologist, Naana Boakye, M.D., M.P.H., have formulated products that are great for both body and face. "I love how silky my skin feels after cleansing," he says about the creamy cleanser that includes jojoba and coconut oil.
Next, he prioritizes exfoliating his skin with this cleanser formulated with bamboo and aloe vera.
For nighttime exfoliation, he uses Dr. Lancer's gentle exfoliating peels made with lactic acid to brighten and smooth the complexion. Legend turns to these peels to target any hyperpigmentation he may be experiencing, and he also frequents dermatologist Lancer's Beverly Hills office.
When it comes to feeding his skin the ultimate hydration, he uses SK-II's facial treatment masks. The moisture-boosting sheet mask is drenched with the brand's cult-favorite pitera essence, a vitamin-packed hydrating liquid.
Legend's sole focus with coming out with a skin-care line was nourishment and moisture for melanated skin, so sealing in moisture at the end of his routine is key. He finishes off with his lightweight oil, a blend including sunflower oil that delivers intense hydration.
Legend is serious about his blackheads. He gets one to two facials a month mostly for extractions to target blackheads, but in between those treatments he likes using Biore's witch hazel–infused pre-strips that deeply cleanse and unclog pores near the nose, which can be the most stubborn area for blackheads.
On his first introduction to skin care, Legend can't help but think back to his childhood: "When you're a kid, you're taught to shower and put lotion on your body." Moisture and hydration were things that have been stressed to him all his life. "As Black people we're always worried about being ashy. We had Vaseline, we had all the lotions, but I think no one told us we lose moisture faster than everyone else."
On the importance of creating skincare just for melanated skin.
Creating products with melanated skin at top of mind was Legend's goal. In his research, he found that the FDA doesn't require that you test your products on darker skin tones and he wants to tackle that gap. "We are a significant portion of the United States, and the significant portion of the global population, so we really thought about that as we were formulating our product line," he says.
On getting facials.
Legend is committed to one to two facials a month, and he thinks that it's fine to admit that as a celebrity with a skin-care brand. He personally likes to get them for stubborn blackheads: "I'm aware that some people can't afford facials, that's why more luxury-style products at affordable prices are needed."
On self-care with his kids.
Practicing self-care with his children was the inspiration behind his brand's name, Loved 1. "It can mean you love yourself and you're taking care of yourself, but it also means you're passing those rituals down to your loved ones," he explains. Bath time every night is a family affair for Luna, 6, and Miles, 3, and now newborn Esti. "It's a way for us to bond with the kids and, um, show them how to take care of themselves."
On decreasing his stress with meditation.
Being a celebrity doesn't eliminate stress — if anything it's even more of a reason to deal with stress — but Legend prioritizes meditation, mostly on his Headspace app; he's even partnered with the company before to help people connect the relationship between music and the mind: "Doing things like creating focus playlists help to be centered and focused. Mindfulness has always been important to me; it's a part of your mental health, but it also shows up in your physical health."