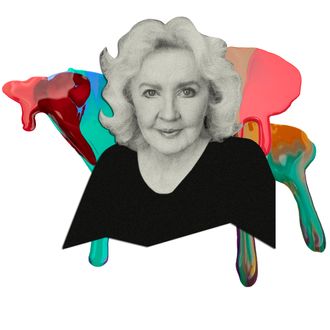 Photo-Illustration: by The Cut; Photo: Robert Stivers
Julia Cameron is the queen of morning routines — both her own and probably yours or someone you know's, too. In 1992, the author and teacher published The Artist's Way, a self-help workbook that guides readers in unblocking their innate creativity, most notably through "Morning Pages," three stream-of-consciousness journal pages that, when done daily, allow your artistic self to flourish. The seminal work is beloved by BookTok and Bella Hadid alike, and now Cameron's back on the creative scene with Write for Life, a six-week Artist's Way program designed specifically to help writers cultivate their craft and finish whatever it is they've been procrastinating on, be it a novel or screenplay. 
At 74, Cameron has enjoyed a prolific writing career, authoring memoirs, short stories, screenplays, musicals, and more. A lifelong creative, she remains in hot pursuit of her next endeavor. "I've written a lot of plays, and they're notoriously hard to place," she says. "I've had some productions, but I'm hungry for more." The Cut spoke with Cameron, who lives in the mountains above Santa Fe ("at about 7,800 feet") with her Westie puppy, Violet May, about quieting one's inner critic, laughing at rejection, and, of course, the importance of sticking with your Morning Pages. 
On her morning routine:  
Well, I wake up. My puppy, Violet, is 20 weeks old, so I have her in a crate at night, and the first thing I do is slip on my slippers and let her out. I had a dog named Lily, who passed away unexpectedly. I called her breeder, and they had two litters coming up, so we drove from Santa Fe to Denver and got Violet. After I let her out of her crate, I drink cold coffee, which I keep in a carafe in the refrigerator. That saves me brewing time. My breakfast typically is a slice of toast with peanut butter and jam. After breakfast, I write Morning Pages. I ask for guidance from what we might loosely call "the universe" and write what I hear.
On a typical day's work:  
The decision of what to prioritize comes from Morning Pages. They will give me a sense of urgency in one direction or another. So I do Morning Pages and, as I said, I try to listen for what should come next. I also do a daily quota. If I'm working on a project, I'll try to write two pages before a colleague of mine, Nick Kapustinsky, arrives. We return emails and check in with a few intimates. Once a week, we have a poetry night. I have supper and phone calls, and I write again for about an hour and a half before bed. At night, I write poetry.
On tackling insecurity:
Most writers have bouts of self-doubt, which I call the "credibility attack." It doesn't seem to matter how accomplished you are — you still have an inner critic. I call mine Nigel. Nigel will say, Oh, Julia, you're boring. Oh, Julia, no one's going to be interested in what you have to say. I've learned to miniaturize Nigel. That's why Morning Pages are so valuable: because our inner critic speaks to us about them, but we learn to keep on writing. People will ask, "How do you get rid of the critic?" I don't know that you can, but you can change it from the voice of doom to a wee squeaking cartoon character who's habitually negative.
On taking rejection in stride:
I write ditties. I once wrote a crime novel called The Dark Room. It got wonderful reviews, and I was very happy. Then it got reviewed in the New York Times negatively; I felt like I should go out in New York wearing a sackcloth and ashes. But then I thought, No, goddamn it, and I wrote a little ditty. I encourage people to try rhyming and humor. I find that when they do, they get their power back.
On accepting criticism: 
At the beginning of my career, I was a short-story writer, and I wrote a short story and I showed it to my best friend and she said, "Oh, Julia, if you publish this, you'll ruin your career." At the time, I had no career, but that didn't keep me from taking it to heart. I buried the short story in a bottom drawer. Twenty years later, I started writing short stories again and wrote a book of them. I have to believe there's destiny involved. I went from short-story writing to journalism, and my career took off. But perhaps if I had stuck to short stories, I would've labored in obscurity.
On winding down at the end of the day: 
I've been reading Night Surgery, by Julianna McCarthy, a friend of mine who is a poet in her 90s. It's her first published chapbook. She's very brusque and dark and I find myself resonating in a not-lighthearted way. I also unwind by cooking. I'm largely vegan and enjoy making homemade vegetable soups. I bake a lot of pies. I make sour-cream-raisin pie, a recipe that's been handed down in my family for generations. It doesn't sound good, but it's delicious.
On celebrating professional achievements: 
I have a favorite restaurant called the Santa Fe Bar & Grill. I take myself to the Santa Fe Bar & Grill and I break my vegan resolve. I have either rotisserie chicken or a New York strip steak and something called coconut shrimp.
On the people who help her get it done:
Emma Lively is a composer-lyricist I've worked with for 24 years. She writes the harmonies to my music. Joel Fotinos, my publisher at St. Martin's, was also my publisher at TarcherPerigee. Whenever I would tell him my ideas for a book, he would say, "Oh, I'd love to know about that." His encouragement and support meant that I could sort of follow my own star on what to write. And Nick keeps me on my toes with my poetry; once a week, we bring each other a new poem. My list of people to acknowledge is pretty long.
This interview has been edited and condensed for length and clarity.