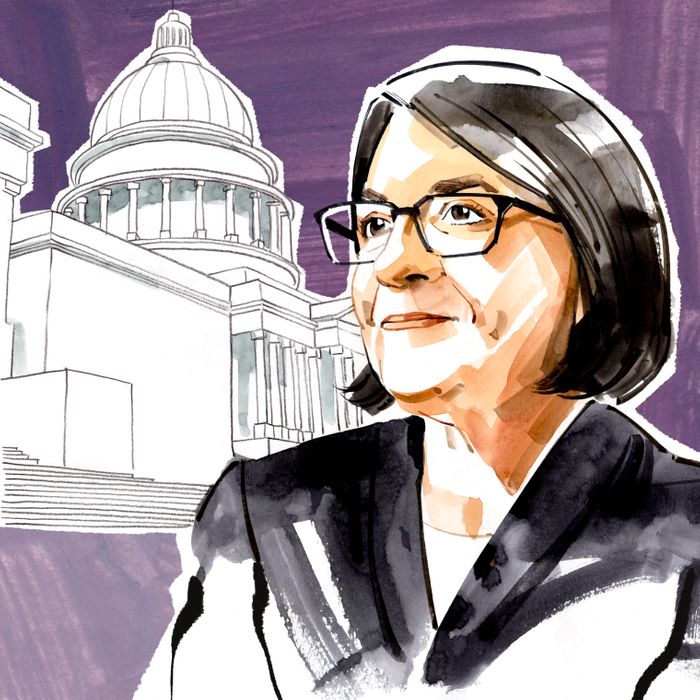 Illustration: Kagan McCleod
In our limited series "How I'll Get It Done," rising progressive stars tell the Cut how they plan to fight for a better future.
When Becca Balint won her race for Vermont's at-large congressional district in the 2022 midterms, she made history as the first woman and the first openly gay person elected to represent the state. While exciting to voters and thrilling for Balint, her election was a reminder of the hurdles women in politics — or trying to get into politics — still face: Campaigns are costly, time consuming, and require family and community support.
Another challenge in Vermont, according to Balint, was that voters have been extremely loyal to their male incumbents and feel well served by them, making it difficult for newer candidates to have a shot. Balint believes that, as a woman and an openly gay person, she brings a different and necessary lens to Congress. "We have to continue to make Congress a body that is truly representational of America as a whole," she said in an interview.
After accepting a job as a rock-climbing instructor in Vermont in the 1990s, Balint permanently relocated there. She has also worked as a middle-school teacher — experience she suspects will be helpful in Congress — and a state senator, most recently serving as the state senate's president pro tempore. During her years in the state senate and throughout her campaign, Balint prioritized mental health, housing, and paid family-leave policies for Vermonters. She is particularly proud of having run a joyful campaign.
"I was in a meeting this morning over Zoom with some of my colleagues and I was talking about how, even when we're working on hard issues, we have got to do it from a place of joy or else it's not sustainable," she said.
What has life been like since the election, and how have you been preparing for Washington, D.C.? 
I have two kids, a 12-year-old and a 15-year-old, and a spouse who is very supportive of me. When you take on a job of such responsibility and your son says to you, "Mom, you're doing what you love, and I'm glad you're doing the work that you're called to do," that's amazing. I was like, "Are you worried that I'm going to be away from home?" He said, "You've been in politics for years. We know the routine on the home front, and we know you love us and you're going to be there for us. But this is a really important time. We need you in politics." That helps me prepare for the work ahead.
I'm still adjusting to people recognizing me as I go around doing my regular business around the state, but I couldn't be more excited about this incoming class in D.C. We all really seem to run for the same reasons: protecting democracy and making life better for regular people. In the days leading up to orientation, I was nervous. We are, I think, as a nation, trying to figure out whether we're going to be able to hold democracy together. I was feeling a lot of anxiety about the work ahead, and then, once I got there and started meeting these incredible leaders, I feel a renewed sense of optimism.
What would you like to accomplish in your first month, and what would you like to have accomplished by the end of your first year?
I want to make sure that we are doing everything we can to ensure the rights of Americans, whether it is reproductive rights or whether it's voting rights, and we're going to have to be coming together as a caucus to do that even if we're in the minority. That is going to be hard work if we don't have backbenchers on the Republican side that can do that work with us. We're certainly going to try to appeal to their sense of, "Americans need to come together and put the country ahead of party on these basic issues."
Personally, I ran on a platform of trying to alleviate the housing crisis here in Vermont and the mental-health crisis. Those are two issues that I worked on quite a bit when I was in the state legislature. They should not be controversial issues, so I am hoping to be able to make that case to my colleagues that these do not have to be partisan issues. We have a generation of kids who have been deeply impacted by the pandemic. We see kids across the country who are dysregulated in their schools. We're seeing it in all of our communities, and I want to make sure that I cannot just deliver some funding back in our home districts for mental-health support but really change the conversation around mental health. I talk honestly and openly about my own anxiety and depression and how I've been able to not just manage it but thrive in my life while making sure I get the support I need.
You were a teacher for a long time. Which skills and experiences do you feel you bring to Congress from not just your political experience but those earlier days of teaching?
I always say there's no better preparation for politics than being a middle-school teacher because people are not often acting as their best selves. I do think it's fundamentally true that, to teach middle school in particular, where you're struggling with issues around identity and ego and you want to figure out who you are as a person, I think folks in politics also struggle with those things, and we do it in a very public manner. I bring people together on issues. I don't necessarily mean getting everyone to agree but creating space where people can have candid conversations. When you're a middle-school teacher, you have to do that all the time because your students come into your classroom with all of the baggage from what has happened to them that morning in their own homes. Were they fighting with their siblings? Did they have a rough night of sleep? Were their parents fighting? Do they come from a family that doesn't have stable housing? They come into your classroom and you still need to be present with them in whatever they're experiencing and get them to feel safe enough to participate in class. I think the other piece is having taught in four different rural public schools in Vermont, I understand the struggles of regular families across my state. When I come into the halls of Congress, I'm thinking of those families.
I know you're not thinking about day-to-day picking up the kids from daycare, but can you talk to me — 
I remember those times. When I started my work in the legislature, I had a first-grader or a kindergartner and someone in preschool. I remember how challenging those first few years were for me and my wife to figure out how I was going to continue to be a state senator while she was trying to pick up all the pieces on the home front. We had a very difficult time finding child care for years and we pieced things together. It's gotten even worse now for so many young families. There aren't enough slots, and we wring hands and we say, "Why do we have such a workforce crisis? Why have so many people left the workforce?" It's a complicated set of issues, but one of those issues is that we don't have enough high-quality, affordable child care. And so people — even those who want to go back to work, who are skilled, they want to be back in the workforce — can't right now because they can't find child care. That's going to continue to be an issue. We have to promote not just family-friendly policies but family-supportive policies. 
I think of Vermont as being progressive and leading the way in a lot of different respects. I was surprised to learn that you're the first woman and the first openly gay person to represent the state in Congress. What has taken so long?
It is a little mind-blowing, isn't it? A couple of things are going on here. One is we have been well served by outgoing Senator Leahy, Senator Sanders, and outgoing Congressman Peter Welch. If they had been doing a poor job they would not be reelected year after year. It's also true that politics for many, many years, and still today, is not set up for women to succeed. Case in point: the issue of my struggles with child care. We didn't have a bench of women politicians in Vermont who came up through the legislature or came up through their local school boards who could make a run for Congress or other statewide positions because they didn't have structures in place either on the home front or in their communities that enabled them to get to that place.
I was successful in doing this because I actually do have a wife at home who is picking up so many pieces, so many threads. If you don't have somebody who fundamentally believes that you have a right to do this and you should do this for more representation and for better policy, it is very difficult to run statewide. There are structural issues around sexism. Vermont is not immune. We have homophobia as well. I also know, as a woman and as an openly gay person, I bring a different lens to the conversation. We have to continue to make Congress a body that is truly representational of America as a whole. I'm so proud, and I'm delighted that not only do I get to be the first woman but also the first openly queer person.
This interview has been condensed and lightly edited for clarity.