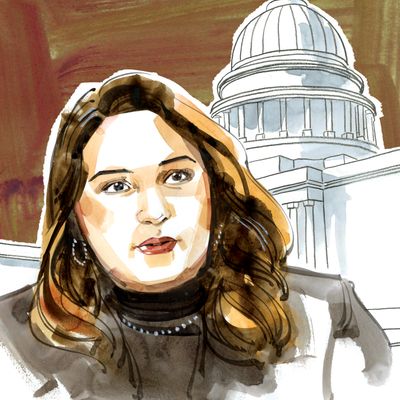 Illustration: Kagan McCleod
In our limited series "How I'll Get It Done," rising progressive stars tell the Cut how they plan to fight for a better future.
The Midwest had never sent a Latina to Congress until Delia Ramirez won Illinois's newly drawn Third District in the 2022 midterms. The Democrat now represents Humboldt Park, the West Chicago neighborhood where she grew up and that shaped her path to politics. She is the daughter of Guatemalan immigrants who, she says, "worked multiple minimum-wage jobs" while finding time to volunteer through their church, and is married to a DACA recipient. She also made a career in nonprofit work, rising from mail woman for Humboldt Park Social Services at 17 to executive director by 21.
Explaining how that role, which she held for nine years, prepared her for the U.S. House of Representatives, Ramirez casts back to childhood memories of her mom making food for the homeless. "I was never interested in learning how she made enough pasta to feed a hundred people," she said in an interview. "I was more interested in why people were hungry to begin with."
But after 13 years, Ramirez decided she "never wanted to direct social services" again. Hoping to make systemic improvements in housing security, she began her legislative career in the Illinois general assembly in 2018. Now she's starting her first term in the U.S. Capitol, a milestone she says "brings indescribable humility" along with responsibility.
"I always thought that the first would be a Latina with an Ivy League degree, a Latina with access to wealth, or a Latina who was well connected to the political machine," Ramirez says. "Having the legislative record that I have, with a practically community-college university degree that took me 12 years to obtain — it's a reminder that I represent the vast majority of Latinas and Latinos in this country. It's exactly why I have to be the first."
Housing shortages, a looming recession, inflation — all these factors are making it really hard for people to find and keep homes. Incoming members of Congress have talked about how hard it is to find a new residence before they start making their salary. How is your search going, and has the process illuminated anything new for you from a policy standpoint?
I got into elected office because people in my community felt unseen by elected officials as it pertains to housing. There was so much housing instability before the pandemic, and the pandemic just showed the other space, of gentrification, rising housing costs, and people having to choose between their mortgage and going to the doctor. In the state of Illinois, about 60 percent of Latinos live in multigenerational housing. It meant that when the essential-worker dad came in with COVID, the other seven people in that house also got COVID and someone died. There's a correlation between the number of people that died in Illinois from the pandemic and the lack of affordable housing in our community.
But you were asking about the reality for me. I ran for Congress and there were a lot of expenses that I could not put on the campaign, right? Clothing, travel, all of these things cost you. My husband and I own our home, a two-story unit where we have a tenant. I'm also not afraid of admitting I have medical debt, because of miscarriages during the pandemic, that have made my credit less than perfect. So my husband and I have to figure out how to pay a security deposit and a credit check while we are trying to navigate all the expenses of this transition. That's scary and sometimes embarrassing.
I said to our minority leader in our first meeting after I won my primary, "Why do members of Congress have to pay out of pocket to access housing in a place that I'm only coming to because of the job?" And I've heard people say, "People feel like members of Congress should be able to afford it." For those of us who are working-class, this is yet another reminder that this place wasn't designed for people who actually represent their communities. It would be nice for my husband to come and visit from time to time, and for our dogs to come visit. But he said to me, "While that would be great, I don't think we could afford a one-bedroom on your own. Find a roommate and let's financially stabilize ourselves, and next year you get your own place." So I went to orientation and found out that Summer Lee was also looking for a roommate. We found a little rowhouse just a few minutes from the Capitol that a former member of Congress, who's retired, is renting to us for $3,000 a month.
That's great. I would love to hear about orientation, how you felt going into it and how it turned out.
I was nervous. I made lots of good friends in the state house that I will carry with me for the rest of my life. And I worried, can you create that in Congress? Maxwell Frost, Summer Lee, Greg Casar — the four of us have really built a bond. The four of us have been intentional about creating space to go grab drinks, to have dinner, to talk about our districts and how we move together with leadership and others.
I've also developed a really incredible relationship with [Robert] Garcia, our class president from California. He is formerly undocumented. Immigration will be one of my top issues in Congress, and we're very similar in many ways. And then six of us are connected in a deep way to the Working Families Party: Becca Balint from Vermont, Jasmine Crockett from Texas, and of course Summer, Greg, and I. We have our own Signal thread. That place isn't … It's not a spa. So you need all the good energy you can get. Having trust in relationships is so critical in a place where people don't often trust.
What is your first priority?
Immigration and the Dream Act. I walk in being the only member of Congress of mixed status, with a husband that is actually the Dreamer we all like to talk about and politicize. There's a sense of personal responsibility for me, so with the help of a number of organizations, including United We Dream and then Economic Security Project Action, I drafted a letter talking about the child tax credit and health-care subsidies and how important it is that we extend those while we still have the majority.
I had wanted to ask you about the DACA program in particular. Its future is uncertain. What could be done in Congress to protect Dreamers and to protect other undocumented folks?
Passing the Dream Act and legislation that begins to chart the pathway to citizenship for the 2 million people who are my age right now, waiting anxiously for a response on how they could move forward, is really important. It's also important to see the humanity of not just those who crossed with their parents as 4-year-olds — or in the case of my husband, the 14-year-old who crossed the border wanting to connect with his father and trying to help his family who live in poverty — but also recognizing the impact for the 300,000 American children of these DACA recipients.
I want to make sure that we are putting a human face to this issue, but not at the expense of others in the community. I hope that we are not in a place of negotiating status for asylum seekers or mass deportations for others that don't fit the DACA status. That is un-American and is not going to address the bigger problem in our country. People talk about, "Well, immigrants are taking jobs." But we don't talk about the ways that our communities contribute to the country. The second part of it is, how can I be a champion in the new Congress while we're in the minority? I don't think there's a lot of incoming members for whom immigration is such a personal issue and I want to really use that as leverage to help move the needle.
The way you describe your faith in your policy platform is different than the interpretation we usually see coming out of Washington. How does faith inform your support of abortion rights or reproductive justice?
A woman's right to choose is part of my faith. I think that religion oftentimes uses the name of God to oppress, certainly to oppress women, to put rules over people's bodies, to decide who people can marry. That's not consistent with the God I know. My theology is very different from the number of conservative, Evangelical people in this country and in Latin America. But I also know that hundreds of Christians believe exactly what I do: that abortion is health care. That we should celebrate love, and not worry about who loves who or a person's gender.
A handful of polls that came out before the midterms indicated that more Latino and Hispanic voters are shifting their support toward the Republican Party. What do you think Democrats are getting, if not wrong, then not quite right? 
The first thing to consider is that Latinos are a growing voting block and we're diverse. While we share the ethnic heritage, we have varying degrees of socioeconomic status. We have different races and we certainly have different national origins, that oftentimes really draw out and shape how we engage in politics. Latino communities are looking for people they can respect, who are going to see them and who are going to work for them. Immigration is a top issue, but it's not the only issue. If that's the only thing you think we care about, then you want to be able to show us that as Democrats you've delivered — and you have not delivered.
But Latinos care about the same issues that other people care about: jobs, the cost of housing, having to choose between health care and paying their rent. They want people who understand those challenges and are going to fight for them, not become another corrupt politician. Also: There is no trust in either party right now. It doesn't matter what we say. I think it's really important for us as Democrats to step back and ask ourselves, Why? What must we do to build a party that people can trust? Walking around saying, "We passed this legislation, we lowered gas prices by a dollar, you should be grateful" — people still can't afford the gas. It's important to acknowledge, from a place of humility, that people are still suffering. We have a lot more to do.
This interview has been condensed and lightly edited.