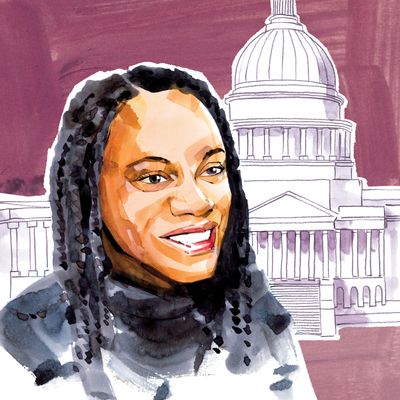 Illustration: Kagan McCleod
In our limited series "How I'll Get It Done," rising progressive stars tell the Cut how they plan to fight for a better future.
After winning a tough race, Representative Summer Lee became the first Black woman elected to Congress from Pennsylvania. Although she ran in the solidly blue 12th District, the former state representative faced stiff headwinds as conservatives poured millions into their fight.
Before entering politics, the 35-year-old southwestern Pennsylvania native graduated from Howard University School of Law with a focus on civil rights, worked as a labor organizer in the fight for a $15 minimum wage, and was a proud advocate for her working-class Pittsburgh community for years. "I have the responsibility of not just serving the 12th Congressional District," Lee says, "but also the Black women across the commonwealth who are now seeing themselves represented for the first time, even if they're not in this district."
Lee spoke with the Cut about the impact of her "first-ever" status, how to make Congress look more like the rest of the country, and what special part of life in her hometown she wishes she could bring to Washington with her.
How does it feel to be the first Black woman elected to Congress from Pennsylvania? Are you still processing it? 
It's a great responsibility and a great honor to represent your district in Congress. Few Americans have had the honor of serving in that capacity. And there's a huge weight for that, right, when you think of the small number of Americans who have ever served in the United States Congress and then you think about the even smaller number of them who have been women, the even smaller number of them who have been Black or brown folks, and then the number of us who have been simultaneously Black and women and working class!
I think about it because part of my job is to make sure I'm not the last, that I don't remain the only. And that for however long I'm honored to serve here, whether it's two years or 20, that I'm doing everything I can to leave this place better for the next group of people who are going to come in.
I heard you're going to be rooming with another incoming freshman in Washington: Representative Delia Ramirez from Illinois.
I am! When you think about the job and serving in Congress, I think very few people realize just how much time we spend in D.C. So you have to have a place, but it's expensive. D.C. is one of the most expensive cities in our country. We're maintaining places in our home districts, we have our same bills and obligations. As a millennial, you know, I have my student-loan debt and all of those other considerations, so adding D.C. rent and utilities to that is overwhelming. To be able to share that with somebody is obviously really good but also to just have someone else to navigate Congress with.
What are you most excited to start working on once you're in Congress? 
The thing I really want to tackle is the influence of money in politics. Coming off my election, it was ugly. It was really all the stereotypes that we think of when we think about politics and campaigns: the negative ads, the flood of money that's coming in. It's all of those things that keep everyday working-class people disenfranchised. They're disenfranchised because they don't see themselves in the process, and when they do see themselves in the process, they see all of the systemic and institutional barriers that come up. If you care about democracy, and if we are a party that cares about it, then we have to care about the things that keep us from having a robust, reflective democracy. And money in politics is No. 1.
What are the challenges of navigating a party with such an ideological divide between its more progressive and centrist wings? I noticed you were endorsed by a lot of progressives but also by Senator Bob Casey, one of the few remaining pro-life Democrats.
I know a lot of folks were shocked by that, but I wasn't: Senator Casey was someone who called immediately after our primary and hit the ground running with us from absolutely day one as we moved into our general, and he stayed with us to the very end and fought, advocated for us within the caucus, for which we were incredibly grateful.
I think what the progressives are looking to do is: How do we push the boundaries? How do we push the envelope? We're not here to obstruct, we're not here to fight against, but to fight with folks, to push folks, and to expand the electorate and introduce new people to the political process.
What are you hoping to learn as a freshman in the next two years? What do you hope to accomplish with Democrats in the minority?
I expect it to be tumultuous, you know. This is a different game. I recognize that, at the state level, I've been in the minority for my entire career, all four years of it, right? When you aren't working from the high ground, you learn just really unique ways to navigate where you can get wins and move the needle wherever you can.
The thing I want to learn is the committee structures, getting in, and getting expertise. I don't know which committees I'll be on yet. How do we learn the committee process and learn the policies of that committee to gain some sort of expertise to help our district? That's what I want to focus on in these two years.
Is there any committee you would be particularly ecstatic to be on?
My No. 1 now in the short term is the Judiciary Committee. I spent four years on the Judiciary Committee in the Pennsylvania statehouse. We do everything from civil-rights issues to the courts, which is gonna be integral right now. That advocacy for democracy reform, for voting rights, for making sure we have a diverse court that is responsive to these times. We see the threats we get from the Supreme Court, which is acting as an activist court. The needs there — from the fall of Roe, our state courts, our federal courts — all of those are gonna be important.
We're in a really big moment right now with labor action that we haven't seen in almost a century. As a former labor organizer, what do you think your role is to support that movement as a member of Congress?
For many reasons, we are at a crossroads in American society. When we think about just the many crises we're facing, whether they be economic, racial, or health crises through a pandemic, I think our progressive political movement has to go hand in hand with the labor movement — and with a labor movement that truly reflects the diversity of our labor force in America, right? And we need to build out a labor movement that's going to meet the moment we have right now. We have such a huge responsibility as elected officials to be a part of that, to be a part of helping more workers win a union.
I don't think we could have a successful progressive electoral movement without having a worker-centered union labor movement, too. So that's going to be one of our biggest focuses: How are we using and lending our voices as elected officials, lending our offices, creating policies that make it easier, not harder, for workers to unionize and for workers to get the protections and rights they need and deserve.
What's one thing you would teleport from your district to D.C. with you if you could?
Oh my gosh, that's such a hard question — western Pennsylvania, such a state culture. I would bring French fries on salads. People deserve to have French fries on their salads, and they don't realize how much they've been missing out on. I always ordered some weird Pittsburgh stuff when I lived in D.C. for law school, and I remember one day it was the French fries on the salad. Everybody's like, "Are you kidding me? What are you doing?" I was like, "Have you even tried it?"
This interview has been edited and condensed for clarity.