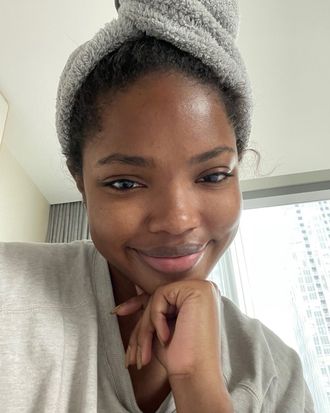 Photo: Courtesy of Ryan Destiny
You may recognize actress and singer Ryan Destiny from her roles on TV shows like Grown-ish and the former Fox drama Star. But what you might not know is that in 2021 she became the first celebrity face of Black Opal, a legacy beauty brand founded in 1994. As a teen, Destiny remembers walking through the aisles of drugstores and seeing Black Opal, which carried the only makeup products she could afford at the time and was also one of the very few brands that catered to deeper complexions. For 27-year-old Destiny, being named its ambassador was a full-circle moment.
Other than that, she keeps a low profile. "I'm one of those people that posts twice a year on Instagram and that's the only time you would see me," she says. There's one thing that Destiny does turn to social media for: beauty inspiration. "I have a folder that I bookmark looks in to reference later— I love following artists for inspiration," she says. (That's how she found make-up artists Ernesto Casillas and Mali Magic, whom she has worked with.) Destiny also turns to TikTok, her For Your Page usually consists of beauty trends, since she searches for it so much. Her favorite trend of all time? The OG Black girl lip-liner-and-gloss combo. "I remember looking back at my mom's old pictures with her friends and they were wearing that lip-liner look in the '90s, it's always been so cute to me."
While she may love trends, especially those relating to '90s beauty, she never turns to trends for skin care. When new serums and cleansers hit the market, Destiny turns a blind eye. There was a time when she was trying everything, and her skin quickly reacted negatively. "My skin said what are you doing to me?" Destiny laughs. So now she likes to keep her skin-care routine simple and usually uses no more than three or four products at a time. With a consistent routine and regular facial treatment, her skin stays (mostly) breakout free and glowy.
Here, Destiny's skin-care routine:
"I go to sleep early every night," she says, adding that she prioritizes getting seven to eight hours of sleep. "I'm an early bird, my body's natural alarm clock doesn't let me sleep past 7 a.m. and sometimes 6 a.m." She starts her routine with Cetaphil's gentle cleanser, the dermatologist-beloved product that simultaneously hydrates and cleanses the skin. "The simplest [products] work for me, with no extra fragrances or added alcohols — that's how my skin thrives best."
Destiny follows her cleanser up with a vitamin-C serum formulated by a Beverly Hills–based dermatologist Derm King, whom she sees regularly for her skin. The brightening serum contains a blend of vitamin C with antioxidants like vitamin E to retain moisture and impart a healthy glow.
Staying true to her simple three step skin-care routine, Destiny finishes up by lathering La Roche-Posay's double-repair moisturizer on her skin. "It's so dry in California; I hate how it affects my skin," she says. Her solution is this niacinamide blended moisturizer that hydrates and repairs the barrier.
At night, Destiny likes to switch to products that are a little less gentle and more active. She loves this medical-grade, aesthetician-created cleanser because it's formulated with glycolic acid, which helps to exfoliate the skin and clear pores. For Destiny, it sloughs away impurities and leaves her complexion feeling extensively cleansed before bed.
She usually follows her nightly cleanser with a prescribed retinol, tretinoin, two to three times a week. She likes to seal in the moisture with Vani cream, a richly textured moisturizer that's ideal for sensitive skin. Destiny loves the way it's fast-absorbing and she always wakes up with a plump complexion.
On her favorite treatments.
Facials are a big yes for Destiny, specifically a cold-hydrogen facial, which is a treatment that applies hydrogen directly onto the skin to reveal an improved tone and texture. The first time she experienced this treatment was in Atlanta, and when she returned home to L.A., it took her a while to find a place that she really loves that performs this treatment. Now that she's found a new home to get her facials, Dr. Landon McCarroll's office, she consistently gets them. "It does wonders for me. It clears up dark spots, stops breakouts and just revives my complexion," she says. She also loves laser treatments, but because it is so tricky to get them done on darker complexions, it took her a while to try them. After doing extensive research to find aestheticians and dermatologists who are qualified to work with darker skin, she caved, and now it's the treatment that she can't let go of. Dr. McCarroll also does her laser at the Derm King Institute.
On the products she loves for dark-skinned women.
Shopping for foundation for darker skin tones can be a challenge, but Destiny has four brands that she always comes back to for her complexion: Giorgio Armani, Black Opal, Dior, and Nars. "Their formulas are unique and feel really nice on my skin," she says. "The textures feel like they're melting on to your skin, rather than sitting on top, so it matches my tone perfectly."
On truly unplugging and finding a hobby.
Last year, Destiny fell in love with something new: pottery. It's the one activity where she completely unplugs. She calls the practice of pottery her "getaway." "It's the one activity that forces me to not think about all the other things that I stress about throughout the day," she says. "It's so satisfying and it's a time where it's just me focusing on making whatever I'm making."
On staying true to herself.
Destiny looks up to people like Janet Jackson and the late Aaliyah, not only because of their talent, but also because of how they navigated fame. "Their auras are so chill and laid back. Jackson is even sometimes shy," she says. She sees a lot of herself in them because their humility outweighed anything else in the entertainment business that can make you feel like you need to be someone else. "People always feel like they need to have these out-there, crazy personalities that are super-interesting, and it makes you feel like, Dang, am I even, like, enough sometimes? These women make me feel seen."
On spending time with her girls.
When it comes to going out, clubbing is not her thing. The perfect low-key night for her consists of going to one of her favorite restaurants with her girls. If it's a girls' night in, she loves to have sleepovers, even though she feels like it sounds so childish. "It makes me feel like I'm in high school all over again," she says. "Some of my friends put me back in that mind-set; all we have to do is just watch a movie."