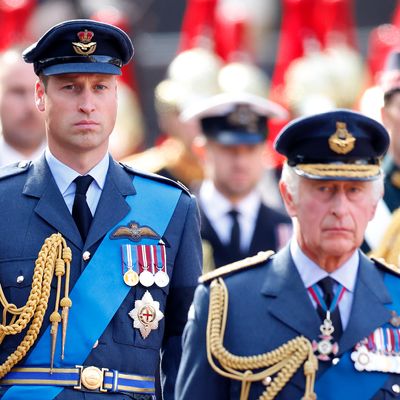 Photo: Max Mumby/Indigo/Getty Images
To call Prince Harry's memoir divisive would be a massive understatement. Spare surprised the public with its tell-all nature, with passages covering everything from Harry's circumcision to a physical fight with his brother, Prince William, leading up to his decision to step back from the palace. No one from the royal family — or their press offices — has officially responded, but new reports suggest that William is furious at Harry for airing out their dirty laundry, and King Charles isn't too thrilled about it either. And things might get worse before they get better.
William is reportedly "privately seething and devastated" by his brother's memoir, a source told Entertainment Tonight, but not because of any perceived falsehoods. In fact, royal expert Katie Nicholl told ET that William was "incredibly angry at the level of detail" included in the book, not the facts themselves. After the book was released, Us Weekly reported that William was "horrified," citing a source that said, "At this point, he's got no plans to speak to Harry." The source added, "He's come to terms with the fact that he's lost his little brother quite possibly for life." But, while some might expect William to respond to Harry's claims, sources close to the royal family seem to agree that both William and Charles have agreed not to go on the offensive — for now.
"The royal family has to avoid being vindictive," a source close to Charles reportedly told the Sunday Times, per the Daily Beast. "They've got no alternative but to let the hurricane blow through." A royal adviser also told the Times that the Palace would "rise above it and let time do its job." William is reportedly following his father's lead, according to a close friend, who told the Times, "He's keeping quiet for the good of his family and the country." The source added that William was "concentrating on his wife and his children," but "inside, he's burning." Another friend reportedly told the paper that William was "going through a range of emotions — anger, concern, and worry — not just for his family but how all this is going to affect the institution."
Still, the royal family did prepare to respond, just in case. "Page Six" reported that advisors to the royal family set up a "war room" to deal with any potential scandals caused by Harry's multiple television interviews — he's hit 60 Minutes, Good Morning America, and The Late Show With Stephen Colbert this week, and that's just in the U.S. The Telegraph echoed these reports, writing, per the Daily Beast, that a "small team" of palace aides are "wargaming every dispute" in anticipation of what Harry might reveal.
So far, the palace has remained quiet, but Us Weekly reported that there may be discussions about how to respond, including a potential punishment. Citing an "insider" source, Us Weekly claimed that unnamed people were considering consequences "with respect to whether or not the Sussexes get to keep their titles." This action is frequently suggested by media pundits who criticized Harry for leaving the royal family and spilling secrets. And the insider called it a "way to strike back," calling it "a very real possibility." This might not seem like a great consequence for a man who has already stepped down as a working member of the royal family, but Harry made clear during his interview with 60 Minutes that he did not intend to relinquish his title. When host Anderson Cooper asked him why he wouldn't renounce his title, Harry responded, "And what difference would that make?"
Meanwhile, King Charles is reportedly hoping for a reconciliation, though the Sunday Times royal correspondent, Roya Nikkhah, tweeted that it has been decided that Harry would have "no official role" in King Charles's coronation, which is scheduled to take place on May 6. Meanwhile, Harry told ITV's Tom Bradby in a pretaped interview that aired on Sunday that he wasn't sure he would attend the coronation even if he were to be invited. "There's a lot that can happen between now and then. But, the door is always open," he said, adding, "The ball is in their court." He also claimed that neither William nor Charles has signaled they'd be open to mending their relationship.
This post has been updated.