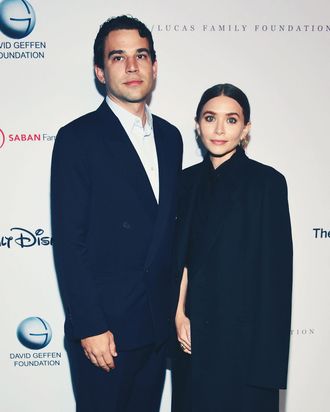 Photo: Lisa O'Connor/AFP via Getty Images
Congratulations to Ashley Olsen, who apparently had a very celebratory end to 2022: "Page Six" reports the fashion mogul married her longtime partner, artist Louis Eisner, in a "hush-hush" ceremony at a private home in Bel Air last week.
Few details are known about the wedding, which reportedly took place on December 28 and was a relatively intimate affair, attended by approximately 50 guests. Olsen — who has previously dated actor Dax Shephard, Pressed Juicery founder Hayden Slater, and financier and art dealer Richard Sachs — and Eisner have been intensely private about their relationship since they began dating in 2017, rarely appearing in public together. The couple made their first red-carpet debut in 2021 at a charity event for Young Eisner Scholars, a nonprofit organization founded by Eisner's father. Last summer, Eisner shared a rare shot of Olsen hiking along a trail carrying what appears to be a beer in one hand and a giant machete in the other. Romantic!
The "hush-hush" nature of the ceremony leaves me with many questions: Did guests wear The Row? Did the couple dress in all black? Did Ashley pull inspiration from Mary Kate and set out bowls of cigarettes for guests? We may never know, but here's hoping we at least get to see the wedding dress.