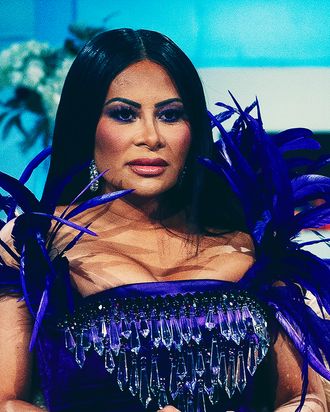 Photo: Bravo/NBCU Photo Bank via Getty Images
Jen Shah, a former fixture of Bravo's The Real Housewives of Salt Lake City known for her love of couture clothing, designer accessories, and eyebrow-raising hairstyles, was sentenced to six-and-a-half years in prison on Friday, NBC reports. In July, Shah pleaded guilty to conspiracy to commit wire fraud for running a telemarketing scheme that defrauded elderly people out of thousands of dollars. A money-laundering charge was dropped as part of the plea deal, which she entered after months of passionately and repeatedly claiming that she had no knowledge of illegal behavior connected to her.
Prosecutors asked the judge to sentence Shah to ten years in prison, saying that was the appropriate amount of time for someone who had harmed others and only been "concerned about herself." Shah's lawyer, Priya Chaudhry asked for three years. Chaudhry said that Shah wouldn't forget what kind of damage she's caused, that she had been living in an "echo chamber of her own denial" but knew that she had to face the truth after seeing the government present its evidence last summer.
Despite Chaudhry's creative attempts at convincing U.S. district court judge Sidney Stein to pass down a lenient sentence — an effort that included saying Shah has spoken with "elders" in Hawaii and is now learning from those elders as well as the victims she defrauded — Shah received the sentence. Generally speaking, if you have to call on the elders, you're in a bad place.
Shah is so likable on Real Housewives that it can be hard to remember the depth of the cruelty and criminality of the actions that led her to prison. Prosecutors sought to remind the court of the fact that she not only participated in defrauding the elderly but directed others to do so. Shah, prosecutors said, was committing crimes "day in and day out." In court documents filed in December, prosecutors said that she was "an integral leader of a wide-ranging, nationwide telemarketing fraud scheme that victimized thousands of innocent people." They added that, at her direction, "victims were defrauded over and over again until they had nothing left." Damian Williams, U.S. Attorney for the Southern District of New York, noted that Shah and her co-conspirators, "persisted in their conduct until the victims' bank accounts were empty, their credit cards were at their limits, and there was nothing more to take."
Shah's March 2021 arrest played out dramatically on the show's second season and has become one of the most quoted, memed, and discussed moments in Housewives history. As the cast sat in a van, preparing to leave for a girls' trip to Vail, Shah received a phone call from her husband. She asked another cast member to turn off her microphone, then said she had to leave because her husband was in the hospital and had "internal bleeding." Moments later, a helicopter and several agents, including Homeland Security and the NYPD, circled the women. Heather Gay, one cast member, asked, "What if she's on the run?"
After her arrest, she insisted that she was innocent and used the tagline "The only thing I'm guilty of is being Shah-mazing." Federal authorities used the line against Shah in sentencing papers, saying that it showed that she was mocking the legal system.
Weeks before sentencing, Shah's attorneys asked the judge not to hold her behavior on the show against her, saying what people saw on TV was a caricature created by the editors. Her attorneys added that the "semi-scripted" and "heavily edited" show portrayed Shah as "intransigent, defiant, and often even unrepentant, about her actions," but that was not true of the real Shah, per People.
The judge seemingly believed this as he began Friday's heavily attended hearing by reminding courtroom spectators that Shah is a real person, not just her television persona. "People should not confuse the character she played on an entertainment show with the person I have before me," he said. "The other is acting and this is reality."
But Bravoholics everywhere know that in the world of Housewives, the two are rarely all that different.