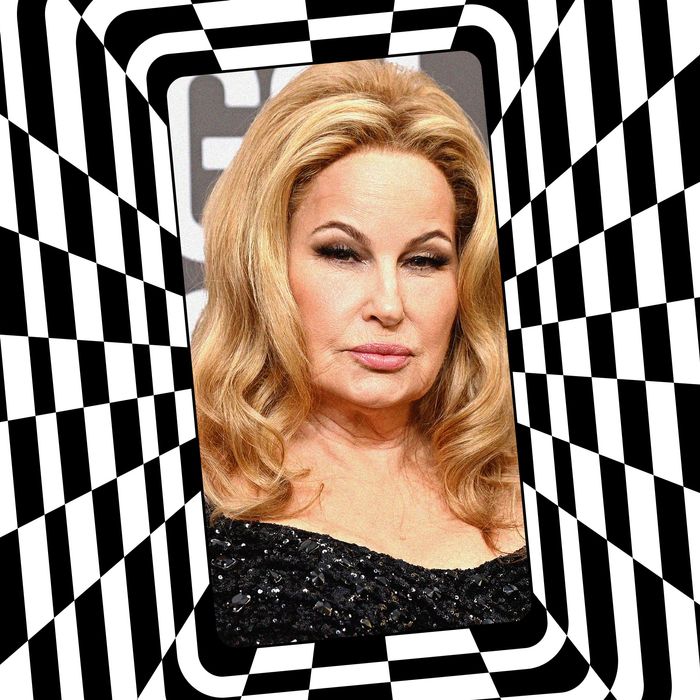 Photo-Illustration: by The Cut; Photo: Getty Images
I Can't Shut Up About: Deep dives into my online obsession of the week.
How do you begin to describe the perfect piece of cake? Or the most luxurious beach vacation? Or the sensation of wearing one of those Old Hollywood fur-trimmed robes, complete with matching kitten-heel house slippers? That is how I feel about Jennifer Coolidge.
With her performance as the well-meaning-but-delusional heiress Tanya on The White Lotus, the world is singing, in gorgeous four-part harmony, Coolidge's long-overdue praise. In September, she won her first-ever Emmy for the role; it was also her first time being nominated. This month, Coolidge won her first Golden Globe as well as her first Critics' Choice Award. (It was only her second time being nominated for both the awards; all nominations were for her role as Tanya.) She'll probably — hopefully — win her first Screen Actors Guild Award later next month, and if the Academy knows what's good for them, they'll find a loophole and somehow give her an Oscar too. "I just want to say to all the people out there, for anyone that's sort of given up hope, I hope this gives you inspiration. It's not over until it's over," Coolidge said in her Critics' Choice Award acceptance speech for Best Supporting Actress in a Drama. "It's not over till you're dead."
Coolidge's speeches, interviews, eight-second videos, etc., are a wealth of one-liners. While accepting her Emmy for Outstanding Supporting Actress in a Drama, she blamed a lavender bath for making her rush through her speech ("I'm full!") before doing a little dance to the play-off music. At the Golden Globes, she thanked Mike White, the creator of The White Lotus, saying, "You sort of changed my life in a million different ways. My neighbors are speaking to me. Things like that." Unfortunately, I cannot find an acceptance speech for her 2005 Teen Choice Award for Best "Movie Sleazebag" for her role as stepmother Fiona Montgomery in A Cinderella Story. In its place, I give you the intro Coolidge once said she would use if she was on the Real Housewives: "If any of you girls say anything cunt-y to me, I'm gonna beat the shit out of you."
It's impossible to pick a favorite Jennifer Coolidge quote. In character as Tanya, my personal favorite is, "That's the weirdest voice I've ever heard." In character as Jennifer Coolidge Doing a Red Carpet Interview, it's her saying that her dream role would be playing a dolphin. She recently told "Page Six" that one time, when calling in sick to a waitressing job, instead of faking an illness, she said someone put a cigarette out in her eye. She's said she wants to be in Lil Nas X's next music video and once pretended to be her own identical twin to date two men at the same time. In a 2021 interview with Vulture, she recounted how she used to pretend to be the "least-known, completely fictional Hemingway daughter" named Muffin Hemingway. "One time I got thrown out of a club because I was behaving badly," she recalled, "And they said, 'Don't ever come back here, Muffin!'" While reading tweets for a 2020 BuzzFeed video, she gave the only appropriate response to a tweet that read, "I just want Jennifer Coolidge to slap me with a purse": "Thank you. I will." However, no interview will ever be quite as perfect as the "25 Things You Didn't Know About Me" that appeared in Us Weekly in 2020: "My mother has soft brown eyes like a cow"; "I used to be able to run really fast" (Britney Spears who?); "I'm the only person I know that has become less intelligent as they've gotten older"; "Sometimes I try to figure out how many pieces of gum I can put into my mouth at once." She also said she's President Calvin Coolidge's sixth cousin twice removed, a statement I don't care to fact-check. If it's true to Jennifer, it's true to me, too.
In these interviews, Coolidge often comes across as both larger than life and deeply grounded, telling stories that sound like dinner-party lore before sharing intimate truths about how she views herself. She told Variety that in 2011, she was asked to audition for the part of Paulette in the musical adaptation of Legally Blonde, the role she originated in the movie. Her reaction was understandable: "Look, if I got up onstage and farted, and that's all I did, it would still be the lady from the movie!" In the same Variety interview, she said, "The saddest thing about life is that you just make decisions about yourself … If I'm not getting great roles, I come to the conclusion that people think I'm incapable of that. And then I make the decision that I am incapable of that." It is at once heartbreaking, humanizing, and admittedly comforting to know someone with the gravitas of Jennifer Coolidge could ever think she is anything less than divine.
To love Jennifer Coolidge is to celebrate everything deliciously hyper-feminine. She is greater than the sum of her parts — although Stifler's mom walked so MILF Manor could run. She is impossible not to root for, and I hope she gets everything she wants. Especially a future role as a dolphin.