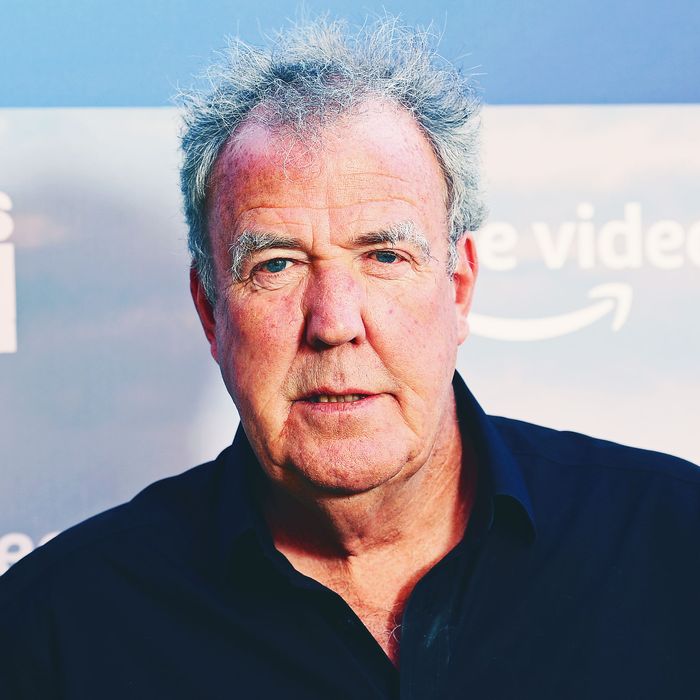 Photo: Jeff Spicer/Getty Images
The final episodes of the Netflix docuseries Harry & Meghan dropped in December, making it a busy month for Meghan Markle's tireless critics. While the usual suspects, like Piers Morgan and Angela Levin, shared their regular hateful thoughts about Meghan, Jeremy Clarkson took the cake for most inappropriate, cruel, and unnecessary commentary.
Clarkson, a British columnist for The Sun, wrote that he feels sorry for Prince Harry. "Meghan, though, is a different story," he wrote. "I hate her. Not like I hate Nicola Sturgeon or Rose West. I hate her on a cellular level."
It's worth noting that Sturgeon is Scotland's prime minister and West is a serial killer who collaborated with her husband in the torture and murder of at least nine young women in the 1970s and '80s. But apparently, comparing Meghan to a serial killer was not enough; Clarkson went on to share a truly deranged fantasy about harming her.
"At night, I'm unable to sleep as I lie there, grinding my teeth and dreaming of the day when she is made to parade naked through the streets of every town in Britain while the crowds chant, 'Shame!' and throw lumps of excrement at her."
The backlash to Clarkson's misogynistic comments was swift — including from his own daughter. Meanwhile, Clarkson's attendance at a lunch Queen Consort Camilla had attended two days before his column was published raised eyebrows online.
Here's what we know.
Clarkson's column was met with intense backlash
In making a docuseries about their lives, Harry and Meghan opened themselves up to praise and criticism, but most people agree that Clarkson's hateful, sexist comments crossed a line. In response, some criticized The Sun for allowing the column to be published in the first place and called for Clarkson to be fired. Others pointed to the column as just the most recent evidence that Britain's tabloids have "poisoned" public life — something the docuseries covered extensively.
Sadiq Khan, mayor of London, called out the danger of Clarkson's words at a time when violence against women is rampant.
Clarkson's own daughter Emily condemned the piece, writing in an Instagram Story that she does not support or agree with what her father wrote: "I want to make it very clear that I stand against everything that my dad wrote about Meghan Markle and I remain standing in support of those that are targeted with online hatred." In a separate post, she wrote that she believes the media's treatment of Meghan has been unfair. Accompanying an image of a Daily Mail article, she wrote, "This publication, and many like it, are hellbent on DESTROYING this woman. Love her or hate her (or like me feel a large amount of ambivalence towards someone who I don't know and who's actions barely affect me), the rhetoric around her ought to scare you."
British lawmakers signed a letter to the editor asking The Sun to take action against Clarkson. The letter, written by Caroline Nokes MP, chair of the Women and Equalities Select Committee, called Clarkson's article "hateful," connecting it to an "unacceptable climate of hatred and violence." The letter asked for "an unresolved apology" to Meghan and that "definitive action is taken to ensure no article like this is ever published again." Per CNN, 64 lawmakers from various parties have signed the letter. The outlet reported that the Independent Press Standards Organization, which regulates the U.K. press, had received more than 17,500 complaints about Clarkson's column.
What does Camilla have to do with all of this?
As the backlash against Clarkson grew online, people began to make connections between Clarkson and Camilla, noting that the two appeared to have recently attended the same luncheon. Misinformation about Camilla's involvement swirled with some claiming she had hosted the event, which has been reported to be false.
Per Newsweek, Camilla was photographed attending a private lunch party at the Murano restaurant in London on December 14 — the day before the final episodes of the docuseries were released and two days before Clarkson's column was published. The luncheon was reportedly attended by British celebrities including Judi Dench and Maggie Smith as well as media personalities and commentators like Morgan and Clarkson. Still, many online criticized Camilla for attending the same event as Clarkson. The palace has not yet issued a comment about the docuseries nor Clarkson's article, though Yahoo News UK reported that some at the palace were frustrated by the media coverage of Camilla's potential ties to the columnist.
Clarkson responded to the backlash, though he initially stopped short of apologizing.
Clarkson responded to the outcry over the article on Monday, tweeting that he had been referencing a scene from Game of Thrones in his column. Not sure how that makes it any better, but okay.
He wrote that he was "horrified to have caused so much hurt and I shall be more careful in the future," though he stopped short of apologizing for his remarks. Following his statement, he reportedly requested that The Sun take down his original op-ed. It has been replaced with a screenshot of his tweet.
Meghan and Harry called out Clarkson's pattern of spreading "hate rhetoric, dangerous conspiracy theories, and misogyny."
In an ITV interview promoting his memoir, Spare, Harry said that Clarkson's column was "horrific and hurtful and cruel towards my wife," BBC News reported.
The Sun published an apology on December 23, writing, "We at The Sun regret the publication of this article and we are sincerely sorry," though critics continued to call for Clarkson to be fired. On January 16, almost a month after his column was published, Clarkson posted a lengthy apology on Instagram, saying that he usually reads his work to someone before submitting it but he was in a hurry when he wrote the infamous article about Meghan and he "just pressed send."
"I really am sorry," the statement says. "All the way from the balls of my feet to the follicles on my head."
Meghan and Harry responded through a spokesperson and effectively declined Clarkson's apology. While Clarkson claimed that he'd apologized over email to the couple, their statement said that the email was addressed "solely to Prince Harry." The couple noted that Clarkson did not address his "long standing pattern of writing articles that spread hate rhetoric, dangerous conspiracy theories, and misogyny." The statement, shared by reporter Omid Scobie, went on, "Unless each of his other pieces were also written 'in a hurry', as he states, it is clear that this is not an isolated incident shared in haste, but rather a series of articles shared in hate."
This post has been updated.