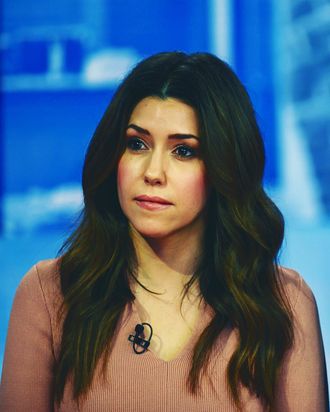 Photo: NBC/NBCU Photo Bank via Getty Images
Camille Vasquez, who represented Johnny Depp in his defamation trial against his ex-wife Amber Heard and whom you might know better as the attorney all over TikTok last summer, has a new gig as a legal analyst for NBC. On Monday, Vasquez made her NBC debut on the Today show, talking about the murders of four University of Idaho students. Fittingly, the show's hosts asked Vasquez whether internet sleuths help or damage a murder case. She said, "I think they can do both."
The Depp-Heard trial catapulted Vasquez to fame — TikTok infamy, in particular. Vasquez represented Depp after he sued Heard for writing an op-ed in the Washington Post in which she'd described herself as "a public figure representing domestic abuse." Despite the fact that Heard didn't mention Depp by name and that an earlier U.K. trial had found her claims credible, the jury determined that Heard should pay Depp more than $10 million in damages. (Heard settled with Depp in December, ending any possibility of an appeal).
But Depp — accused of sexual assault and domestic abuse — wasn't the only winner in the trial. Vasquez was promoted to partner at Brown Rudnick, and in the days following the trial, she and another attorney from the firm went on a victory tour. They explained why and how they'd won the case by placing all blame on Heard and insisting that Depp had been wronged. At no point did they mention that the misinformation, trolling, and misogynistic commentary on social media swayed public opinion.
In the fall, Vasquez made headlines when TMZ reported that she'd been hired to represent Ye following his antisemitic tirades. Days later — and only after several brands and companies distanced had themselves from Ye — did the firm say it would not represent the rapper.
Maybe in her new job on NBC, Vasquez will explain where and how she draws the line on which disgraced men to represent.