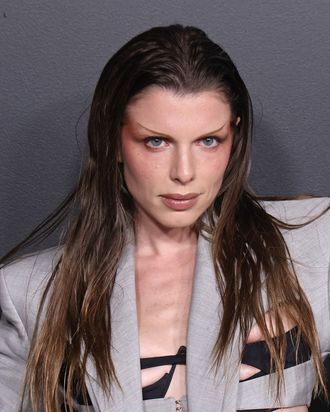 Photo: Taylor Hill/WireImage
Julia Fox is all about "maximum transparency." Whether she's telling all about her shortlived, but highly public relationship with Ye, wearing super low-rise jeans, or posting TikToks about how the spirit of her best friend told her she was going to have a son, Fox is nothing if not a fan of the TMI. Most recently, she presented an unvarnished look at her New York City apartment, shocking fans with just how… normal it is.
On Wednesday, Fox posted a surprise — and, according to the caption, "underwhelming" — apartment tour to her TikTok page. As with all things Fox, the video has been called everything from relatable and to disturbing. "I know I'm gonna get roasted, and whatever, but hopefully, maybe someone can watch this and be like, 'Okay, well maybe I'm not doing so bad,'" she said before turning the camera to the first room of the tour: her bedroom/living room. "I put my bed here in the living room so I could turn my bedroom into a little playroom for Valentino," she said, showing off her unmade bed and her son's toys on the floor in the adjoining room.
Like any New Yorker, Fox's apartment is bursting with stuff. There are shoes scattered in the hallway with coats and bags, a "nostalgia mirror," decorated with photos of her family and lost loved ones, a table covered with various knick knacks including a cotton candy machine, and shoe boxes in the kitchen (which she assures us is "very common for a New Yorker").  The last room in the apartment is Valentin's room, though she said they normally co-sleep — "Yeah, we're co-sleepers. Sue me, I don't care."
Fox's apartment is certainly a far cry from the large celebrity homes featured on Architectural Digest's Open Door home tours, or Vogue's 73 Questions, and that's partly by design. "I don't like excessive displays of wealth, they make me feel icky," she said. "Especially people that have really big houses, it's just really wasteful when there's so many homeless people in this country."
She's so concerned about housing, she's even allowed some unwelcome guests into her home. Nmoting that she had a "small mouse problem," she said she liked to look on the bright side. "I appreciate that they, at night when we're sleeping, come out and clean up the crumbs that my son drops on the floor," she said, adding that she wasn't planning on evicting the mice. She later clarified in the caption that she only had "ONE mouse" and that he was "cute." I'm sure her landlord will be thrilled.