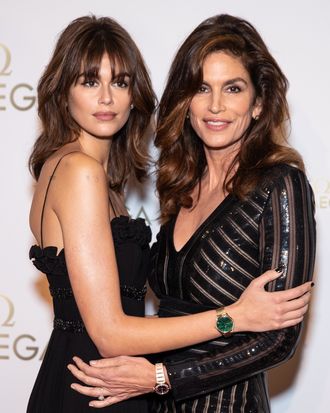 Photo: Miikka Skaffari/Getty Images
She might not be wearing a "Nepo Baby" graphic tee, but Kaia Gerber, daughter of Cindy Crawford, knows how people see her. And, in a major shift from her more defensive nepo baby peers, she seems totally fine with it.
"I won't deny the privilege that I have," she said in a recent cover story for Elle. "Even if it's just the fact that I have a really great source of information and someone to give me great advice, that alone I feel very fortunate for." Though Gerber didn't go into details about just how much having a super model mom helped her get into the industry as a teenager — nor did she directly address the nepo baby label — she admitted that she has "met amazing people through my mom." But ,she added, "My mom always joked, 'If I could call and book a Chanel campaign, it would be for me and not you.'" Nothing like a mom to keep you humble.
Gerber is currently in the middle of a slight career shift with small acting parts in American Horror Stories (and American Horror Story) and Babylon. She recently filmed the movie Bottoms with Ayo Edebiri and Rachel Sennott and is prepping for an Apple TV+ series with Laura Dern and Kristen Wiig. Now having worked across industries, she says that acting is actually much less of a nepo baby safe haven then some might thing. "No artist is going to sacrifice their vision for someone's kid. That just isn't how art is made, and what I'm interested in is art," she said. "Also, no one wants to work with someone who's annoying, and not easy to work with, and not kind," she continued. "Yes, nepotism is prevalent, but I think if it actually was what people make it out to be, we'd see even more of it." Interesting.
Not only does Gerber seem uninterested in defending herself against the nepo baby label, she also wants to use her nepo powers for good. Later in the interview, she talked about the power she has as a public figure, saying that she wants to make a point to stand up for issues she believes in via social media or interviews. "When I see people with a platform not using it the way that they could, it makes me upset," she said, without naming names. "So many people spend so much time complaining about fame. But you can also do something so incredible with it." She added, "You can change people's lives, and to not take that opportunity would be silly and make none of it worth it for me."