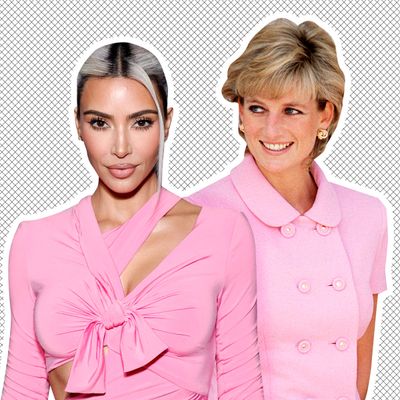 Photo-Illustration: by The Cut; Photos: Getty Images
It's the New Year, which means Kim Kardashian's got a new style icon. After wearing Marilyn Monroe's dress to the Met Gala — and earning a lot of backlash for doing so — she has moved on to another famous blonde: Princess Diana. And fans, well, they have thoughts.
On Wednesday, Sotheby's held its "Royal & Noble" auction, featuring various items owned by rulers past. Among the pieces up for bidding was a diamond-and-amethyst cross pendant once worn by Diana, which Kardashian quickly scooped up for a reported $197,453. (A steal considering jewelry experts had previously told "Page Six" they expected it to go for as much as $500,000.) Kristian Spofforth of Sotheby's London said in a statement that the company was "delighted that this piece has found a new lease of life within the hands of another globally famous name." But he may be the only one.
Fans on Twitter were less than thrilled to see an accessory most closely associated with a beloved British royal going to the woman who was accused of permanently damaging Monroe's gown (claims she has denied). "She's trying to traumatize the ghosts of iconic women," joked Def Noodles on Twitter. Her extravagant purchase soon became a meme with fans suggesting other pop-culture relics Kardashian could buy next.
Although Diana wore it a few times, most famously to a 1987 charity gala in London, the pendant, known as the Attallah Cross, never actually belonged to her. It was loaned by Garrard, its maker, and after her death, it was purchased by businessman Naim Attallah CBE. Yet a press release from Sotheby's reportedly stated that Diana was the only person known to have publicly worn the 5.25-carat piece. "Following her death, it was never seen in public again until now," the press release said per "Page Six."
Kardashian has taken inspiration from Diana before. In 2018, multiple outlets noted that her then–pant of choice — the bike short — had been popularized by Diana in the mid-'90s. Kardashian may not be an actual royal, but she sure wants to dress like one.