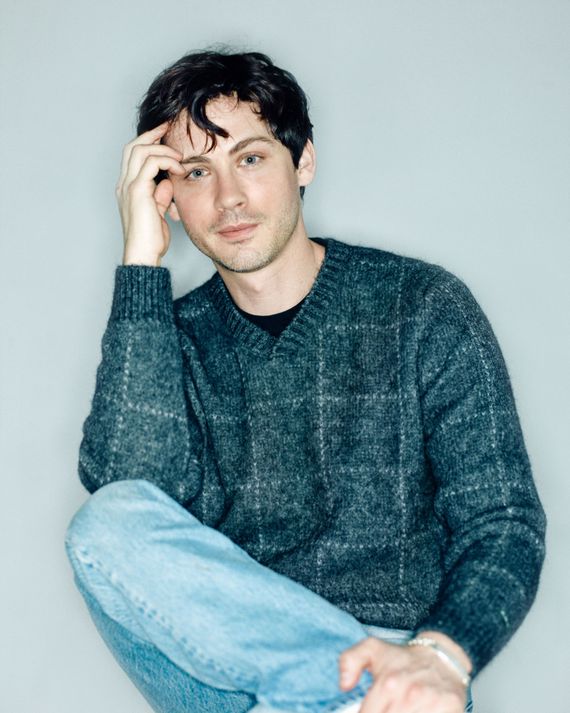 I'm staring at Logan Lerman's hair. I can't help it. His gently tousled waves are a little distracting, but what I'm searching for is the hint of gray that made itself known on Instagram in the early days of the pandemic. Finally I muster up the courage to ask him about it — not just for me, a woman who spent more than enough time scrolling through GIFs of Lerman on Tumblr in the early 2010s, but for all of us on the internet who scrolled through GIFs of Lerman on Tumblr in the early 2010s. "It's white," he corrects me, though it's dyed right now for a project he's filming. "Like, shock white. It started when I was, like, 17. It's right here in particular," he gestures, moving from the center of his hairline back to the top of his head. "I've got a streak, and it's peppered all around."
Lerman has just come downstairs from his hotel room in a dark-green crewneck sweatshirt and jeans, looking the tiniest bit like he recently got out of bed. He is, he admits before ordering a rooibos tea, a little hung-over. The actor has come to New York to promote the second season of Hunters, a pulpy Prime Video series about a team of '70s-era misfits who track and kill Nazis secretly living in the U.S. The night before meeting me, he joined his co-star Al Pacino on The Tonight Show and afterward, eager to shake off the discomfort of being interviewed in front of a live audience, downed a few martinis with his girlfriend at a bar frequented by the SNL cast. Lerman is generally soft-spoken, but he's chatty this morning, his blue-gray eyes, framed by long lashes, widening in reverence when he talks about literally any movie (he just saw M3gan and "loved it") and his face scrunching up when he's thinking about his answer to a question.
The actor — and his hair — became the subject of internet swooning in 2012, when he starred as the moody, troubled Charlie in The Perks of Being a Wallflower. The close-cut mop he wore back then made him look like your best friend's brother: neater than the Bieber swoosh, goofier than the gelled-up Twilight guys, and distinctly alluring to tweens. You couldn't throw a stone at a Tumblr feed without hitting a grainy screenshot of Charlie leaning out a car window, the movie's most clichéd quote written in white italic typewriter font across the bottom.
The early 2010s were big for Lerman: In addition to starring in Perks, he led two Percy Jackson films — adaptations of young-adult fantasy novels that seem to have marked the last major Hollywood franchise he'll star in for a long time. He went on to appear in a steady stream of projects, learning to choose his scripts very carefully. At 20, he began reaching out to writers he loved, hoping to either find his next great role or produce a movie that excited him. "A lot of my friends were in entry-level positions at agencies and production companies," he says, "and I'd be like, 'Send me the submissions.'" He started dabbling in production, shepherding some scripts to fruition by meeting with writers who couldn't get their work off the ground and repackaging the concept to make it more appealing to financiers. A lot of them didn't make it, including a passion project he worked on for four years. "That was my baby," he says. "I learned a big lesson: Never work with people that don't know what they're doing."
Lerman relays his role in the industry machinery with the calculated logic of a moviegoing mathematician: Script plus talent equals budget. Blockbuster plus Instagram followers equals value. By the time the phrase private equity comes out of his mouth, he self-consciously apologizes for being boring. Listening to him, it's hard not to feel cynical. Is this really the same guy who minutes earlier held his hand to his chest and said he'd be happy "doing anything in film"? For all his romantic feelings about movies, deep down Lerman is a pragmatist. "It's just the reality of the industry," he says comfortably. "There's a business element to this career." But what really keeps him going, he says, is just to "get up and go to work. It's like watering the plants. Little by little, things happen: Doors open, doors close, things get better, things get worse. Just keep going."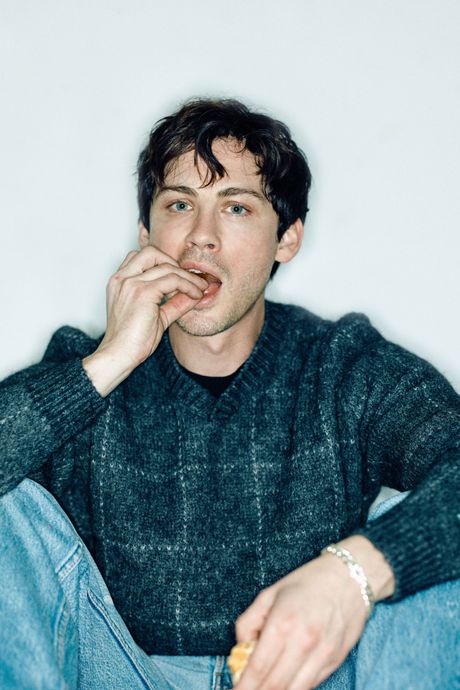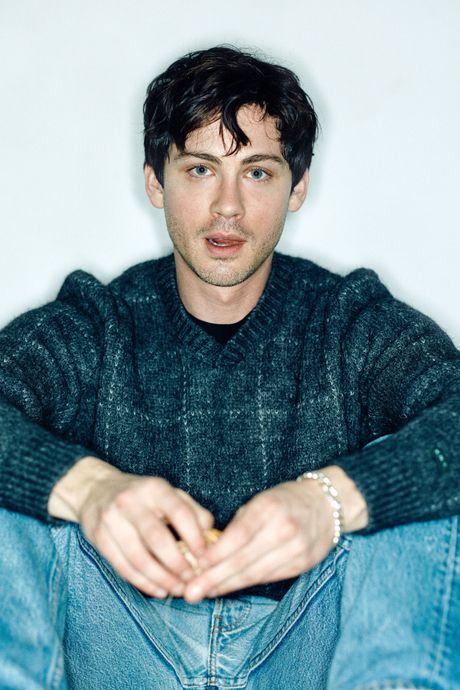 While Lerman chipped away at labyrinthine Hollywood bureaucracy, his career as an unwitting thirst object found new life in TikTok fan-cams. "I don't really know Tumblr that well," he tells me innocently, but these days he's "aware of what I'm tagged in." In other words, "I look at shit." In 2020, he moved to L.A. with his girlfriend, Analuisa Corrigan, an artist whom he'd been seeing for seven months at the time. With all in-person filming off the table, he finally stopped dyeing his hair, prompting a spike in Twitter attention. It was welcome news for anyone who had been infatuated with the cute boy from Perks, who was now peacefully dating a ceramicist and confidently going gray at 28.
As far as internet boyfriends go, there is an element of restraint to Lerman's general presence in the public eye. That's why it's such a delight to see him pop up every so often in a seemingly random cultural moment, like nerding out about the fight choreography at the premiere of Bullet Train, the summer himbofest that featured Lerman in a small role, or dancing to Kelis's "Milkshake" to promote the second season of Hunters, slipping around in socks and a sweat suit with some Jon & Vinny's takeout lingering in the background. It's hard to explain what exactly is swoon-worthy about a nice-looking dude dancing in his kitchen, but the context Lerman offers for the video is appropriately innocuous: "I was just dancing to the song in my kitchen with my girlfriend, and she was just filming," he says, shrugging. "I don't wanna just post the trailer. That's so boring!"
Hunters is a somewhat alternate history that departs further from reality in its second season, which revolves around the theory that Hitler and his wife, Eva Braun, were alive and well in Argentina as late as 1979, plotting the Fourth Reich. If there are any grand ideological messages to be taken from the show, Lerman says, it's the fact that it gives visibly Jewish characters big over-the-top action sequences — not something you typically see onscreen. "I take pride in the sense that we're doing something on the scale of Mission: Impossible with Jews in the lead," he says. Lerman, who was raised Jewish but has considered himself an atheist since he was 9, doesn't actively seek out Jewish roles in his career but admits they do have a tendency to come his way. When I ask if his own beliefs influence his approach to these roles, he leans back and speaks hesitantly. "I don't share the genuine faith that those characters have," he says. "But I understand it and believe it in the moment."
Now that Hunters is out, Lerman will head back to Bucharest, where he's filming a series adaptation of We Were the Lucky Ones, a novel about a Jewish family separated during World War II. Alas, the role requires his hair to stay dark until at least June. Beyond that, he has his eyes on slightly lighter fare: his first real rom-com role, in which he'll play one member of an ill-fated threesome with Bridgerton star Phoebe Dynevor. He's cautiously excited but quick to remind me that "everything's kind of up in the air until you're there." Like the project's titular ménage à trois, its existence depends on a lot of moving parts that may or may not fall into place.
Before we part ways, Lerman offers a hug good-bye. Breakfast, he tells me, is on Amazon today. Looks like the industry does have its perks.