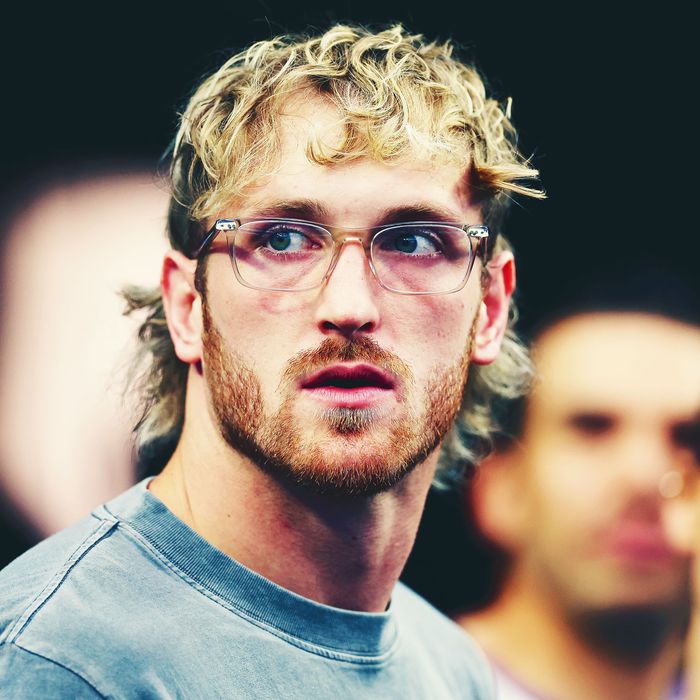 Photo: Christian Petersen/Getty Images
TMZ reports that a pig once owned by YouTuber and wannabe boxer Logan Paul was recently found abandoned in a field with tattered ears and a life-threatening infection. People are not pleased.
The Gentle Barn, an animal sanctuary in California, posted a video of the pig, named Pearl, on Monday, writing that she was found beside a pig that had died. "She's clearly been through so much trauma that we can't begin to imagine," the organization wrote.
Although the organization didn't name Pearl's current or former owners, it noted that Pearl was "purchased originally from a breeder by an influencer" and that she had been "irresponsibly rehomed" and was later "abandoned and scared." The Gentle Barn said "people often buy 'mini pigs' or 'teacup pigs' for clout online, believing they will stay small.'"
Viewers were quick to recognize Pearl as Paul's former pet, whom he had shared in his YouTube videos. In 2020, he tweeted a photo with the tubby animal, writing that he had been told when he got her that she was a mini. "She's not," he added.
Following outrage from fans after the Gentle Barn's TikTok went viral, TMZ claims Paul emailed the organization, saying he owned Pearl for about two years but rehomed her to a horse ranch in California when he moved to Puerto Rico in 2020.
"She was treated like the princess she is, bathed regularly, ate a variety of healthy meals, roamed the yard, and had a shelter and pen of her own," Paul appears to have written, according to a screenshot published by TMZ. " I'd even sleep with her sometimes."
But for many, the incident was just another reminder of who they believe Paul really is — a provocateur who doesn't care for people or animal's well-being. Some recalled a video Paul posted of himself Tasering rats in 2017. Many mentioned the video he shared of an apparent suicide victim in Japan's Aokigahara Forest, while others recalled times he tweeted racist comments playing on stereotypes about Asian and African American people or the time he said he would go "gay for a month."
In his email to the Gentle Barn, Paul reportedly said he would like to contribute to Pearl's care. As he should.