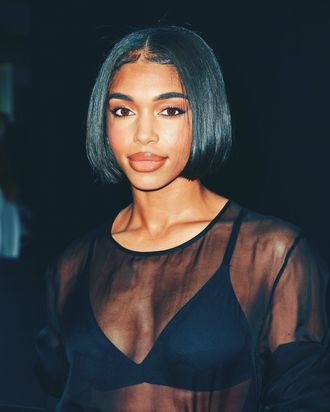 Photo: Dominique Charriau/WireImage
Lori Harvey is used to her love life being the subject of fascination and speculation. Last summer, the model broke up with Michael B. Jordan after a year and a half of dating. Before him, she was linked to Dutch forward and bonafide World Cup thirst trap Memphis Depay. Just this week, Snowfall actor Damson Idris posted Instagram Stories kissing Harvey on the cheek, stoking speculation that the two are now officially dating — another wildly charmed pairing.
In new interview with E! News, Harvey would like to clear up some inaccuracies about her dating history, thank you very much. When asked what she believed the "biggest misconception" about her was, she pointed to her love life and the "many stories that have been made up" about it. "I've seen stories about me being, like, fully in love with somebody and we have, like, this whole relationship, and I'll see the guy, and I'm like, I've actually never even met him before," Harvey said.
She also appeared to explicitly deny that she'd dated both Diddy and his son. Back in 2019, rumors circulated that Harvey was seeing the rapper after reportedly dating Justin Dior Combs. "Page Six" even published photos of Harvey and Diddy strolling around SoHo in matching outfits. "I've heard I've dated a father and son before. Absolutely not true," she said.
Personally, I'm relieved to hear it, and — if indeed they did date — I'm sure Justin Dior Combs is too.