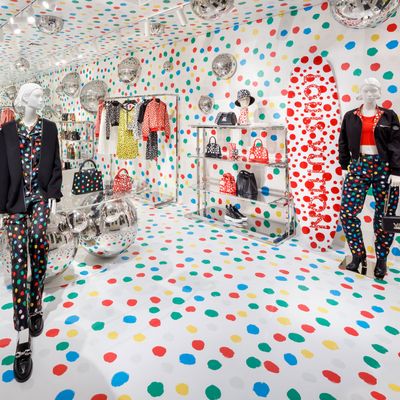 When you walk into select Louis Vuitton locations over the next few months, you'll be greeted by polka dots — a lot of them. The store has become a canvas for Yayoi Kusama, the 93-year-old Japanese artist known for her whimsical artwork that usually features, you guessed it, her signature polka dots. A decade ago, in 2012, Louis Vuitton tapped Kusama for their first collaboration, which included accessories such as classic LV bags, bangles, and shoes adorned with the obsessive dot art. Today, the brand launched its second collection with Kusama, having her put her signature dots all over men's sneakers, trunks, and even surfboards (yes, I need the red-and-white polka-dot surfboard even though I've never surfed a day in my life).
Plenty of LV signatures are part of the collection, including the speedy purse, archlight sneakers, bucket hats, sunglasses, and trench coats. My favorite piece is the silk-pajama set with colorful dots plastered all over the pants and collared top. It might be too expensive to only wear in the house, but hey, loungewear is in. Runner up? A dotted LV logo and pumpkin charm necklace that retails for $660.
Luckily, this drop isn't the only one of the collection. A second drop, which will explore some of Kusama's other art, is coming in March. (So no more dots.) Even if you don't plan on splurging on the artist's embellished pieces, the space itself is a fun, psychedelic experience. You can even take a selfie in Kusama's signature mirrored surfaces. I surely did.