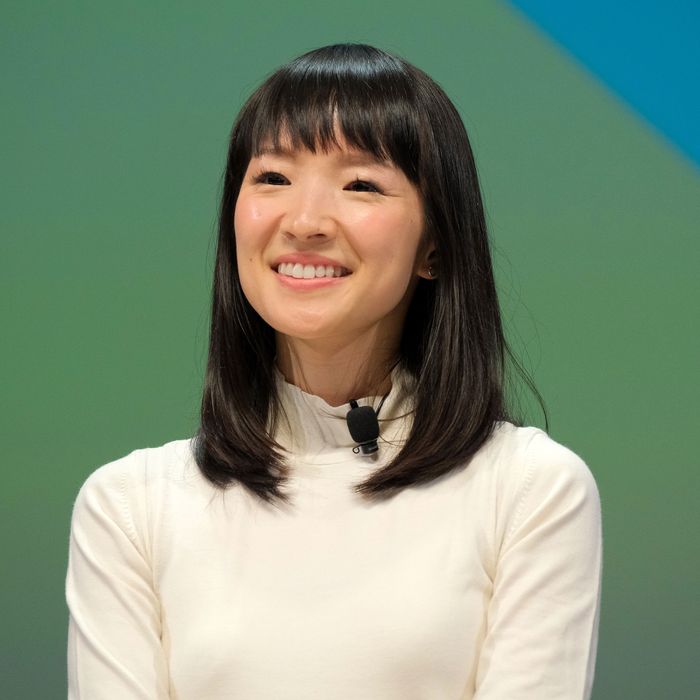 Photo: Richard Bord/Getty Images for Cannes Lions
There's never been a better time to be the inhabitant of a messy home. Last week, Julia Fox gave her TikTok followers a tour of the refreshingly unkempt apartment she shares with her son, Valentino. Now even Marie Kondo, a woman whose last name doubles as a verb for cleaning up, is moving away from neatness.
At a recent press event, Kondo, who has three children, admitted that keeping her home neat is not quite as high on her priority list these days. "My home is messy," she said through a translator, "but the way I am spending my time is the right way for me at this stage of my life." She went on:
Up until now, I was a professional tidier, so I did my best to keep my home tidy at all times. I have kind of given up on that in a good way for me. Now I realize what is important to me is enjoying spending time with my children at home.
Kondo's most recent book, which came out in November, centered less on wicker storage baskets and more on decluttering the immaterial aspects of your life: your schedule, your morning routine, your mind. She's not alone. Influencer apartments have swung back to maximalism, and parents are getting increasingly honest about the fact that a home with young kids is not going to look pristine at all times.
Kondo might not have a mouse infestation (she's still cleaning the bottom of her shoes daily, after all), but spiritually, she's joined the slovenly masses, and to me, that sparks joy.