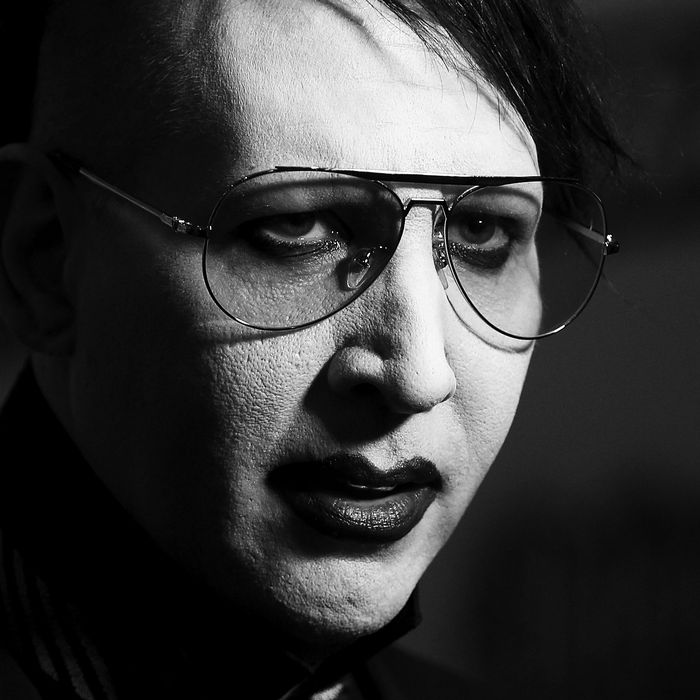 Photo: Danny E. Martindale/Getty Images
Marilyn Manson is facing new allegations of sexual assault from a Jane Doe claiming he groomed her when she was underage. The musician, whose legal name is Brian Warner, was accused of sexual battery and intentional infliction of emotional distress in a lawsuit filed in New York on January 30. Warner denied the allegations in a statement provided to the Cut from his attorney, Howard King, calling the allegations "vicious lies."
In the lawsuit, as reported by Rolling Stone, Doe claims she was 16 when she met Warner in 1995 at a concert in Dallas, where he invited her onto his tour bus. After specifically asking to know her name, age, home address, and phone number, the suit claims, Warner "performed various acts of criminal sexual conduct upon Plaintiff, who was a virgin at the time, including but not limited to forced copulation and vaginal penetration" and laughed at her when he was done. The plaintiff also claims that a band member witnessed the assault and that Warner threatened to kill her and her family if she told anyone what happened. Doe was then given an 800 number with which to contact Warner, and weeks later, the musician began calling her at her home and communicating with her online. The suit says Doe began using drugs and alcohol after the assault.
Sixteen-year-old Doe would meet with Warner again at a concert in New Orleans, having been provided free tickets by management. According to the suit, Warner complimented Doe's artwork before becoming "aggressive." The complaint states, "Defendant Warner then became more aggressive and again sexually assaulted Plaintiff, including kissing, biting her breast, oral copulation, and penetration." Doe continued to remain in touch with Warner and reunited with him in March 1999, essentially joining him on tour. As noted in the suit, Doe was "addicted to drugs and alcohol that she used to self-medicate" and was "susceptible to influence from the power and celebrity of Defendant Warner."
Once on tour, Warner began to "groom, harass, and sexually abuse her" while allegedly providing her with drugs. The complaint alleges that Warner would "psychologically intimidate and control Plaintiff," turning her against her family and isolating her from any support systems. As Warner's 1999 tour continued, Doe says he continued to coerce her into sex with both him and other band members or assistants. "Defendant Warner controlled what Plaintiff could do, who could touch Plaintiff, and who he wanted Plaintiff to be with sexually, all while providing Plaintiff with drugs," the complaint reads.
Interscope and Nothing Records are named as defendants in the suit. Among other allegations, the suit accuses the businesses of negligence, stating in part that Interscope and Nothing Records "knew or should have known that Defendant Warner was a serial sexual predator and/or sexually assaulted children and women." Karen Barth Menzies, one of the attorneys representing Doe, told Rolling Stone that, by including Interscope and Nothing Records as defendants, they hoped to bring some accountability to the music industry as a whole. "This lawsuit goes beyond the named predator and targets the record labels that packaged and profited from their artist's criminal behavior," she said. "And it is an indictment of the music industry for maintaining a culture that celebrates, protects, and enables sexual predators."
Finally, the suit accuses Warner of attempting to harass and scare Doe after she began making public claims against the musician in 2021, following in the footsteps of Evan Rachel Wood. She claims she was doxed and harassed by fans online and says Warner of targeted her by working directly with a YouTuber "who has profited by discrediting, victim blaming, and shaming Defendant Warner's victims." Doe is seeking unspecified damages.
In a statement provided to the Cut, King, Warner's attorney, said the musician doesn't know his accuser and "has no recollection of ever having met her 28 years ago." King accused Doe of shopping conflicted stories to the tabloids and in podcast interviews as well as "extensive collusion with other false accusers." The statement concludes, "Brian will not submit to this shakedown — and the courts won't fall for it either."
This marks the fifth lawsuit filed against Warner for sexual assault, though he has denied all charges, releasing a statement declaring all of his "intimate relationships" as "entirely consensual." He recently reached a settlement with actress Esmé Bianco, who publicly accused him of assault and psychological abuse in 2021. Meanwhile, in the past year, a lawsuit brought by Ashley Morgan Smithline was dismissed without prejudice, and another one brought by Ashley Walters, a former assistant of the musician's, was dismissed over the statute of limitations. Warner is fighting a suit from another Jane Doe alleging he raped her in 2011 at his home and is suing Wood for defamation.
This post has been updated.