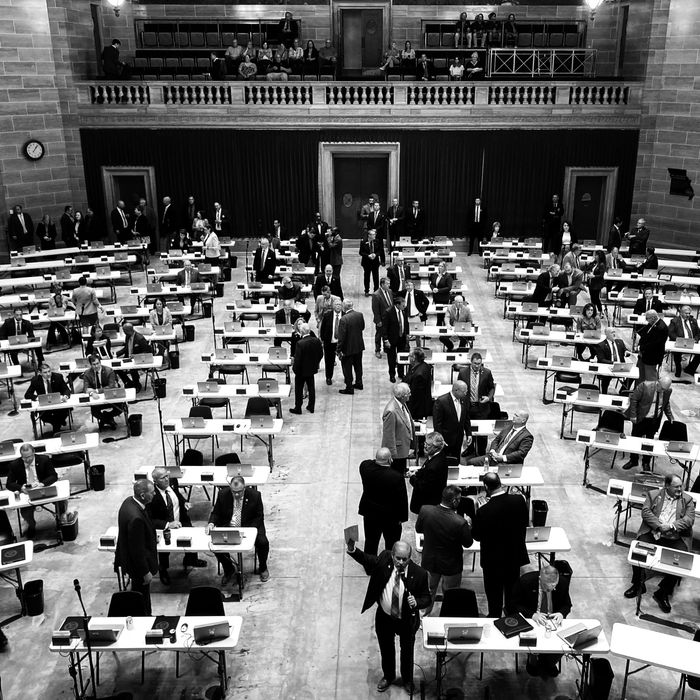 Photo: David A Lieb/AP/Shutterstock
Instead of starting the year by passing amendments that would make the legislative process more accessible to residents, the Missouri House of Representatives kicked off 2023 by adopting a more strict dress code that requires women to cover their shoulders by wearing a blazer, cardigan, or knit blazer, CNN reports.
The rule, which was proposed by Representative Ann Kelley as part of a package of rules about governing the House, was widely criticized for being sexist, pointless, and a distraction from actual lawmaking. Kelley said that she just wanted the dress code to be fair and to mirror the men's dress code. Initially, she suggested blazers. Only after a debate in which a woman pointed out that blazers could be restrictive to pregnant legislators were cardigans allowed.
"Men are required to wear a jacket, a shirt, and a tie — correct?" Kelley said on Wednesday during a floor debate. "And if they walked in here without a tie, they would get gaveled down in a heartbeat. If they walked in without a jacket, they would get gaveled down in a heartbeat. So we are so interested in being equal."
There are 116 men and 41 women in the House, and, in a shock to no one, the men's dress code was not reviewed, according to the New York Times. Kelley may believe that the dress code is simply about professionalism (she posted about it on her Facebook), but most women know full well that the rule is yet another way for legislators to police women's choices.
"There are some very serious things that are in this rule package that I think we should be debating," said Democrat Raychel Proudie. "But instead, we are fighting again for women's right to choose something — and this time, it's whether she covers herself in the interpretation of someone who has no background in fashion."
Others recalled a time, not too long ago, when the legislature was upset about the policing of other people's bodies and choices. "The caucus that lost their minds over the suggestion that they should wear masks during a pandemic to respect the safety of others is now spending its time focusing on the fine details of what women have to wear (specifically how to cover their arms) to show respect here," Peter Merideth, a Democratic state representative, tweeted.
Online, critics didn't hold back, calling the whole episode #sweatergate:
If you're wondering: Yes, Kelley is all for the right to bear arms. Just not bare arms for women at work.