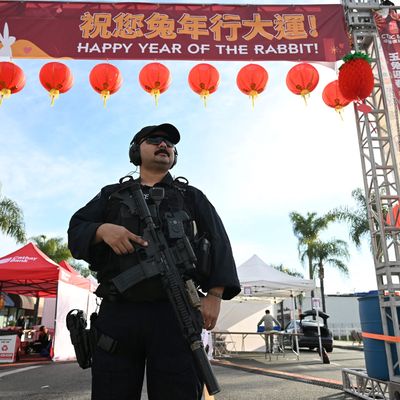 Photo: Robyn BECK/AFP via Getty Images
The suspect police believe responsible for a mass shooting at Monterey Park, California that killed 11 people and left others injured has died from a self-inflicted gunshot wound, the New York Times reports. The massacre took place at a ballroom late Saturday night after a day of local festivities celebrating the eve of the Lunar New Year. Afterward, police believe the suspect, whom authorities have identified as 72-year-old Huu Can Tran, entered a second dance club in Alhambra, where he was disarmed by an employee before fleeing in a white cargo van. Following an extensive manhunt, police say Tran killed himself inside his vehicle on Sunday afternoon, firing his gun as law enforcement approached.
While the motive for the shooting — the nation's deadliest since a gunman opened fire in an elementary school in Uvalde, Texas, last year — remains unclear, the incident has rattled the predominantly Asian American city of Monterey Park, especially as anti-Asian hate crimes are on the rise in the U.S. Monterey Park canceled the second day of its New Year Festival "out of an abundance of caution and in reverence for the victims," per the city's police chief. The incident was quickly followed by another mass shooting in California. On Monday afternoon, a gunman opened fire in Half Moon Bay, killing seven people; a local sheriff has confirmed that gunman has been taken into custody. "Tragedy upon tragedy," the state's governor, Gavin Newsom, wrote in a statement on Twitter.
Below, everything we know.
A gunman opened fire at a ballroom dance studio in Monterey Park, fatally shooting 11 people.
Per the Times, after 10 p.m. on Saturday night, the gunman entered Star Ballroom Dance Studio in downtown Monterey Park, where he shot and killed five men and six women and wounded ten others — one of the wounded died on Monday as a result of their injuries. "When officers arrived on scene, they observed numerous individuals, patrons … pouring out of the location, screaming. The officers made entry to the location and located additional victims," Sheriff's Captain Andrew Meyer told reporters, according to the Los Angeles Times. A student and eyewitness at the dance studio, which is popular among older Chinese American clientele, told the New York Times that many dancers didn't notice the gunman until he fired out his first round of shots. "No one dared to flee. We all got to the ground, hiding wherever we could. No one could get out," she told the outlet, adding that the gunman left after apparently running out of ammunition and continued to fire upon his return.
KTLA reports that ten people were were pronounced dead at the studio and ten others were taken for treatment at local hospitals, where one of them died. Meanwhile, police described the scene inside Star Ballroom as "chaos," recalling to the New York Times the "extensive" carnage and witnesses running out the doors.
The gunman brought an assault pistol to a second dance club in Alhambra, where he was disarmed.
Roughly 20 minutes after the massacre at Star Ballroom, police say the gunman entered a second dance club, the family-run Lai Lai Ballroom & Studio in nearby Alhambra, before being disarmed by an employee. "I can tell you that the suspect walked in there probably with the intent to kill more people," the sheriff said, per the New York Times.
Accounts of exactly how the gunman was disarmed vary: While law enforcement initially stated that two community members disarmed the suspect and took possession of his weapon, Lai Lai's proprietors reviewed security footage and said it was the club operator alone, 26-year-old Brandon Tsay, who stopped the gunman. "He was looking at me and looking around, not hiding that he was trying to do harm. His eyes were menacing," Tsay told the New York Times, remembering how his "heart sank" and how he felt he was "going to die" when he saw the gunman's weapon, which authorities later identified as a semiautomatic assault pistol with an extended large-capacity magazine attached. After a struggle, Tsay said he managed to get possession of the weapon, which he pointed back at the gunman while telling him to "go get the hell out of here," at which point the suspect fled to his van and Tsay called the police. "We have such a tight-knit community of dancers," Tsay told the Times. "It feels so terrible something like this happened, to have one of our individuals try to harm others."
After a manhunt, the suspect was found dead inside his van. His motives remain unclear.
After an alert for the suspect's white cargo van was issued, tactical teams discovered and surrounded his vehicle at a parking lot in Torrance, roughly thirty miles from the scene of the shootings. Officers told the New York Times they heard a single gunshot as they approached the van before they broke through its windows and entered, where they discovered the suspect — who authorities identified as Tran — had shot and killed himself.
Law enforcement confiscated a handgun from the car as well as the semi-automatic they believe was used in the shootings. The suspect's motives remain unclear, and authorities have revealed few details about him so far. "We do understand that he may have had a history of visiting this dance hall and perhaps the motivation has to do with some personal relationships, but that's something that I think investigators are still uncovering and investigating and we'll probably find out more in the hours ahead or even days ahead," said Monterey Park mayor Henry Lo, per the Associated Press, which has reported that Tran, a resident of Hemet, California, once had addresses in Monterey Park and neighboring cities. According to a law-enforcement official, Tran had recently visited a police station in Hemet and reportedly claimed his family was poisoning him. Chester Chong, a community leader with the Chinese Chamber of Commerce, told ABC News he believes Tran's motive was a domestic dispute with his wife, though this has not been confirmed.
Families are remembering the victims, who were all in their 50s, 60s, and 70s.
Families and loved ones are mourning the victims of the massacre, who were all in their 50s, 60s, and 70s, according to the New York Times. Officials are still releasing the names of the victims, but so far, four women have been identified: 65-year-old My Nhan; 63-year-old Lilan Li, 63-year-old Nancy Liu, and 57-year-old Xiujuan Yu. Officials have identified one male victim, 68-year-old Valentino Alvero, and the family of Ming Wei Ma, Star Ballroom's co-owner and manager, has confirmed to the Times he also died in the shooting.
"We are starting the New Year broken," Nhan's family wrote in a statement posted to Twitter, recalling how Nhan frequented the dance club in Monterey Park for years. "It's what she loved to do," they wrote. "But unfairly, Saturday was her last dance … She was a loving aunt, sister, daughter, and friend. Mymy was our biggest cheerleader."
This article has been updated.