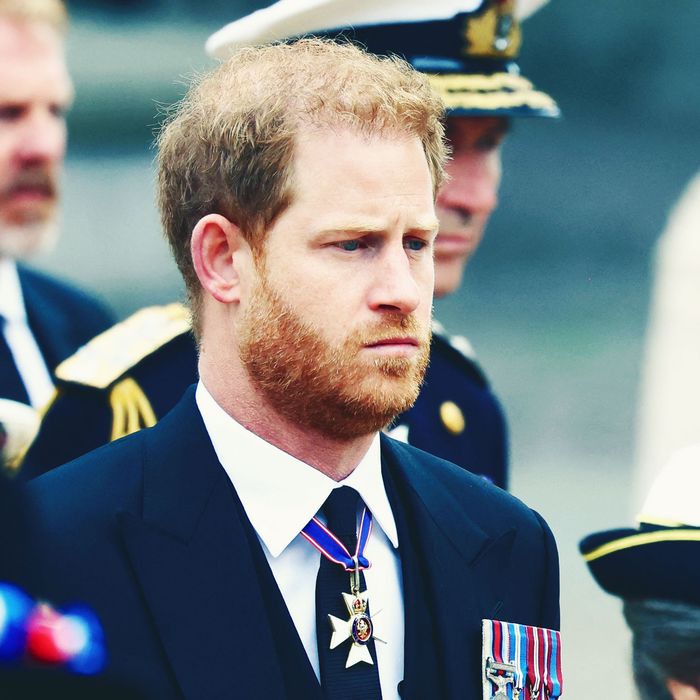 Photo: Hannah McKay - WPA Pool/Getty Images
Welcome to Spare publication week! As you've likely heard by now, Prince Harry is following up his six-hour miniseries about his life with Meghan Markle with a memoir, Spare, which officially arrives on January 10. Judging from leaked excerpts and the numerous interviews he's done ahead of the book's arrival, Harry still has a lot to say about how his family treated him both before and after his departure from royal life, and he doesn't seem to be holding back.
Advance copies of Spare were supposed to be kept under wraps, but in an article posted a week before the book's release, The Guardian claimed to have received a copy. The paper detailed a 2019 altercation between Prince Harry and Prince William supposedly described in detail in the book. In his book, Harry claims William called Meghan "difficult," "rude," and "abrasive" before grabbing him and knocking him on the floor. "I landed on the dog's bowl, which cracked under my back, the pieces cutting into me." William later apologized but asked Harry not to tell Meghan about the fight. (She apparently found out after noticing "scrapes and bruises" on his back caused by the fall.)
In another excerpt, Harry explains the book's title, recounting a comment he says his father, King Charles III, made on the day he was born. "Now you've given me an heir and a spare," he claims Charles said to Princess Diana. "My work is done."
Details about the book and Harry's relationship with his family came out as he sat for numerous televised interviews to promote Spare, including with ITV News' Tom Bradby, 60 Minutes' Anderson Cooper, and Good Morning America's Michael Strahan. Here, some of the biggest revelations.
Harry claims Prince William and King Charles have "shown absolutely no willingness" to mend their relationship.
Speaking with Bradby, Harry revealed that while he hopes for a reconciliation with his family, he's not sure his family feels the same way. "I would like to get my father back. I would like to have my brother back," he said at one point. Calling his estranged relationship with William "heartbreaking," Harry emphasized that his book was not written out of malice. "I love my father. I love my brother. I love my family," he said. "Nothing of what I've done in this book or otherwise has ever been to harm them or hurt them."
When asked by Bradby if his memoir contradicted his expressed desire for peace, Harry responded, "They've shown absolutely no willingness to reconcile. And I'm not sure how honesty is burning bridges. You know, silence only allows the abuser to abuse."
Harry emphasized his willingness to patch up his relationship with his father and brother on 60 Minutes, though he admitted that he hasn't spoken to either of them in "quite a while." He even said that he and Meghan have both tried to ask his family how they can mend the relationship but have not received a response. "Meghan and I have continued to say that we will openly apologize for anything that we did wrong, but every time we ask that question, no one's telling us the specifics or anything," he told Cooper. "There needs to be a constructive conversation — one that can happen in private that doesn't get leaked."
When asked by Cooper whether or not Charles or William could trust him to have a real private conversation, Harry noted, "This all started with them briefing — daily — against my wife with lies to the point of where my wife and I had to run away from my country."
Although the royal family has not publicly addressed the various allegations made by Harry in leaked excerpts of Spare and in interviews, ABC said on Monday that attorneys representing Buckingham Palace asked Good Morning America to hand over its entire interview with Harry before it would comment.
After the interview aired, Strahan said, "We received a response from the law firm representing Buckingham Palace this morning while we were on the air, saying that the palace needed to 'consider exactly what is said in the interview in the context in which it appears,' and asked that we supply them immediately with a copy of the entire interview, which we do not do as a news organization as a matter of our policy."
Harry claimed Camilla frequently leaked stories to the press.
Perhaps the most surprising tidbits to come out of Harry's ITV interview are the accusations that Camilla, the queen consort and wife of King Charles, frequently leaked stories about William to the press. In his memoir, Harry writes that Camilla met with both he and his brother privately when she went public with her relationship with Charles. "Shortly after our private summits with her, she began to play the long game. Aimed at marriage and eventually the Crown, with Pa's blessing we presumed," he wrote. When asked to expand on this passage by Bradby, Harry implied that Camilla's "campaign" involved leaking stories to the press in exchange for favorable coverage. "Stories began to appear about her private conversation with Willy, stories that contained pinpoint accurate details, none of which came from Willy, of course. They could only have been leaked by the one other person present." Harry also suggested that his father and Camilla's press office fed stories about William and Kate Middleton to tabloids when they were first married noting, per Hall, that his brother and sister-in-law "went through a large portion of the same things that Meghan and I went through."
Harry repeated this claim on 60 Minutes, explaining that Camilla was "dangerous" because she needed to have a transactional relationship with the press. That said, he seemed to categorize her actions as a symptom of the toxic way the royal family operates as a whole. "If you are led to believe as a member of the family that being on the front page, having positive headlines, positive stories written about you is going to improve your reputation or increase the chances of you being accepted as monarch by the British public, then that's what you're going to do."
Harry mentioned Camilla again when addressing Jeremy Clarkson's op-ed, in which the writer wrote that he "hated" Meghan and would like her to be forced to "parade naked through the streets of every town in Britain" à la Game of Thrones. "Not only is what [Clarkson] said horrific and hurtful and cruel towards my wife, but it also encourages other people around the U.K. and around the world, men particularly, to go and think that it's acceptable to treat women that way," Harry told ITV. "To use my stepmother's words recently as well, there is a global pandemic of violence towards women," he added. (Shortly after the column was published, the fact that Camilla had recently attended the same luncheon as Clarkson became a hot topic of debate, though Harry did not explicitly address the connection.)
Harry also expressed disappointment at the lack of response from the royal family. "The world is asking for accountability and the world is asking for some form of comment from the monarchy. But the silence is deafening, to put it mildly."
Harry implied that the royal family's relationship with the press led to threats of harm to Meghan and his children.
Harry continued to accuse the palace of "leaking and planting stories" about himself and Meghan in his interview with 60 Minutes, describing the process as "using someone else, an unnamed source, to feed in lies or a narrative to a tabloid media that literally radicalizes its readers to then potentially cause harm to my family. My wife. My kids." Instead of leaking his own stories to the press, Harry said, he had chosen to speak his truth personally.
Harry wants the public to know that Meghan didn't cause his relationship with William to deteriorate.
Speaking with Cooper on 60 Minutes, Harry made clear that his relationship with William had always been somewhat precarious. "There has been a lot of pain between the two of us, especially the last six years," he said. He said that while he doesn't want to hurt his family, he wanted to give the public a "full picture" of their relationship outside what has been reported in the press. He explained that he hoped writing about their rivalry growing up "squashes this idea that somehow my wife was the one that destroyed the relationship between these two brothers."
Meanwhile, a third interview with Good Morning America's Michael Strahan is due to arrive Monday. In a preview, Strahan refers to a quote from the book in which Harry calls William his "beloved brother and arch-nemesis." Harry says there's "always been this competition between us," referring back to the book's title. "I think it really plays into or is played by the heir-spare."
Harry says that he still thought Diana might be alive for years after her death.
On 60 Minutes, Harry talked about the moment he found out that his mother had died in a car crash in Paris, recalling Charles coming into his room and delivering the news. According to Harry, his father didn't hug him or say much other than that things would be "okay," but "nothing was okay," he says.
Recalling that when he first learned the news, he didn't cry, Harry said: "I was in shock, you know? Twelve years old. Sort of — seven, 7:30 in the morning, early. Your father comes in, sits on your bed, puts his hand on your knee and tells you, 'There's been an accident.' I couldn't believe."
Harry told Cooper that he and William believed that their mother might have faked her death and that he spent many years hoping she would reach out. In Spare, he writes, "I'd often say it to myself first thing in the morning, 'Maybe this is the day. Maybe this is the day that she's gonna reappear.'" Cooper says to Harry, "You didn't believe she was dead," and Harry nods, saying, "For a long time." He told Cooper that he believed Diana might still be alive until he visited the Paris site of her death when he was 23.
Harry described feeling "hopeless" for a long time. He says he sought out a therapist for the first time seven years ago and revealed that he has also tried ayahuasca and psilocybin. "They cleared the windscreen, the windshield [of] the misery of loss," he told Cooper.
Harry told Strahan on Good Morning America that his mother would be "sad" about his relationship with his brother.
Harry was excluded from travel plans before the queen's death
In September, as the world watched and waited for news about the queen's condition, people wondered why Harry, who had been in Europe at the time, didn't travel to Balmoral with the rest of his family. Some speculated that he chose to go alone or that he had been excluded from travel plans. Harry confirmed to Cooper that his family did not include him in making plans to see his grandmother as she was failing. He arrived at Balmoral after she died, he said.
"I asked my brother — I said, 'What are your plans? How are you and Kate getting up there?' And then, a couple of hours later, you know, all of the family members that live within the Windsor and Ascot area were jumping on a plane together, a plane with 12, 14, maybe 16 seats." He was not invited, he said.
In the final moments of the interview, Harry said that the ball is in the family's court and that he can't see himself returning to being a full-time member of the royal family. After his scorched-earth stump tour, it's hard to imagine that the Firm is eager to have him back full time, either.
This post has been updated.