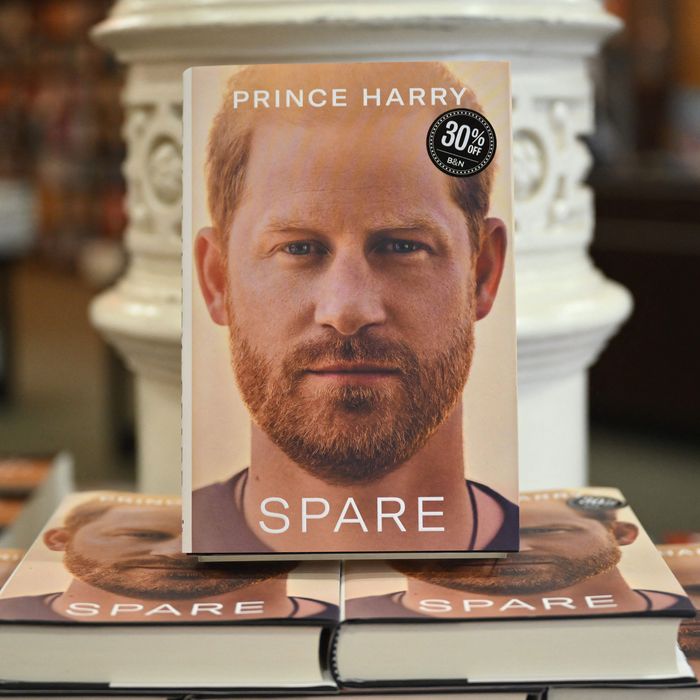 Photo: ANGELA WEISS/AFP via Getty Images
After watching two Oprah specials, reading various profiles, listening to assorted podcasts, and streaming a six-hour Netflix confessional, I did not expect Prince Harry's tell-all memoir to tell me anything its author hadn't many times before. It's true that Harry's familiar grievances — the myriad intrusions of the tabloid press, the royal family's willful indifference to racist attacks on its first biracial member, and the unending beef over a child's wedding attire — all get space in Spare, but there is so much more. Thanks to a leak, anyone with an internet connection now knows that Harry once suffered frostnip on his "todger" (which is circumcised) and that William, allegedly a Suits superfan, once threw him on a dog bowl during an argument. They may have learned how Harry lost his virginity and how many people he killed in Afghanistan. Still, none of these salacious details prepared me for the experience of reading the book. Or, in my case, listening to the audiobook: nearly 16 hours of Harry's animated delivery, at once sympathetic, angry, exasperating, funny, and persistently self-justifying. Spare is a mess of contradictions, but as an insight into the royal reality, it is as singular as it is strange.
Opening with the memory of a meeting with his father and brother after Prince Philip's funeral, Spare quickly spells out at least one of Harry's motives for all this talking: He wants to explain, to his family and presumably the world, exactly why he stepped back from senior duties in early 2020. Over more than 400 pages, he describes how the British press drove him out while the palace did nothing to help. You've heard this before but not with the unvarnished fury he lets rip here. The editor who, he says, invented the 2002 report about his weed smoking? "An infected pustule on the arse of humanity, plus a shit excuse for a journalist." Rupert Murdoch, the owner of the newspaper that ran it? "Just to the right of the Taliban" in terms of his politics. "The paps had always been grotesque people, but as I reached maturity they were worse," he — or, more exactly, ghostwriter J.R. Moehringer, who has been called a "skeleton exhumer" and has rendered Harry's incandescent rage with scalding clarity — writes. "They were more emboldened, more radicalized, just as young men in Iraq had been radicalized. Their mullahs were editors, the same ones who'd vowed to do better after Mummy died."
The death of his mother, Princess Diana, is the tragedy that frames Harry's life. His memory of his father, King Charles III, breaking the news was the first of a handful of Diana-related episodes that made me tear up. Even though he witnessed her burial, Harry says he remained unable to accept her death until he was 23 — nearly ten years in which he sustained the sincere conviction that she had gone into hiding to escape the press and would send for him any day now. When reality sets in, he's already settled on his villain: the British tabloids. He recalls how the paparazzi followed him everywhere, stalking him and splashing his worst moments across front pages. They hacked his phone, tracked his loved ones, and apparently destroyed every romantic relationship he had before Meghan Markle. It takes a toll on his family life too: Harry repeatedly accuses certain family members of trading damaging stories about him, the disposable spare to his brother's heir, to tabloid journalists in order to improve their own image. After serving in the army, he develops agoraphobia, panic attacks, and an acute sense of loneliness seemingly fueled by a distrust of those closest to him. As his brother and friends are getting married and having kids, he is still drying the TK Maxx (it's "TK" in Britain) clothes his bodyguards helped him pick out on a radiator, eating takeout alone over his father's sink.
So you feel for him even as you're exasperated by him because, for all his claims to the moral high ground, Spare's Harry keeps score, and he is petty. Once again, he's litigating an exhaustive list of tabloid headlines written about him or Meghan and wondering how things might have turned out differently if the palace had issued a statement saying it actually allowed Meghan to wear ripped jeans to some event. He gets granular in his grievances, offering up an anecdote about his sister-in-law's reluctance to share lip gloss with his wife as if it were a character statement. Where Harry's pettiness really shines is in the classic older-sibling-younger-sibling stuff. In Harry's telling, the future king is envious of his little brother's relative freedom and purpose. He is always yelling at Harry: to shave his wedding beard because he, Prince William, isn't allowed to wear one; to let him "have" Africa because rhinos and elephants are his thing. According to Harry, it's William who drove the heir-versus-spare competition, but the sense of rivalry seems to run both ways. Consider this extended aside about William's waning hotness: "I looked at Willy, really looked at him, maybe for the first time since we were boys. I took it all in: his familiar scowl, which had always been his default in dealings with me; his alarming baldness, more advanced than my own; his famous resemblance to Mummy, which was fading with time. With age."
In a recent interview with Anderson Cooper, Harry refuted the idea that this passage, with all its digs at William's physical appearance, was "cutting at all," which, come on. But when he is challenged, Harry often counters with Actually I never said that — another example of the press twisting my words. Over the weekend, when ITV's Tom Bradby began to ask him about the allegations of racism Harry and Meghan made in their Oprah interview, Harry cut him off. "No, I didn't," he said, refusing to concede Bradby's point that a member of the royal family raising concerns about baby Archie's skin color might be understood as "essentially racist" and instead launching into a convoluted explanation of unconscious bias. (Interestingly, there is no mention of the incident in the book). After years of tabloid lies, of course Harry would be sensitive to inaccurate reporting. But he comes across as so defensive that it's hard not to agree with Charles when he urges Harry, "My darling boy, just don't read it." (Unfortunately, if this week's interview with Stephen Colbert is any indication, Harry still hasn't entirely embraced that advice.)
Throughout Harry and Meghan's post-royal productions, their lack of self-awareness can make even their legitimate complaints seem grating. Spare is no different. In an effort to (maybe?) underscore his relatability, Harry recalls footmen bringing him and William their dinner under silver domes — but even though it "sounds posh," the food was just fish fingers. He complains of life in a cage even as he jets all over the world at his leisure: back and forth to Botswana, to the North Pole and the South Pole, to a luxury suite in Las Vegas with the lads and a multiday party at Courtney Cox's house. He worries about his dad cutting him off in his mid-30s, and while he acknowledges the absurdity of that predicament, he also balks at dipping into the substantial inheritance left to him by his mother. As royal residences go, his bachelor pad in Kensington Palace may have been less than regal, but it is still a free apartment in one of London's most expensive neighborhoods. And then there is the fundamental paradox of his choosing to sell and resell his story in the first place. Harry may welcome the opportunity to tell all, in his own words, rather than having to rely on unnamed sources as a cipher. At the same time, he is making a lucrative business of doing so. He is rumored to have received a $20 million advance for Spare, which is currently breaking sales records. Of that, he has given just under $2 million to charity.
And yet, in spite of his blind spots, he is so candid about so much, and that makes Spare an incomparably bonkers read. Here is a prince in my ear, telling me about the shopping bag full of weed he smoked and peeing his pants on a sailboat and applying Elizabeth Arden face cream to his penis. He is telling me about the effect of magnesium on his bowels and how, when he was tripping, the moon seemed to prophesize Meghan's entrance into his life. He is doing it all without a discernible sense of ego, as if I had asked and as if these were normal biographical details to share. Countless movies, TV shows, and books have attempted to reconstruct the grinding interior of this family's existence, but none of them has approached the sheer wackiness of this inside account. Royal life looks worse, but also so much weirder, than we could have known.