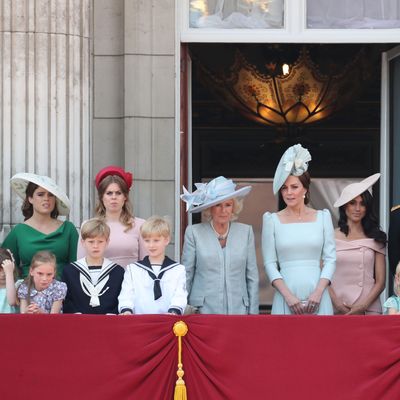 Whose is it??
Photo: Chris Jackson/Getty Images
Lately, all the royal news seems to orbit around an aggrieved and estranged prince (Harold, Duke of Sussex) and the various family members enraged to have made an appearance in his best-selling memoir. We have heard so much about how, in Harry's opinion, future king Big Willy is getting less hot and more vengeful with time, how Princess Kate is too uptight to voluntarily share a lip gloss, and will King Charles even let his second son come to his coronation given the betrayals and the drama? Enough! There are other people in this family, too, you know, and one of them is pregnant. Which one? Well, not the one rumored to have once slashed Ed Sheeran across the face while play-knighting James Blunt with a ceremonial sword. Not the one who moonlights as a designer of logs. Not the one who famously wore five wedding dresses to marry the owner of the clothing company Whistles (she's actually not royal, merely royal adjacent). No, it's Princess Eugenie, Harry's favorite cousin, who announced on Tuesday that she and her husband, Jack Brooksbank, expect "a new addition to our family this summer."
Buckingham Palace has since confirmed the news, adding that "the family are delighted and August" — as in August Philip Hawke Brooksbank, the couple's 1-year-old son — "is very much looking forward to being a big brother." Good for him.
If you were wondering where this new royal baby will fall in the line of succession, they're 13th by my count: First comes Big Willy, then all of his offspring, followed by Harold and his two kids, after which we have the disgraced Prince Andrew; Eugenie's sister, Beatrice; and Beatrice's baby. Eugenie comes after them, then August Philip Hawke, then — finally — this baby. Congrats to this baby! And congrats to Princess Euge.