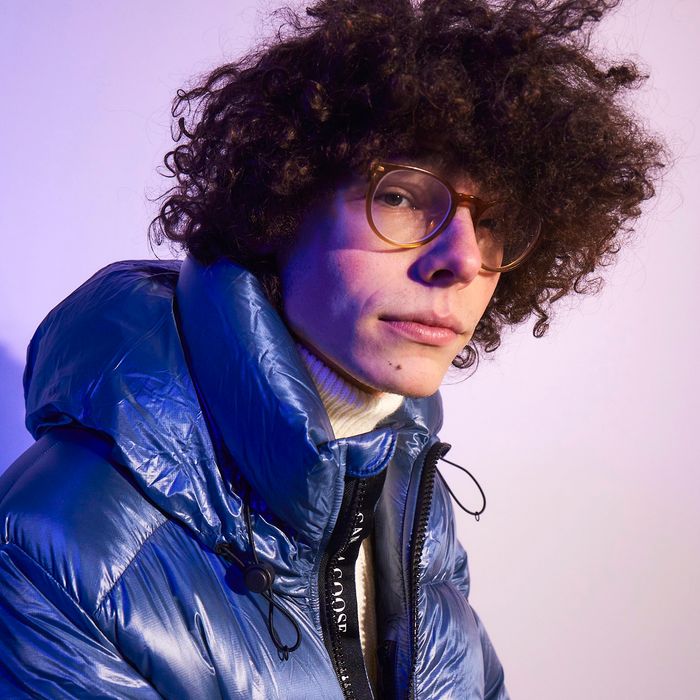 Photo: Corey Nickols/Getty Images for IMDb
You've probably seen Reece Feldman, also known as @guywithamoviecamera on TikTok, on your "For You Page" doing behind-the-scenes videos on set with actors like Jenna Ortega and Dylan O'Brien. If you haven't, we will explain: Feldman has gained a following online by doing short snippets with actors, but instead of asking questions, he might just have them stare into the screen, as did Aubrey Plaza.
So it's no surprise the curly-haired 24-year-old Queens native is at the annual Sundance Film Festival in Park City, Utah. He is wearing the event's unofficial uniform: a Canada Goose jacket (he opted for a baby-blue puffer jacket over a gray fleece but without the usual commemorative patches given to filmmakers: "I hope if I ever get into Sundance, I'll get one of my own patches"). There, he covered red carpets for hotly anticipated films like Cat Person, Theater Camp, and Magazine Dreams. "The only thing I'm confident in is movies," Feldman says. "I can give you casts, years, dates, history, but there's nothing else. All the hours I spent watching movies until four in the morning have paid off." (And in case you still couldn't tell how much Feldman loves films, his TikTok handle is a riff on Dziga Vertov's 1929 silent film, Man With a Movie Camera.)
Originally a set production assistant, Feldman tells me he got the idea to start filming TikTok videos that captured the atmosphere on set and also doubled as free promo for the show or movie. Actor and producer Zoey Deutch was an early supporter, and Feldman was later hired to continue capturing content for films like Not Okay with Deutch, followed by Scream 6, the Hunger Games prequel film The Ballad of Songbirds and Snakes, and Bones and All. He's since become a fixture on red carpets at movie premieres and awards ceremonies, where he's not afraid to take a style risk (he wore a sheer blouse with tulle skeleton detail at the Critics Choice Awards, and last year at the Oscars, he opted for a pink suit).
You've spent some time on red carpets in the last year. Who's the last celebrity you felt starstruck by?
James Cameron. I respect actors so much for the work they do in the worlds that are created, but it's usually the filmmaker that creates a world. I didn't tell James Cameron this because I was nervous, but in the original Terminator, there's a character named Reese. That's how my dad suggested my name to my mom. The only person who would truly stop me in my tracks would be Steven Spielberg or Larry David, because I think he would know I was nervous and he would feed off of that.
Speaking of which: You're calling an Uber XL — which celebrities are coming with you?
Larry David, and I'd love him sitting in the passenger seat because he'd be upset that he's not part of the conversation in the back and he'd keep trying to jump in. I think he'd be fun just to watch. Actually, Roger Deakins sitting up front, it would be fun to watch him look at nature. Werner Herzog because his commentary would be insane. And then Lady Gaga — she'd be so much fun. I respect her a great deal and think she's so smart and talented.
I'd love to see Gaga interact with Larry David.
Their banter would be great. Larry would ask her why she's wearing raw meat. And I want to add John Carpenter because he's a no-nonsense guy. He doesn't like to talk. He's my favorite director! Most of his movies are so ahead of their time. People wrote off Big Trouble in Little China, but when you watch it today with the lens of everything else in the '80s, it's ahead of its time because the white lead is the only person who's an absolute idiot in the movie, and it's not his story but he's the main character. Kurt Russell was in that, and that's how he got the movie made. Carpenter is smart.
And I know you are a fan of Letterboxd, the app so many people here at Sundance use to find films and rate them. What are the last four films that you watched?
The last four films I watched, before Sundance, were: Marcel the Shell With Shoes On, The Banshees of Inisherin, Tokyo Godfathers, and Aftersun. I'm very happy with that. Tokyo Godfathers is a very good animated film — for adults. At Sundance, I've seen Theater Camp, Magazine Dreams, the Michael J. Fox documentary Still, and The Pod Generation.
You have been praised for your sometimes daring red-carpet looks, do you have a style icon?
Princess Diana. She was very ahead of her time and planned her outfits for the occasion. People look back at what she did, and now it's cool; but she was always cool. I have the red sheep sweater. I go by the rule of thumb that any time Timothée Chalamet or Harry Styles do something on a red carpet, I'm then allowed to do it. When Timothée Chalamet went shirtless, I was like, Oh, that's okay now. Taylor Russell really knows how to dress. Robert Pattinson: Whoever styles him, hats off. And Chloe Cherry from Euphoria! Wonderful sense of style. Superb. I like Seth Rogen's style because it's rooted in tradition, the cut and fit are classic but the color is often a little out there. A lot of time men don't feel the need to dress the part, but if you're there to respect and honor people, have a little fun. I don't want to show up in shorts and a tank top to honor someone whose work I admire.
But today you are wearing a baby-blue Canada Goose jacket, which is pretty iconic in its own right given that so many people wear them here at Sundance, where they celebrate bold voices in film.
I had never owned any Canada Goose because I was a PA, and I've had the same broken leather jacket for years. But I would go to set and be like, I'm gonna get there one day. All the people I respected, the costume designers, department heads, cool assistants had sick jackets. It's everywhere. I've worked on Hunger Games, Maisel, and you see it. So many people I look up to wear this, and now I can pretend a little bit.
Do you have ambitions to make longer-form content or feature films?
There's nothing I love more than introducing people to movies. I feel like I did my part in the big system. It's funny to my friends that I'm on social media. They think it's odd because I just want to watch movies and I like storytelling, but social media introduces people to film. I'll see a video on TikTok that will get people who are not reading New York Magazine to find a movie. That movie might change their life. Social can do that, and it's a nice stepping-stone where I can make short videos and direct actors even if it's for a silly TikTok.
What's the next step for you?
I want to make coming-of-age horror-comedies. I know that's a niche genre. But when done well, it's really good. The closest thing today is Stranger Things or Fear Street. You have stories that are fun, have a supernatural element, but the true story beneath it is the person has to find themselves and grow up. The horror element pushes the story forward, and some of my favorite movies like Fright Night and American Werewolf in London have a simple premise, and there's one piece of horror that makes the characters have to grow.