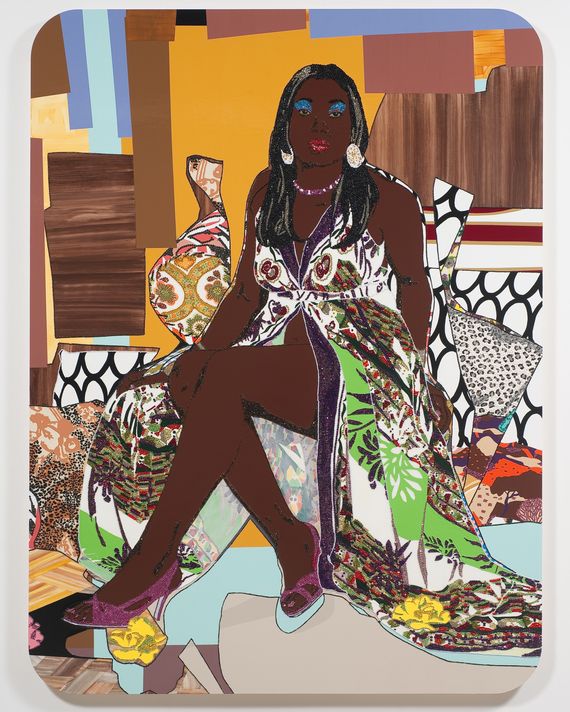 Photo: Mickalene Thomas/ Collection of Jeffrey N Dauber and Marc A Levin
In 1977, a group of Black feminist lesbians known as the Combahee River Collective met together to discuss, understand, and develop a consciousness for Black women to engage in politics. Identifying the place of Black women within the historical reality as "a continuous life-and-death struggle for survival and liberation," these revolutionary thinkers developed the renowned "Combahee River Collective Statement." The entire declaration is a powerful document, but one line in particular would mark the hearts and minds of generations to come: "If Black women were free, it would mean that everyone else would have to be free since our freedom would necessitate the destruction of all the systems of oppression."
This statement inspired the Institute of Contemporary Art in San Francisco's upcoming exhibition "Resting Our Eyes." On view through June 25, it focuses on the liberation and celebration of Black women in positions of leisure. With 20 multigenerational Black artists, including Lorna Simpson and Simone Leigh, the show invites viewers to see Black women in expressions of freedom.
"We knew that we wanted to tell the stories, the significance, the history, and the revolutionary act of prioritizing leisure and expression through adornment. We were looking for works that exemplified this visual vocabulary," says Autumn Breon, who co-curated the exhibition with
Tahirah Rasheed. Breon and Rasheed are Black feminists who use abolition as a framework for imagining new systems within the art world. In fact, the two met through Wide Awakes, an artists collective that wants to rescue democracy with art and was founded by artist Hank Willis Thomas and the organization For Freedoms, among others. (Thomas's work, as well as that of his mother, Deborah Willis, is featured in the ICA exhibition.) "Seeing how Autumn adorned herself, I saw myself in her," says Rasheed. "We both come from abolitionist practices, in which this show was done. It is this care and attention that we want to model for others."
"Autumn and Tahirah have done something that is really hard to achieve in a curatorial practice," notes ICA SF director Ali Gass. "They have a very serious and impactful political narrative that is being told through the language of just visual pleasure and delight. As you spend time with this exhibition, I think you will understand the power of Black women's liberation that they are asking you to consider."
What does a Black woman's freedom look like? It is the sparkle that reflects across the gems adorned by a woman with her dancing shoes on in Mickalene Thomas's Love's Been Good to Me #2. It is a daughter learning to find power by trying her mother's lipstick in Carrie Mae Weems's ​Untitled (Woman and Daughter With Make-up). It is blue tambourines that mimic a dream state — its pulse like a foot stomp, a hip thrust, a heartbeat — in Lava Thomas's Clouds of Joy. It is the reclining nude of Alison Saar's Set to Simmer. A body that is horizontal, confident and daring. A body that can finally be at rest.
Alison Saar, Set to Simmer, 2019
While Saar's work deeply engages with race, gender, and heritage, at its heart it's an illumination of the power of Black women. A sculptor, mixed-media artist, and installation artist, Saar transforms found objects made of wood, glass, and metal into spiritual effigies that investigate folklore and the histories of the African diaspora. Set to Simmer features a defiant nude woman stretched out across a table. With a cast-iron skillet in hand, she stares straight at the viewer. Do you dare sit down to know her? Or are you just interrupting her rest?
"I must admit I struggle with rest. My studio practice is very rigorous … of wrangling materials, full days on my feet, a good deal of hoisting and heaving," Saar says. "I often grow anxious when my hands are idle. Activities without consequence allow my mind to roam, which is a crucial component to the generation and gestation of ideas. I feel that if more folks took the time to gift themselves a significant form of rest, we would find ourselves in a more compassionate moment."
Adana Tillman, Wild Thoughts, 2020
Using textiles and found fabrics, Tillman creates portraits that tell stories of the Black diaspora. Her quilting practice, which she acquired from her mother and began as a mechanism for freedom and self-care, has flourished into artwork that spotlights joy, creativity, and self-expression among Black peoples across the globe. Wild Thoughts features appliquéd fabric on hand-dyed textiles, depicting a woman sitting for a moment with the freedom of her thoughts.
"The future, with rest as revolution, I envision to be slower and hold more thoughtful days," says Tillman. "The idea that the world must have 24-hour access to you would become a myth, and our days aren't measured by the quantity of completed tasks."
Deborah Willis, Carrie at the Euro Salon, Eatonville, 2010
Deborah Willis's photography is like a sweet slice of pie just pulled from the oven. She is among a group of Black photographers, artists, and historians with an acute ability to center the culture's most universal moments, thus shaping the canon of photography. Willis documents the melody of everyday Black existence and elevates these quiet, beloved, and even mundane moments to thought-provoking, stunning pieces of art like Carrie at Euro the Salon, Eatonville. Willis's mother had a beauty shop in North Philadelphia as well as a grocery store, where she made a peaceful space for women and men to rest between shifts of work. With her colleague Joan Morgan, Willis also initiated the Black Rest Project at NYU's Center for Black Visual Culture, seeking to excavate, curate, and amplify visual narratives of Black rest and leisure.
"Rest is an experience I rarely take advantage of. Rest is what I dream for as I believe it allows me to focus on my own desires. Rest is a clear mind," Willis says. "My mom passed away in the summer at 100, and she would often say — before she said her prayers to us in a group — 'All minds clear,' and to do so, she would ask us to close our eyes."
Genevieve Gaignard, Look What We've Become, 2020
Across Gaignard's works are themes of beauty. Without looking closely, you could become swept up in her delightful pastel palette, romantic floral motifs, and swanky style. But the artist uses this to elicit dialogue around the intricacies of race and cultural identity. Likely best known for her self-portraits, Gaignard makes installations and mixed-media collage, creating her own visual language that illuminates racial injustice. She unabashedly centers Blackness and cleverly entices us to consider the most unsettling parts of American culture and anti-Blackness. Look What We've Become takes the object of a vintage hand mirror, used to beautify and adorn, and asks us to take this quiet moment to really look at ourselves. Who is impacted by an intrusive gaze? Who has the freedom to look away?
"Rest doesn't always come easily to me, but it looks like time alone in a safe space to reflect and recharge," Gaignard says. "I envision a more empathetic, softer world with rest being a tool to cultivate and nurture one's thoughts on how to navigate America's culture and our place in it."
Helina Metaferia, Headdress 14, 2019
Metaferia's "By Way of Revolution" series highlights the labor and significance of Black activist women who have been overlooked in the fight for equity and justice. Showcasing modern figures, such as poet and activist Aja Monet in Headdress 14, Metaferia looks at the history of social-justice movements that inform and inspire our current moment. In this piece, the artist has sourced material from Black Panther newspapers, focusing on images of members who were killed by police. These are then arranged into a headdress, elevating the subjects into sacred, regal, and powerful figures. Heavy is the head that wears the crown.
"Rest is a necessary pause, like the period at the end of the sentence or the moment between beats in a song. Without it, nothing makes sense. We'd all be a jumbled, run-on mess," says Metaferia. "I believe nothing happens in isolation, that there is always something brewing in the air and a common shared revelation before the revolution begins — a critical mass. For this generation, it's about reclaiming our time, a term known as being 'time affluent.' Let that be how we resist the strains of extractive capitalism, patriarchy, and white supremacy, which has denied our capacity to heal ourselves and our community."
LaKela Brown, Composition With 35 Golden Doorknocker Impressions, 2021
With the knowledge that Black women's influence and impact are often forgotten in the annals of history, Brown's art practice attempts to make it everlasting. Utilizing white plaster, the artist creates relief sculptures that draw on Black women's aesthetics and accessories — such as door-knocker earrings in Composition With 35 Golden Doorknocker Impressions — to create relief sculptures that conjure historical artifacts. These earrings are unmistakably Black, nostalgic, and culturally significant. Brown's work declares that, in a restful future, Black women's existence will be indelible.
"Rest is a healthy way to withdraw from obligations and external pressures in order to prioritize recovery, healing, presence, and nurturance. When I rest, I remember that I belong to myself and am not the sum of my production or even my body. Centering rest in our rebuilding and restructuring of the world will be a necessary part of reclaiming our humanity," Brown says. "Rest will enable us to heal our relationships with our bodies, family, and friends and our labor when we choose to return to work."
Lava Thomas, Clouds of Joy, 2021
In works that include drawing, painting, photography, sculpture, and installation, Lava Thomas amplifies Black women's resilience through an activist- and social justice–centered art practice. Clouds of Joy features blue tambourines arranged meditatively in the form of a cloud. Two tambourines at its center are inscribed with the lyrics "I sing because I'm happy, I sing because I'm free," taken from a favorite hymn of the artist's grandmother. The lyrics represent a means toward psychological and spiritual freedom for generations of African Americans whose lives have been circumscribed by white supremacy. The piece is part of a body of work that foregrounds music's role in Black liberation practices through civil-rights era protest songs that inspired courage in the face of Jim Crow terrorism and hymns that helped fuel an imagined freedom into possibility. Clouds of Joy recalls the dreams and aspirations of our ancestors and the actions taken to lay claim to our right to rest.
"I shield my time and protect my energy. I refuse to participate in a culture that would have me believe that the endless treadmill of production and publicity is necessary for relevancy or success," Thomas says. "I listen to my body's need for rest and rejuvenation. I recalibrate when necessary. I treat myself with compassion and take regular breaks from social media. Sometimes I simply say no."
Leila Weefur, Tillage & Fury, 2022
An artist, writer, and curator, Weefur views rest in concrete terms. Through video and installation, their practice examines the performance that is central to systems of belonging — and urgently aims to break them. They acknowledge that rest itself is a part of this system and is afforded to only the most privileged and powerful. Tillage & Fury is a video installation commissioned for "Resting Our Eyes" that explores rage, anger, and fury as it traces the history of rice (which is connected to the transatlantic slave trade) and the life cycle of the fly.
"Rest is the black space between images in my films, rest is the pause in sound, rest is silence. Along with silence, I aim to remove rest from any perceived political dormancy and instead infuse the embodied stillness with power. A heavy mind knows no rest," Weefur says. "I don't say this to romanticize an active mind, but I am an artist who cares deeply for people. I am dedicated to upholding my own political values, and for me, this often results in fighting for the right thing on behalf of myself and others. I don't think I can rest when there are people in the world who can't rest because of oppression. The commissioned video installation for 'Resting Our Eyes' lifts some of the anger from the spirit of the oppressed and places the burden of revolution on the oppressors. The suffering no longer belongs to us."
Mickalene Thomas, Love's Been Good to Me #2, 2010
There may not be a more prolific artist whose work depicts Black women in repose than Mickalene Thomas. Her celebrated paintings center everyday Black women in elevated states of leisure, pleasure, and desire — looking for moments of celebration beyond our harbored trauma. These works are often larger than life, composed of colorful rhinestones and diverse yet harmonious patterns. They present the Black woman as a subject who is glamorous and assured, sexy and free, as in Love's Been Good to Me #2. Rest comes in many forms, and the convergence of intimacy, beauty, identity, and desire is an invaluable setting of repose.
"Rest is self-care, to have the privilege of luxuriating at any moment­ and be comfortable in my own being. It allows me to focus on the notion of leisure and relaxation as an elevated state of pleasure that we all must ascertain," says Thomas. "Rest is a radical act for Black women, who are known to be the caretakers of others. I envision a world where Black women are being taken care of fully."
Traci Bartlow, Girl Boss, 1996
Bartlow is a performance artist and photographer who works to document and preserve Black culture. Throughout the '90s, Bartlow was also a hip-hop photojournalist, chronicling the industry, the people, and the iconic mood of the era. A native of Oakland, Bartlow captures images that define the city from its music scene to its vibrant culture. In Girl Boss, the subject's mechanisms of rest and adornment are on full display. Stacked gold rings and big hoops present a Black woman in a moment fully realized and free.
"With rest, I can identify what my intentions are and manifest those intentions in a fulfilling way. Rest counters the social angst bred by capitalism and the idea of 'going hard.' Rest gives us an opportunity to go inward, connect with our deepest intentions, and develop practices that are essential to a fulfilling life that is defined by self," says Bartlow.