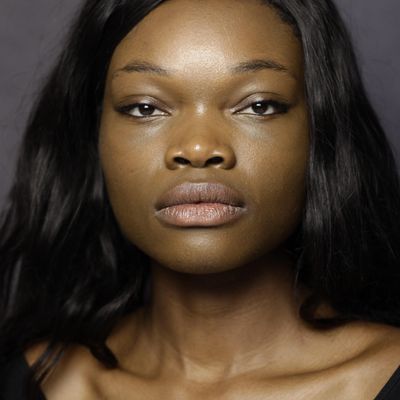 Despite missing out on an Oscar nomination for Best Foreign Film, France's Saint Omer is still enjoying a nice victory lap this awards season. The first feature film from documentary director Alice Diop was nominated for four awards at the Césars, France's Oscar equivalent: Best First Film, Best Cinematography, Best Original Screenplay, and a Most Promising Actress nod for Guslagie Malanda.
There's some irony in French cinema calling Malanda a "promising actress." She actually made her screen debut almost ten years ago in 2014's My Friend Victoria (Mon Amie Victoria), in which she played the lead. Until now, though, her only other acting credit was from a 2018 episode of The Romanoffs. For years, she tells the Cut, she was "an actress in secret," choosing to pursue a career as an art curator while she waited for an interesting role to come her way. As a Black actress in France — a country where mainstream cinema is still dominated by white artists — this took patience.
Malanda vowed to never play a stereotypical role, but after the Paris terrorist attacks of 2015, that's all she was offered. She recalls a lot of work for non-white actors at the time centered around "criminality, immigration, and terrorism." For actors of color, she says, it was difficult to be "seen" as French, and so the parts that came to her were prostitutes, immigrants, and sisters of terrorists. "I can be a prostitute. I can be a terrorist's sister. But not if it's in a cliché way," she says. "So I said no to everything until Saint Omer."
In Saint Omer, Malanda plays Laurence Coly, an immigrant from Senegal who killed her 1-year-old daughter by leaving her overnight on a beach. Far from a stereotype, Laurence is based on a real woman, Fabienne Kabou, who, in 2016, was sentenced to 20 years in prison for killing her daughter. Diop attended the trial, where she watched Kabou testify about her immigration, her education, and the daughter she admitted to killing. At the time, Kabou's dispassionate testimony and straightforward admission of guilt puzzled Western media, as did her insistence that "witchcraft" caused her to commit infanticide. The prosecution accused her of using her ethnicity and cultural heritage as a defense, while others commented on how eloquent and educated she was — a way of both lifting her up as an "ideal" immigrant and making her crime seem more calculated.
By fictionalizing Kabou's trial — Laurence's testimony is taken directly from Kabou's own words — the film tackles issues of class, racism, colonialism, xenophobia, sexism, mental health, abusive relationships, and identity. And Malanda conveys it all just bubbling underneath the surface with her captivating performance. During a recent press trip to New York to celebrate Saint Omer's U.S. release, she spoke with the Cut about her commitment to being an actress and the process of playing a woman who killed her child.
How did you get started as an actress?
I got into this business by chance. I was in an art exhibition, and the friend of one of the best casting directors in Paris saw me and told me, "You have to go to this casting." I was a student in art history, so I didn't know if I wanted to be an actress. But I lost a bet with my ex-boyfriend, and I went to the casting for Mon Amie Victoria. And I was Victoria; it worked!
I also think I wasn't allowed to think about being an actress.
What do you mean by that? 
To prepare yourself for a life in the arts, it's very difficult when you have to think about your career, especially as a woman. You think about how to pay for a house or a family. In college, it's difficult to say, "I'm going to be an artist." It was important for me to succeed in my studies and to have a job.
It's also a question of representation. I used to go to the cinema a lot, like a lot — you can't imagine, maybe twice a week in this tiny theater in my little town close to Paris. But to be the viewer is different than being the one who is seen. There are no famous Black actresses in France. So even if I can connect to Isabelle Huppert, it's not [the same]. It's not easy when you can't see any non-white famous actors in good roles. It makes you think, Oh my God, it's going to be difficult for me.
But now, I'm here, and I can't fight against my own fate.
You said no to everything until Saint Omer. What made you finally say yes?
Saint Omer is not just about a murder, it's also the true story of a woman, and that scared me. But I said to myself, "Alice came to me for this role; maybe it's important. There's something important in the story of Fabienne Kabou." The script was great, and it came at a moment in my life where, for seven years, I was an actress in secret. When I read the script for the first time, I thought to myself, Oh my God, if you say yes, you have to be sure that you are an actress in your gut. You have to be sure, because this role is a responsibility." And I thought, If you say yes to Alice, you have to consider yourself an actress.
So it was a big commitment. It's difficult in France, because I am a Black actress; you have to fight for the roles that you want. Right now, I'm thinking about the film I want to do next, the filmmaker I want to work with. I'm really concerned about my future choices, because this is my life now. And I can't hide it anymore. It's a bit scary, but interesting at the same time.
In the film, Laurence Coly is also facing a very scary truth. Did you use that fear of claiming your identity as an actress to play her? 
I actually used loneliness. The first step I used to build Laurence Coly was to accept my own loneliness during all these years. I realized that I was in a kind of depression, because my father died, and I was in this contemporary-art world that is very hard. My agent had called me and said, "Are you sure you want to be an actress? Because you said no for seven years and now I don't know what to do, because one day, you're going to be old and still here." There were a lot of things happening, and I realized my first step to becoming the character was to accept my own loneliness in those seven years.
Saint Omer is a very nontraditional immigrant story. Was it important for you to tell a real immigrant story?
Actually, what was really interesting was that Florence is an immigrant in France, but in Senegal she went to Catholic school; she was in the western world because she was inside very western institutions in Africa. So it's interesting to see how she is regarded as an immigrant, and she's judged by non-immigrant people inside this courtroom. I was very interested by the fact that this woman's story is contained inside the courtroom, but you can understand her life without flashbacks just by listening to her story.
In the film, you speak only through testimony, and you have very long monologues, which I read were often performed in hour-long takes. What were those like to film?
It was somewhere between theater and cinema, and in between reality and fiction. The character was in between anger and control. There's a great fragility in the emotion of the film, and it felt like I could swing from one to the other at any time. I prepared myself like an athlete for this role; all the work I did helped me be present on set. And I was ready for the long takes, even though they felt very precarious.
What work did you do to prepare?
The first thing I did was Google Fabienne Kabou, but I realized that it wasn't the right path. I didn't want to be overwhelmed by the details of the evidence and news articles regarding the trial. I wanted to dive deeper. And I realized that the only thing I needed was already in the script, in the courtroom scenes, because the testimony is from the real trial. I didn't meet Kabou in person, but I met her through her words. And meeting her through her own words, it's deeper. It's not an imitation.
You mentioned earlier that you don't see a lot of Black actresses in France. But this film, Saint Omer, starring two Black women, directed by a Black woman, is the film the country chose to submit for consideration at the Oscars. It's been winning awards at film festivals around the world. How does it feel to represent the country, now, as a Black woman?
I'm very happy to represent my country. I'm very happy as an artist, I'm happy as an actress, I'm happy as a person. And I'm happy as a Black woman who was raised in France. Of course, it's stressful, but I'm confident because I think the movie is really, really great. I'm very happy to be a part of a great piece of art that isn't a product, it's not a blockbuster, it's a very personal art piece made by Alice. And I'm very happy to defend what we call in France, le cinéma d'auteurs — independent film. It's very difficult to make a movie, and I'm very proud that this low-budget film can represent France. It's important.
And are you getting better offers now than the ones you got these last seven years?
Yes. I will be in the next Bertrand Bonello film, and I'm so happy because I really like him as a filmmaker. It's good right now, but there are still some cliché proposals. But that's life.