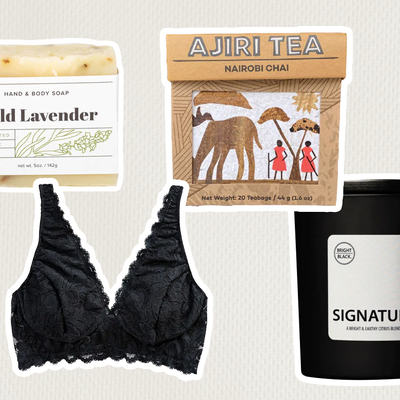 Self-care is nothing new: At this moment in 2023, the concept of setting aside time to rest and pamper yourself with little luxuries has fully saturated the culture. Calming morning routines are all over TikTok, it seems like everyone owns a bath caddy, and even the busiest people make time for self-care.
Self-care doesn't have to be time-consuming, though: It can be as simple as taking 10 minutes to make yourself a cup of your favorite tea in between meetings, or lighting a scented candle after a long day. Building small moments of joy into your daily routine can also help you deal with stress as it comes, rather than waiting until you burn out to get some much-needed rest. Get started by treating yourself to something that simply makes you happy, like one of these self-care must-haves created by women-founded businesses from Stacy's Rise Project™. Since 2017, Stacy's Pita Chips has provided more than $1 million in funding to female founders — because when one woman rises, we all rise.
A warming spiced tea
Cozy up with a cup of Ajiri Tea Nairobi Chai. This blend of Kenyan black tea infused with cinnamon, ginger, cardamom, black pepper, and clove takes inspiration from the Swahili Coast spice trade. Ajiri Tea also donates 100-percent of its net profits to pay school fees for Kenyan orphans.
Luxe lingerie
Bras should make you feel more beautiful — not uncomfortable. Inspired by the founder's struggle to find comfortable lingerie after undergoing surgery to treat her breast cancer, Everviolet's line of bras and bralettes was designed with inclusivity in mind. Think: features like pocketed cups for pads after mastectomies and front-close designs to accommodate limited mobility.
An all-purpose moisturizer
The thick, luxurious Cocoa-Mango Buttercream from Beija Flor Naturals soothes cracked hands and dry winter skin just as well as it moisturizes curly hair. Made with organic cocoa butter, aloe vera, and coconut oil, it's a gentle way to infuse moisture all over your body.
A deliciously moody candle
Bright Black takes inspiration from Black culture for each of its gorgeously scented candles. The Hip Hop scent channels music's smooth flow with notes of shea butter, evergreen, and oud, while city-inspired scents like Addis Abada and Kingston transport you to another place.
Moisturizing lip gloss
Applying a fresh coat of lip gloss can be enough to lift a blah mood. Swipe on this highly pigmented gloss from LAMIK Beauty for a wash of gorgeous color that moisturizes while you're wearing it. All three shades are designed to stun on all skin tones. The vegan beauty brand also blends custom foundation shades, if you're ready for more.
A postpartum care package
Whether you're expecting or know someone who is, Cater to Mom has got new moms covered. Each postpartum recovery box is customized to each person's type of delivery and feeding plan, and the 10-plus essentials range from nipple creams to affirmation cards.
The ultimate eyeshadow palette
With glitter, matte, and shimmer shadow, this palette from The Glamatory makes it easy to execute everything from glittery going-out eyes to simple everyday shadow. Sometimes looking good really does make you feel good.
Fair-trade coffee beans
Your morning cup (or two) of coffee can absolutely be considered self-care — especially when you choose ethically sourced organic beans from a high-quality roaster like Hugo Coffee. The cute dog on the packaging isn't just branding, either: Hugo Coffee donates a portion of its proceeds to local animal rescues.
Snackable mini cookies
Sometimes, all you need is one bite of something sweet — like the perfectly snackable miniature cookies from Junita's Jar. Choose between nostalgic childhood favorites like classic chocolate chip, brown sugar oatmeal, and oatmeal peanut butter chocolate chip.
Handcrafted herbal soaps
Stunning magnetic lashes
Created by an ophthalmologist who was sick of damaging her eyelashes with glue-on lash strips, OpulenceMD Beauty offers magnetic lash kits that are much gentler on the eyes. Choose between more delicate, natural looks like Coco or totally glam lashes like Socialite.
The journey to success isn't linear: Every entrepreneur on this list endured ups and downs on the path to founding their business. To celebrate the beautiful challenge of entrepreneurship, Stacy's sponsored the 2023 Sundance Film Festival and screened the short film Rise at the Stacy's Roots to Rise market. Created by PRETTYBIRD filmmaker Nisha Ganatra, Rise illustrates the resilience of woman business owners through the stories of three previous winners of Stacy's Rise Project: Sajani Amarasiri of Kola Goodies, Jocelyn Ramirez of Todo Verde and Maria Jose Palacio of Progeny Coffee. The short film also features original poetry by bestselling author Rupi Kaur, and will leave you with a renewed appreciation for the tenacity and dedication of women who dare to dream.
This advertising content was produced in collaboration between Vox Creative and our sponsor, without involvement from Vox Media editorial staff.