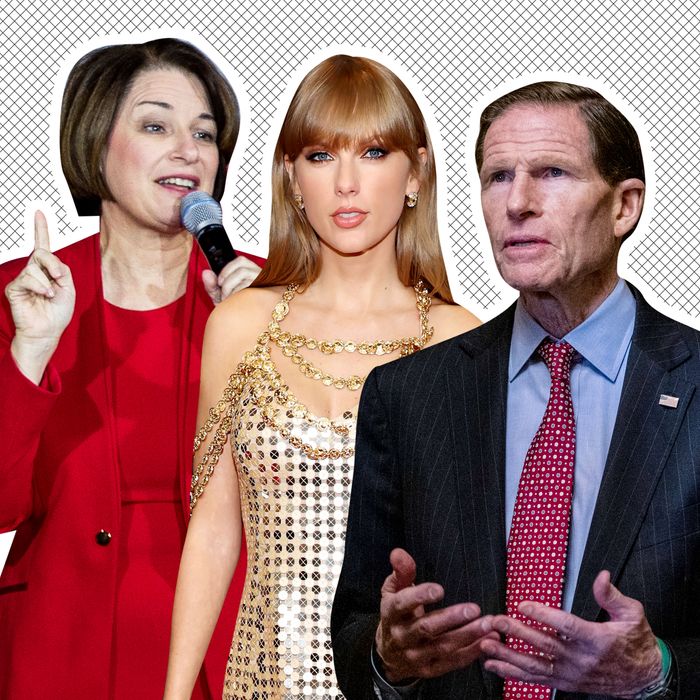 Photo-Illustration: by The Cut; Photos: Getty Images
Never question the power of Swifties, who have succeeded in taking their feud with Live Nation's Ticketmaster all the way to the Senate. The botched Eras Tour presale on Ticketmaster was the subject of a Senate Judiciary Committee hearing on Tuesday, marking a major win for Swifties — and anyone hoping to get Beyoncé tickets in the near future. Of course, nothing good comes for free, and the price of the Senate holding Ticketmaster responsible for the state of modern event sales was steep: listening to senators awkwardly incorporate Taylor Swift lyrics into their arguments. Let's just say, they had a marvelous time ruining everything.
Prompted by Swifties who, in November, endured hour-long waits and crashing websites only to be unable to buy Swift tickets, the hearing focused on Live Nation and Ticketmaster's 2010 merger, the lack of competition, and the company's business practices. As reported by E! News, Live Nation President and CFO Joe Berchtold testified before the Senate Judiciary Subcommittee on Competition Policy, Antitrust, and Consumer Rights, placing blame on ticket scalpers and bots that he claimed attacked the company's Verified Fan password servers, "which required us to slow down and even pause our sales." He then apologized to Swift and her fans, saying in part, "We need to do better, and we will do better."
But as Swifties know, Band-Aids don't fix bullet holes, and based on the many senators' insistence on quoting directly from the singer, they know it too. "I believe in capitalism, and to have a strong capitalist system, you have to have competition. You can't have too much consolidation. Something that, unfortunately for this country, as an ode to Taylor Swift, we know 'all too well,'" said subcommittee chair Senator Amy Klobuchar of Minnesota.
Soon, other senators were joining in, like Utah Republican senator Mike Lee, ranking member on the subcommittee and a repeat Swift-quote offender. He opened his statements with a particularly forced comment on Klobuchar's leadership, saying, "I had hoped as of a few months ago to get the gavel back but, once again, she's the 'cheer captain, and I'm on the bleachers.'" He continued, calling the practice of reselling tickets "a nightmare dressed like a daydream." And finally, he ended with a quote dedicated to his Swiftie daughter, Eliza, telling Ticketmaster, "Karma is a relaxing thought; aren't you envious that for you it's not?" Yikes!
None of these holds a candle to Senator Richard Blumenthal of Connecticut, who made the most devastating reference of the night: "Ticketmaster ought to look in the mirror and say, 'I'm the problem. It's me.'" Have you ever heard a senator be so casually cruel in the name of being honest?