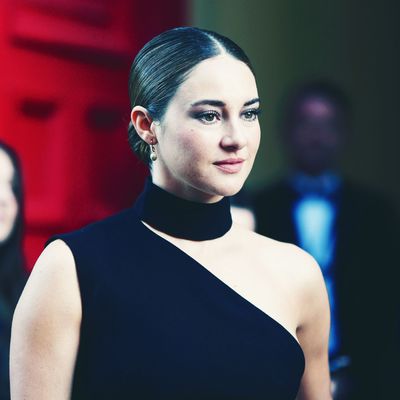 Photo: Edward Berthelot/Getty Images
It's been a minute since we checked in with Shailene Woodley, who was last seen posting at length about her football fiancé's hairy hands. Since then, she has deleted Instagram from her phone, and, it seems, continued to process her reported breakup with Aaron Rodgers.
In a new interview with Porter, Woodley reflected on filming the TV adaptation of Lisa Taddeo's novel Three Women, which took place from October 2021 through May 2022. "It was hard to film because I was going through the darkest, hardest time in my life," she said. "It was winter in New York, and my personal life was shitty, so it felt like a big pain bubble for eight months."
Woodley didn't specify what exactly was making her life so shitty at the time, but Three Women's production schedule did happen to coincide with tabloid reports of her split from Rodgers. Following several comments Rodgers made in November 2021 expressing skepticism about COVID-19 vaccines and the news that he'd misled the NFL into thinking he was vaccinated, it seemed like the couple had broken up. Still, a handful of appearances together made things very unclear. Rodgers is rumored to be having a "casual" fling with model Mallory Edens, and he does not come up much in the interview, suggesting they may be done for good.
In any case, Woodley recalled being "grateful that at least I could go to work and cry and process my emotions through my character" while filming Three Women, which sounds as good as any breakup healing plan to me. Here's hoping she finds some even hairier (and vaccinated) hands.