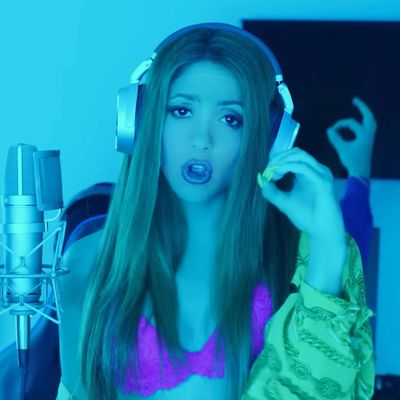 On top of being a renowned musician and dancer, Shakira is a polyglot, a high priestess of the Super Bowl halftime show, and an excellent skateboarder. Which is to say, she commits hard to everything she does — including, it seems, roasting her ex in song. On Thursday, she dropped a vicious breakup track about her ex-partner, Spanish soccer player Gerard Piqué, and it's so popular it broke a YouTube record within 24 hours of its release.
Shakira and Piqué met during the 2010 World Cup, where she performed that year's incredible World Cup theme song, "Waka Waka (This Time for Africa)." They have two children, Milan (9) and Sasha (7). Last June, they announced they were splitting up, followed shortly by tabloid reports that the 35-year-old Piqué was now in a relationship with a 23-year-old PR student who worked at his entertainment-production company, and that Shakira was not thrilled about it.
Though it is hard to top "Waka Waka," Shakira blessed us on Thursday with an even better musical interpretation of current events. The new song, a collaboration with Argentine producer Bizarrap that is catchily titled "BZRP Music Session #53," is packed with inventive jabs at Piqué. Also addressed: Shakira's looming tax-fraud trial, where Spanish prosecutors have charged her for failing to pay $16 million worth of income tax while allegedly living in Barcelona between 2012 and 2014. Shakira has adamantly denied she owes the Spanish government any money (she claims her residence was in the Bahamas during the years in question), though it's clear from "BZRP Music Session #53" that she has more to say on the matter.
Translations of the Spanish lyrics vary slightly online, but here is an approximate sample of the most vindictive gems:
Sorry, baby, I should have thrown you out a while ago

I was out of your league and that's why you're with someone just like you
You left me with my mother-in-law as a neighbor, with the press at my door, and in debt with the government

You thought you hurt me, but you made me stronger

Women don't cry anymore, they cash in
You traded a Ferrari for a Twingo

You traded a Rolex for a Casio
Lots of time at the gym, but your brain needs a little work too
Ouch. In the days following the track's release, Piqué has tried to use it to his advantage, wearing a Casio watch and giving the brand a shoutout during a King's League streaming event. On Saturday, he rolled up to work in a Twingo for a social media stunt. (Unless he's getting paid to provide advertising for these brands, I'd say he lost this round.) Meanwhile, Shakira has reportedly doubled down on calling out her mother-in-law. Though it hasn't been confirmed, reports claim that she set up a skeleton witch on the balcony of her home, facing the home of Piqué's mother, and had her new song blasting on repeat.
Meanwhile, Shakira celebrated the song's success on social media, dedicating it "to all the women teaching me how to make sweet lemonade when life gives you those sour lemons." In a separate post — originally written in Spanish and translated via Instagram — she described the song as "a catharsis," adding, "I want to embrace the millions of women who rise up to the ones who make us feel insignificant."
This is not the first time Shakira has been open about the challenges of her breakup. She sang about heartbreak in a song with Ozuna that came out in October, "Monotonía," and told Elle that during "one of the most difficult, darkest hours of my life, music has brought light." Because we are talking about Shakira here, it has also brought success: The "BZRP Music Session #53" video has racked up more than 63 million YouTube views in the 24 hours since it dropped Thursday morning, making it the most watched new Latin song in YouTube history. What, you thought Shakira was going to half-ass her breakup-revenge song? Where the hell have you been, loca?
This post has been updated.