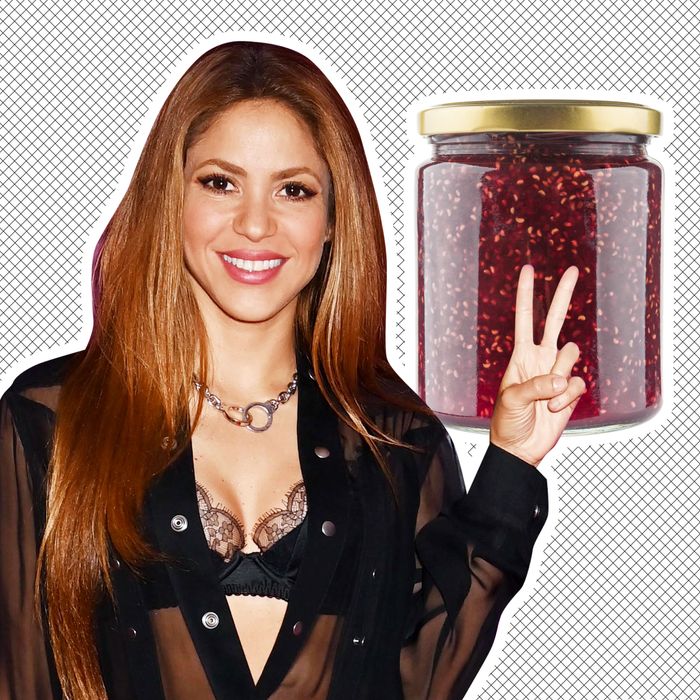 Photo-Illustration: by The Cut; Photo: Getty Images
Shakira's split from her soccer boyfriend, Gerard Piqué, is a gift that keeps on giving. Following the release of a very pointed song in which she told Piqué that his "brain needs a little work," rumors about their increasingly messy breakup have been swirling. One claims she's blasting the song out her window and has put a witch statue on the side of her balcony facing Piqué's mother's house. Meanwhile, fans have seized onto claims that she found out about her ex-partner's alleged affair when she noticed her jam supply had mysteriously dwindled.
The story appears to have originated at an outlet called ShowNews Today, which claimed in December that the Spanish TV program Socialite revealed Shakira returned from a trip to find that someone had eaten her strawberry jam. Per ShowNews Today, Piqué despises jam, and so do their kids. So Shakira came to the only logical conclusion: While she was overseas promoting her music, someone had been in her house, eating her jam and also having sex with her boyfriend. The gall.
It should go without saying that there is no evidence that this version of events truly transpired, nor has anyone even confirmed that Piqué cheated on Shakira during their relationship. (He did, however, start dating a 23-year-old who worked for his entertainment company shortly after the breakup went public, and a Zoom interview recently unearthed by fans suggests she may have been hanging out at their house well before the breakup. He recently hard-launched her on Instagram.) Of course, that has not stopped me, or the rest of the internet, from picturing Shakira standing in front of her open fridge, suitcases by the door, gazing vengefully down into her jar of jam.
The jam rumors were also fueled by a snippet of a music video from April for the song "Te Felicito," which features reggaeton artist Rauw Alejandro. Judging by the lyrics, "Te Felicito" is pretty clearly another song about Shakira's ex. In the video, she seems to be assembling a robot version of Alejandro, which includes opening her fridge to reveal his severed (but alive) head.
Several tabloids have interpreted this imagery as further proof that a refrigerator was indeed involved in Shakira's breakup, which may just be a sign that not many Shakira fans have seen American Psycho. And yet! What if Shakira's ex's lover did, indeed, rifle through her fridge after a clandestine romp and sneak a little spoonful of fruit preserve? It would be the biggest thing to happen to jam since mold.