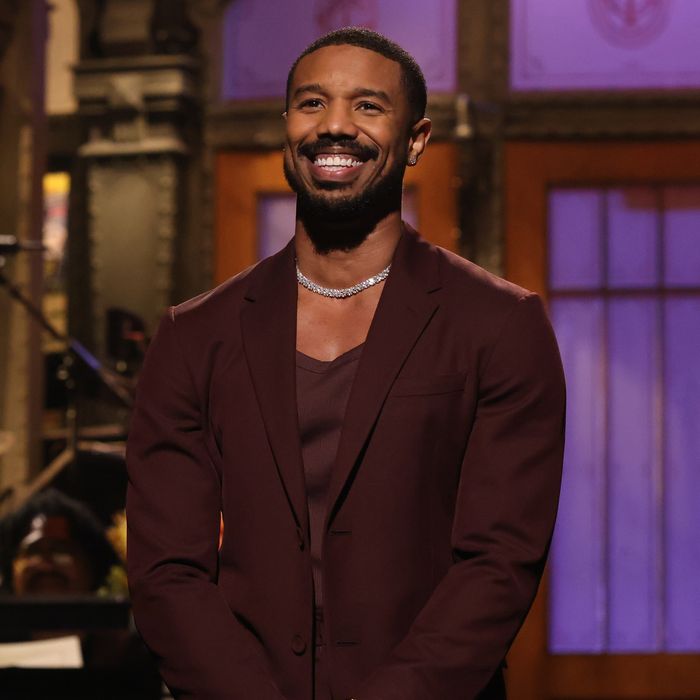 Photo: Rosalind O'Connor/NBC via Getty
Hide your kids, hide your wives. Jake from State Farm might not be such a good neighbor after all — at least, not when he's being played by Michael B. Jordan on Saturday Night Live. The former People's Sexiest Man Alive played the insurance icon in a spoof commercial that turned Jake from State Farm into Jake the wife seducer.
Jordan hosted SNL for the first time on Saturday, performing a fair amount of sketches that revolved around his undeniable hotness, but none were more perfect than "Jake from State Farm," which saw the Creed III director putting on the red polo and charming his way into a suburban family's home. "Unlike other insurance companies, State Farm is here for you 24/7," Jordan/Jake tells the suburban dad after he spends the entire day hanging out with the wife and kids. It escalates from there, with Jake from State Farm taking the family to church, teaching the daughter piano, playing catch with the son, and, eventually, dating his wife. The fake commercial plays it like a horror movie for the husband, but to be fair, I would also leave my perfectly nice husband for Michael B. Jordan. What person wouldn't?
The current Jake from State Farm, actor Kevin Miles gave the sketch his seal of approval on Twitter and Instagram. This isn't the first time Miles has been played by a celebrity lookalike. Jordan's Creed III co-star Jonathan Majors did a Jake from State Farm impression when he hosted SNL in November of 2021. And Drake played his stand-in in the insurance company's 2022 Super Bowl commercial. This parody, however, might be the first one to really capture Miles' "could break up a marriage" vibes.