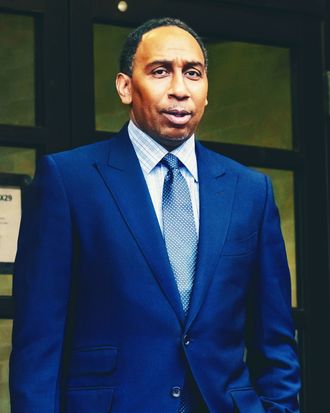 Photo: Gilbert Carrasquillo/GC Images
You'd think that by now people would know better than to compare Rihanna and Beyoncé anywhere other than in the privacy of their own mind. ESPN commentator Stephen A. Smith found out the hard way this week after triggering both the Navy and the Beyhive fan bases ahead of Rihanna's Super Bowl performance next month.
In an interview on Sherri Shepherd's talk show, Sherri, Smith was asked if he was excited about Rihanna's Super Bowl halftime performance. "She's spectacular," he responded. But then he kept talking: "There's one thing she's not. She ain't Beyoncé." The live audience booed, and online backlash swiftly followed.
Leslie Jones, who is guest-hosting The Daily Show this week, also chimed in, saying, "You know what, Stephen A. Smith? You need to act like your hairline and back the fuck up."
Smith is used to sending people into a tizzy and rarely apologizes, but this week, he posted a video to Instagram apologizing to Rihanna and explaining his comments.
"I want Rihanna to know: You're a superstar," Smith says in the video. "You're sensational. You're spectacular. You're no joke. You're a worthy person to be doing the Super Bowl halftime show."
He explains that as a die-hard Beyoncé fan, he will "forever" compare anyone who performs at the Super Bowl to Beyoncé's solo 2013 performance and her guest appearance in Coldplay's 2016 show. "I think Beyoncé is not only a phenomenal performer but the phenomenal performer," he says. He adds that even when one of his favorite artists — Eminem — performed last year alongside Mary J. Blige, Snoop Dogg, and Dr. Dre, he still compared him to Beyoncé.
"Michael Jackson could still be alive and I'd say, 'It's got to measure up to that,'" Smith says in his video. "I meant it as no disrespect to Rihanna. I know she is phenomenal. She's my sister. Nothing but love for her."
In a later tweet, Smith said the whole thing was a "horrific mistake." At least we can agree on that.