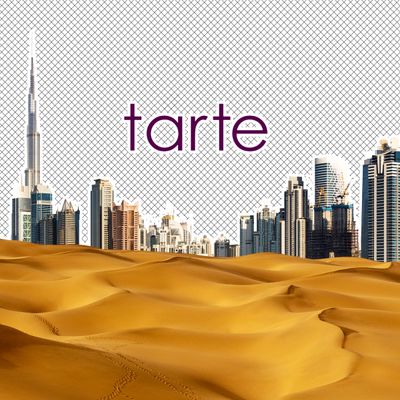 Photo-Illustration: by The Cut; Photos: Getty Images
If you've been on TikTok this week and have watched even a single GRWM video, you can't avoid the incessant flood of videos from beauty influencers who are hanging out in Dubai courtesy of the makeup company Tarte — and not just hanging out but enjoying an extravagant, absurdly expensive vacation in the middle of the desert that has captivated the minds and FYPs of many.
Tarte invited a group of 33 influencers and their plus-ones to luxuriate in the sand of Dubai's deserts and promote its new product, the Maracuja Juicy Glow Foundation. Among the beauty TikTokers currently, there: Meredith Duxbury, Alix Earle, Monet McMichael, Azra and Aisha Mian, Christine Abraham, Ester Tania and Sarah Wolak, adding up to a combined 28 million followers. That's a whole lot of eyeballs. The company also invited an unspecified group of Middle East–based influencers — or, as the company is calling them, "Tartlettes" — who apparently handpicked charities that support women and young girls for Tarte to donate to, though the charities weren't named.
As you may have guessed, the charity component of this trip is not what has made it so transfixing to so many. It is more the general lavishness of the trip. The Tartlettes are posting upwards of four videos a day from the trip, many of them inexplicably soundtracked by the Miley Cyrus song "Flowers."
Based on the extensive documentation, the influencers flew to Dubai on Emirates first or business class. (There is some debate as to whether it was actually business class, but let's just say they slept lying down in individual pods.) They're staying in sprawling Ritz-Carlton villas, which have been decked out with makeup, jewelry, and clothing. While some of their activities have included demoing the products Tarte is rolling out, there have also been camel rides, dune buggies, yoga, a pool party, and a gold-themed dinner party where the company's founder and CEO, Maureen Kelly, officially launched the new product in front of an enormous pair of angel wings.
Some people are simply fascinated with the opulence on display here; others have accused Tarte and the influencers of being tone deaf. A lot of people are also wondering how Tarte, not exactly known to be a top-tier cosmetics brand, can afford to fly 33 influencers and their plus-ones (many brought their moms — wholesome!) to Dubai and put them up in a luxury hotel.
Several armchair analysts on TikTok have pointed out that it's unlikely Tarte is paying for this whole trip or even that much of it at all — it's possible the brand has "partnered" with various sponsors such as the Ritz-Carlton, Emirates, Jeep (which is mentioned in the dune-buggy videos), or even the UAE government, all of which benefit from the exposure.
Others noted that, given what some of these influencers charge for a single video, Tarte might actually be getting a deal by paying for the trip rather than paying each influencer for individual videos. Either way, this is the most brain space a lot of us have given Tarte … well, ever. And you can't put a price on that.