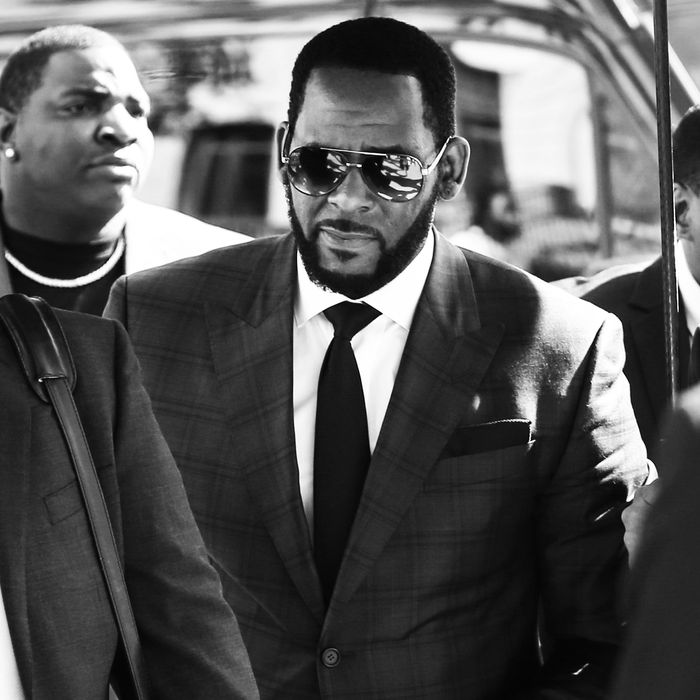 Photo: Amr Alfiky/AP/Shutterstock
The third and final installment of Surviving R. Kelly — the Peabody Award–winning docuseries chronicling the R&B singer's decades of sex crimes, many of them against Black women and girls in his hometown of Chicago — aired on Lifetime this week. The series, produced by filmmaker dream hampton, first debuted in 2019, shining a renewed spotlight on Kelly and the network of on-payroll enablers who helped him get away with some 30 years of abuse, including marrying a teenage Aaliyah in the '90s and his notorious acquittal in his 2008 child-pornography case. Surviving's immediate impact was profound, heightening calls to boycott the singer and prompting prosecutors to invite witnesses and victims of the singer to come forward.
This time around, the circumstances have changed: Kelly is currently serving a 30-year prison sentence after he was convicted of sex abuses at a federal trial in New York in 2021. Last year, the singer was convicted of sex crimes in Illinois with federal sentencing set to take place in February; he also faces pending trials over state charges in Illinois and Minnesota. Surviving's last chapter homes in on survivor experiences during the New York trial, featuring firsthand interviews with survivors, family members, clinical psychologists, and journalists.
Below, the most disturbing details from Surviving R. Kelly Part III.
R. Kelly force-fed survivors his feces.
During Kelly's New York trial, a Jane Doe testified that the singer forced her to smear feces on her face, put them in her mouth, and act like she "enjoyed that." In the docuseries, a number of survivors and a former employee of Kelly describe a loyalty ritual in which Kelly forced victims to consume his excrement and urine. "Once you reached a one-year anniversary, that's what you do. Eat his feces and drink his urine," said author and survivor Jerhonda Pace. "He wanted you to prove that you were loyal to him, that you really love him, that you two were bonded," adding that the ritual "happened quite often." A former employee interviewed for the docuseries said they once heard Kelly making "one of the girls or a couple of the girls eat his feces."
Ebonié Doyle alleges Kelly pushed her down the stairs after she discovered a sex tape of him and Aaliyah.
Ebonié Doyle, a survivor who hadn't previously come forward with her account, says she met R. Kelly in 1993, when she was 16, and that the two started up a relationship while she was still in high school with the singer even attending her graduation. After high school, Doyle said she moved in with a "really controlling" Kelly, who allegedly abused her for hours: "I did not know how to arch my back and … he had me, with a camera propped up, [sit] in this position to learn how to arch my back. Literally hours being in this position," she said, adding that Kelly would "take breaks" and come back in to check the camera footage and see if she had "moved when he asked me not to." Doyle said Kelly was dating her when he married Aaliyah and frequently denied having a relationship with the late singer. "Looking back, I was kind of like a body double for her," recalled Doyle, who said she came across a tape of R. Kelly and Aaliyah being "intimate" when Kelly wasn't home. She said she tried stashing the tape away when the singer returned home, describing how he shook her and asked her what she'd been doing. "That shake sent me down flights of stairs. I just lay there," Doyle said.
Doyle said she maintained ties with R. Kelly for years after the incident, describing a later encounter in which he drove her and her 12-year-old daughter to a McDonald's. "I'm looking at him having a conversation and he's looking at my daughter in the backseat in the rearview mirror with the weirdest look on his face. And it freaked me out," she said. "I never took her back over there. I never had her around him. I can't really say it was a look I recognized, and maybe I'm blocking things out. It was unconscionable."
A former employee said R. Kelly turned victims against their mothers.


According to a former employee of Kelly, the singer manipulated and groomed his victims by turning them against their mothers and creating a "contest" between them. Recalling how Kelly would "degrade" victims' mothers to them, the employee said they overheard Kelly telling the victims that their "mothers wanted him, that their mothers were jealous of them because they were young girls, they were fine girls; their mothers were fat, making them feel like, I want you but your mother wants me." The employee added that they heard R. Kelly tell Azriel Clary her mother was jealous of her. "It made me realize he was a manipulator," the employee said.
Survivors are still dealing with the fallout of the abuse — and from going public with it.
Multiple survivors and family members spoke about dealing with the traumatic aftermath of R. Kelly's abuses and the backlash they faced after going public with it. The family of Azriel Clary recalled an associate of Kelly setting their car on fire and dousing the perimeter of their house with gasoline in 2020. DJ and survivor Kitti Jones said she faced "backlash in the Black community for bringing down a Black man," adding that her attorney lost clients as a result of representing her. Jerhonda Pace said she "can't even put my kids in school because of everything surrounding the trials," while survivor Faith Rodgers explained how she has struggled with anxiety and depression following R. Kelly's abuses, saying there are "days I really don't think I'm going to make it to 30. I'm 24 years old and I hate life … It has taken everything in me to not just blow my head off some days because I feel like I can't press forward."