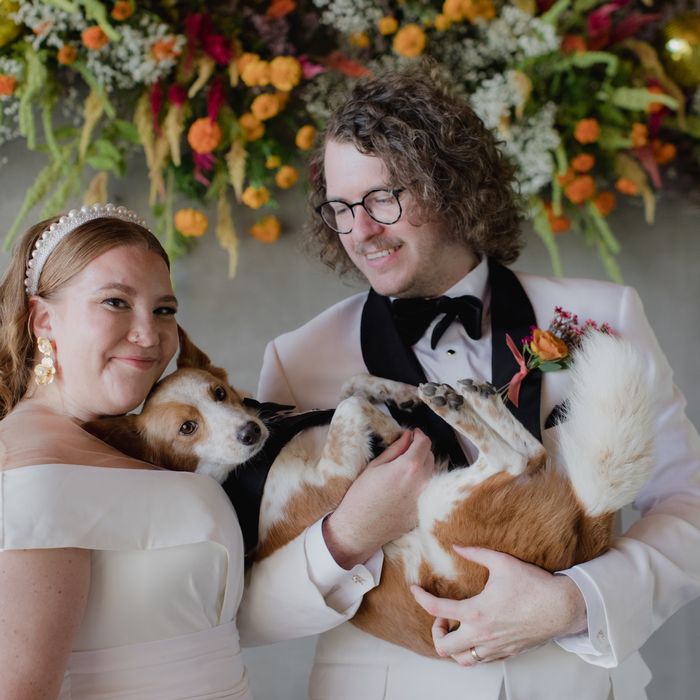 When we ask newlyweds to think back on what they wanted most for their big day — and we've interviewed hundreds of them over the years — the most common response is "For it not to feel like a wedding!" Despite our new (pandemic) normal, that answer hasn't changed. If anything, these days, gathering with old friends and eating mini grilled cheeses in formalwear to celebrate love feels more special than ever, even downright miraculous. And the betrothed have never been less attached to the old wedding handbook — and the need to please their great-aunt. So in a flurry of pampas grass and perfectly mismatched-to-match bridesmaid dresses, how do you pull off a non-cookie-cutter affair? For the answers, we decided to interrogate the cool couples whose weddings we would actually want to steal — right down to the tiger-shaped cake toppers.
Here, we spoke with Chelsea Leibow, the founder of a communications consultancy that works primarily with women-led sexual health and wellness businesses, and Mike Farrell, who's in digital advertising for a national chain of music venues. Like so many couples, their wedding was postponed several times due to COVID. They finally tied the knot on a weekday in August 2022, on 100 acres in Coxsackie, New York. While the planning stress was nothing less than a "nightmare," the pair and their 100 guests found the process worth it in the end. 
Chelsea: We had gone to a lot of weddings (as you do in your late 20s/early 30s) and we'd debrief after every one: What did we like, what did we not like?
Mike: Our general guiding tenet was being mindful of the guest experience. At the best weddings, there was a great flow, nobody ever felt confused, you always knew where you were supposed to be and when.
Chelsea: It's "our day," whatever, but our community, the people who helped us become the couple that we are — that was really important to celebrate.
Mike: The other nonnegotiable was we needed to have a band.
Chelsea: Hands down, no brainer, there had to be live music. He's a musician, and music is a huge part of our relationship together.
Mike: We met at South by Southwest in 2016. I was there with my band, Great Caesar, and she was there with the start-up she was working for at the time.
Chelsea: My maid of honor was obsessed with Great Caesar, just loved their music. They were playing every night, so she would drag me around South by Southwest to go see them.
Mike: We didn't get together till a couple months later when we reconnected in the city. Same kind of deal — my band was playing at an event her company was throwing. We ran into each other again.
Chelsea: In June 2019, we had an early reservation at Peter Luger for our anniversary. We were ready to go and he was like, "Oh, we should go up to the roof. It's such a nice day!" We never did that, so I was like, he's proposing. He proposed, and I blacked out. I have no idea what he said.
Mike: When we got engaged, we learned you have to make decisions really quickly because days fill up. Everyone in the city wants to get married in the Hudson Valley and you're competing against people who probably have unlimited budgets relative to what we're looking to spend. Gather Greene was the first place we saw.
Chelsea: We're not really "farm wedding" people, so that limited our options. Gather Greene felt perfect. There's still a covered space, and it's this kind of chic structure. Not a tent, not a barn.
Mike: We had both been to different start-up-funded, adult summer camp–type things, and we really liked that vibe of a bunch of people staying on the premises and having a good time and stumbling back to their cabin afterward.
Chelsea: Our original date was August 22, 2020. Gather Greene very kindly offered all of their 2020 couples the option to reschedule with no extra charge. We postponed to June 30, 2021. Then we ended up making the call in January 2021, when people had just barely started getting vaccinated, to [push to] August 31, 2022.
Mike: Oh, it was horrible. A nightmare. After a period of time, it was such a burden — there's no other way to put it.
Chelsea: In the interim, we drove cross-country with our dog to Tahoe and did a very small elopement there with our parents.
Mike: Originally the wedding was supposed to be Friday through Sunday, and it got moved to a Tuesday to Thursday. RSVPs were a bloodbath. It was hard not to be like, "Oh, God, what are we doing? We're having this wedding in the middle of the fucking week and nobody's going to come!" It's my own self-doubt narrative.
Chelsea: They had accommodations for about 40 people on-site, these stand-alone cabins that were super-gorgeous, with glass backs that faced the woods. The main players stayed — our immediate families, the whole wedding party, and a couple of other close friends — and Mike and I got up there the day before everybody else because we wanted a day to take it all in. I will never forget that first night that we were there: All of the string lights in the walkways were lit up, and we were like, "Wow, this is actually really magical." It was a nice moment to remember this is why we're doing all this. We chose this venue because we love it, and we are going to have so much fun this week.
Mike: I got ready with my groomsmen. I knew I wanted a tux with a shawl collar, and white with black contrast; I just liked the look of it. I ended up going to The Black Tux in Soho and really enjoyed the experience. They had everything and it all fit me great.
Chelsea: I love fashion, and I was very excited about cultivating a look for the wedding, but I loathed the process of trying to find a dress. When I found something that really spoke to me, I was immediately like, "Okay, this is it. No more looking. I don't want to deal with it anymore." My dress was by Studio Levana from Lovely Bride. I had decided very early on that I wanted to do an outfit change for the reception.
Mike: If you look at Gather Greene's Instagram, every wedding that they host is completely different, like people really utilize the space in a lot of different ways.
Chelsea: Our initial vision was this kind of retro, '70s party in the woods. All of the fonts we chose had that vibe, and same with the color palette: mustard, dusty pink, burnt orange, and black, because I didn't want to stray too far into boho land. Our florist, Emily Rose Theobald, did this really beautiful centerpiece on the big concrete wall, and all the tables and ceremony florals as well. We DIY'd the invitations and signage, because we wanted it to be unique, and that stuff costs a lot of money. I didn't want to tackle anything too crazy, but I did DIY the bud vases: I'd been collecting these maple-syrup bottles and I ordered little adhesive mirrored tiles off of Amazon and painstakingly put them onto these vases. That was our seating-chart display.
Mike: When we first started to think about the ceremony and Chelsea asked, "Who should officiate?"
Chelsea: Mike immediately said, "Bobby." I said, "Yes, absolutely, 100 percent, it has to be him."
Mike: Bobby Hankinson is a stand-up comedian. He runs a monthly LGBT stand-up showcase at Pete's Candy Store, and he's a really wonderful friend of Chelsea's, and mine now.
Chelsea: When we asked him, he started crying. He was really, really touched. We knew that he would make it heartfelt but also add some levity, because we're not super-serious people.
Mike: We told him, "Listen, we want to keep this short and sweet."
Chelsea: We had essentially a script from our elopement, so we used the same language for the ring exchange, then I did an updated version of the same vows, because it had only been a year.
Mike: At the cocktail hour, our signature cocktails were a port and tonic, because we took a trip to Portugal in 2018 and made it the staple at our parties, and a take on a Moscow Mule because Chelsea loves them. It was blackberry infused.
Chelsea: We were obsessed with our caterers, Rhinecliff Events. They did such an amazing job. My one regret is I didn't get any of the passed apps. Our friend Ray McGale did the ceremony and cocktail-hour music. He does these amazing, super-fun power-hour playlists, and also acoustic, finger-style guitar covers.
Mike: In my family, it's not a Farrell party without peel-and-eat shrimp, so that was a nonnegotiable. I remember a buffalo chicken bite with blue cheese, smoked trout on a cracker, and a hanger steak crostini, of which I could've eaten 100.
Chelsea: I loved my [ceremony] dress, but it was incredibly uncomfortable and restrictive. My lovely friend Sarah Baker designs custom suits for bands. I said, "I have this idea for a reception outfit. Would you be interested in making it?" It was a really fun experience, working with her to design it. She took me to Mood and we had our little Project Runway moment where I picked the fabrics and finishes. She made me this '70s-inspired fringed jumpsuit.
Mike: When we changed into our reception outfits, that was when things got a lot more fun. Chelsea never told me what she was going to wear, but I knew it was a custom jumpsuit. I saw a shirt in a western store on Newbury Street in Boston and I said, "This is an awesome gig shirt," like what I'd wear to perform, and Chelsea said, "You're going to be happy that you have this shirt for the wedding." That seemed like a strong hint, and it just made sense.
Chelsea: Our first dance was to a song called "Short Court Style" by Natalie Prass, somebody who we both really love. Early in the pandemic, when I was going through it with having to cancel the wedding, I entered a slightly deranged period where I filmed myself dancing and putting it on my Instagram Stories. I danced to that song and tagged her in it, and she responded: "I actually wrote that song about my now-husband, so it's really fitting. Congratulations!"
Mike: For food, it was all family style. We had grilled salmon with a summer corn salad, penne alla vodka, seasonal local vegetables, and a vegan polenta cake. Two of our best friends are vegans, so we wanted to make sure that anyone who had dietary restrictions was satisfied.
Chelsea: The band for the reception was Silver Arrow Band. They're incredible. I did not leave the dance floor. There were some people who I didn't see all night, but that was because they weren't dancing and I was firmly planted.
Mike: I specifically told them, "I don't want to hear anything that came out later than 2016." They did an awesome arrangement of "Dancing in the Dark" by Bruce, which was appropriate because Chelsea and I were about to move to New Jersey. A horn section gets people going. It's a thing you can't ignore.
Chelsea: I always knew that Mike was going to sing, just because that was a given, but then a few months before the wedding he said, "I thought it would be really fun if you sang, too, and we made it a surprise." I went to college for musical theater, and I love busting out karaoke here and there, but it was the first time I legitimately sang in public in, I don't know, eight years. We sang "You're the One That I Want" from Grease. It was really fun!
Mike: Honestly, one of the things that made me really feel like an adult was when I realized that I liked pie better than cake. And again, we had been to a bunch of weddings where it felt like the cake cutting was a pretty unremarkable event thrown in the middle of dancing. So we had five or six little desserts — a Key-lime tart, something chocolaty, a mini cannoli, something cheese cake–y.
Chelsea: A lemon bar, a gluten-free brownie. The after-party was on-site, a big bonfire in this section of the property with a quarry and pond.
Mike: It was massive. Another thing we knew from a wedding we'd been to previously is it's always good to have late-night food. We had grilled cheese, quesadillas — really easy drunk food. It was a big hit.
Chelsea: I remember standing there with him and looking out at all our friends dancing and being like, "Oh my God, we did it. We actually did it." It felt victorious.